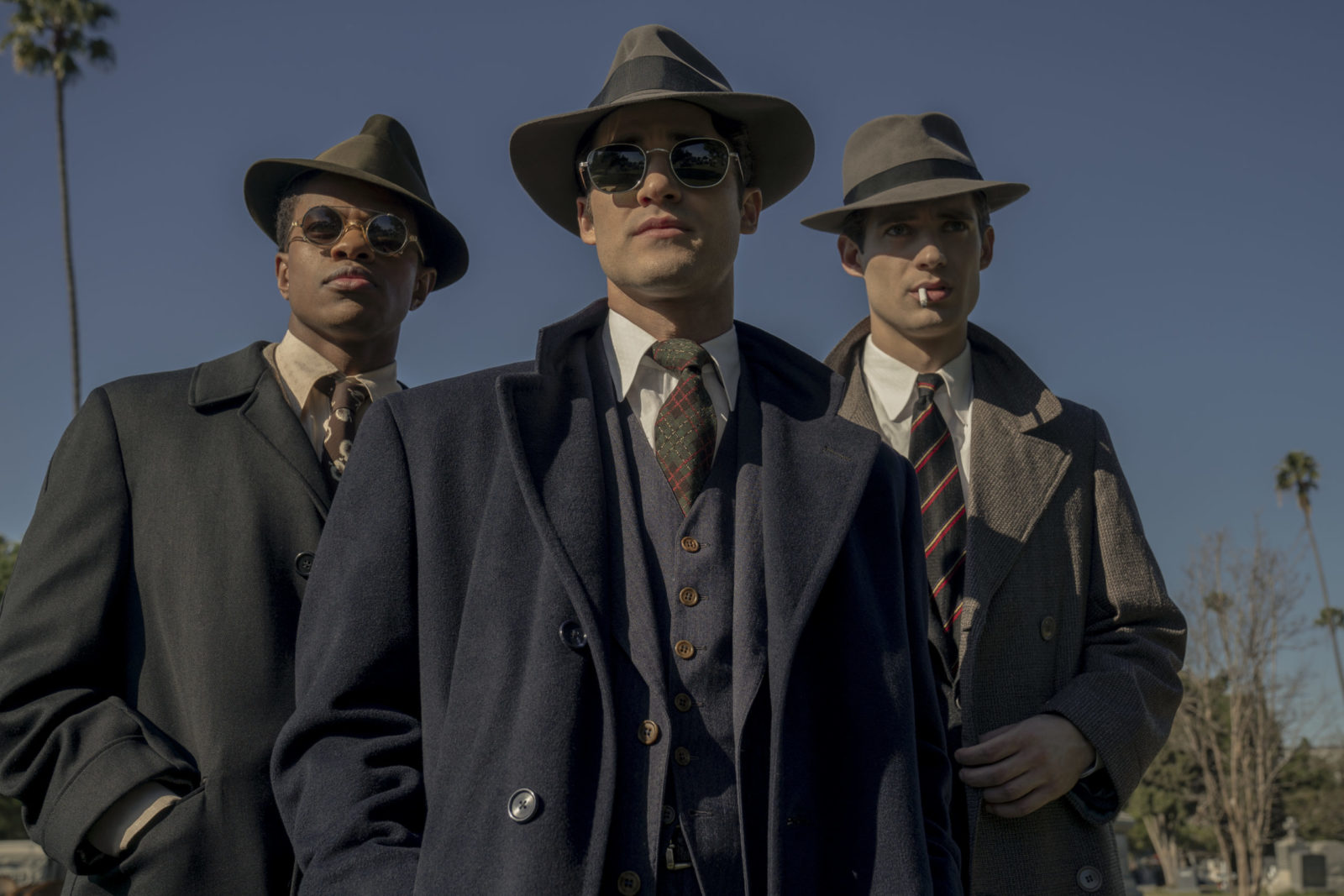 In our sixth recap of the Netflix series Hollywood, we recap the episode "Meg."
Avis (Patti LuPone) and Claire (Samara Weaving), Camille (Laura Harrier) and Raymond (Darren Criss) wake up to a burning cross in their front lawn while Rock and Archie get burning bottles thrown through the window. Protestors are lined up at Ace Studios because God forbid movies that don't have white leads. (Not much has changed I see.) Archie (Jeremy Pope) and Camille are not surprised by the actions. Lon Silver makes an appearance as the victims and producers are discussing recent events. He thinks that Avis is too emotional to be head of the studio. She's gonna keep fighting.
Whoever thought that I would get excited by the sight of four gas station attendants, Ernie (Dylan McDermott) doesn't accept them due to how big the risk could be for the four men with their dreams. Ernie calls up some of his older employees from back in the day to come up with the money for the dream. Apparently, he had someone women working for him, too. This montage is kind of exciting. The big sweetheart puts in a batch of his own hard-earned savings. He makes me want to hug him.
Henrietta (Maude Apatow) gives birth to the twins. Erwin is expecting Jack (David Corenswet) to hit him but Jack is above all that. This man only wanted to do what is right by his family, but at least he got to say bye to Henrietta. Jack and Archie treat Ernie to dinner where they surprise Ernie with a part in Meg. Aww, daddy Ernie is getting a part in the dream. Ernie is overcome with emotion. Kincaid (Holland Taylor) discusses the role with Ernie, stating that they will rehearse the role. Do I see a kindle between Kincaid and Ernie? He transports into this role well.
Now we get to see the movie shots with each of our actors in their roles. The black and white dramatic scenes carry us into the movie. (I do enjoy a good classic movie.) Jack even feels the emotion of the full movie. After watching the movie for the tenth time, Henry thinks there should be more at the end with an elaborate scene. Harry, an editor that's been around since the silent days, tells Henry that he has the worst ideas out of everyone he has worked with. Harry likes the message of the movie.
There's a moment when Ace (Rob Reiner) wakes up. Could that be the end of this picture? That's all they give us before we cut to Rock meeting Archie at an apartment where Archie professes his love for Rock and presents him with a key to their new apartment. Jack spills his emotions to Claire, who tells him that it is okay. Claire shoots her shot by asking Jack to be her date to the premiere. He says yes.
Ace gets a standing ovation when he goes to the studio. He takes on his role and asks Avis to meet him at home as he speaks to Lon Silver and the boys talk about the movie Meg and how much it would cost him. Lon suggests that Ace burns the movie. However, Ace watches the movie and isn't sure if he will release it. Dick threatens to quit and tarnish Ace if Ace refuses to release the picture. When Ace states he has protected Dick all these years, Dick states that he is in fact gay and will come for Ace if Meg isn't released. Powerful moment here.
Dinner with the Ambergs is not a treat for anyone. Avis cannot return to being a housewife again so, she demands to co-chair Ace Studios. Ace agrees, then becomes sentimental about how he wants to leave the world. Cue passionate rekindling between husband and wife. Breakfast is far better with a singing Avis, but where is Ace?
Avis brings breakfast to bed for Ace, only to find that he has passed on in his sleep.
Henry hires an editor, Randy, to cut and edit the film the way he likes. Harry and Raymond catch Henry in the act, but Henry tells them his brilliant idea for Meg until Lon Silver walks in to grab films for safe keeping. He didn't waste any time trying to run things the way he wants since Ace has died. Lon burns the film immediately.
To think, I was worried about Henry.
Stay tuned for Episode 7: "A Hollywood Ending"
Lebo Malatse
Lebo Malatse is a content creator and writer. She's an avid reader, tv and film lover, and traveler. To read more of her work, check out her site: lbmalatse.wixsite.com/website and journey into the worlds that she creates.