Donnie Lopez
Donnie Lopez is a gay Latino/Hispanic social and political commentator,…
A new up and coming starlet is making waves in the first Purge television show series on USA Network. Jessica Garza is not the kind of actress who simply remembers her lines and performs it. Whoever Garza embodies comes to life in an outstanding array. She knows the darkest crevices of the mind of her characters. She knows what motivates, scares, excites, and even what challenges them. Audiences will see her brilliant scenes in action when the television series airs.
In a recent interview with Garza, over a cocktail dinner party, she expressed how much harder she works to give the performances she does.  In all honesty, Garza probably gives more than she needs to, and her performances would not suffer if she worked less.
That beautiful dinner party had a delicious spread of Louisiana's famous cooking, but Garza held my attention. There across the table, she discussed fun and exciting topics. The actress was more than eager to discuss her position as a star in the television show The Purge. The conversation quickly changed to a personal and intimate one.
She spoke of the struggles and reality of the career she chose. Touching base on her insecurities as an actress. This insecurity probably stems from her lack of formal training from a school that is world renown. This would be seen as inefficient for some, but despite this, she managed to triumphantly put her talents on display for the general public. Garza axiomatically advocates that there is more than one way to attain success in Hollywood.
One year. That's how long actress Jessica Garza gave herself to make it in Hollywood. After graduating from high school early, she made a deal with her parents. Garza would try her hand at acting, but, if she did not land any steady gigs within a year, she would have to re-evaluate her future. Garza started off slow with guest-starring roles here and there, before landing a regular part on SIX. However, it is her upcoming role on The Purge TV Series where she is gaining critical attention.
Garza stated laughing, "I was a barely working actor. To get any job would have been exciting, but to get this job on this show on this franchise is completely surreal… It only recently hit me, 'oh shit this is it, people are going to see this.' I still can't believe it. How could you think of a better franchise to start your career in? I feel like I stumbled into the role of a lifetime."
Garza is not the kind of actor that will allow herself to simply stand still and not develop her skills. It is no wonder why she elected to move from Texas to California after graduating high school a year early. Her desire to work in this field commenced during her childhood. She told me a story of how her brother (who also acts) and she would often dress up in costumes, write plays, and sell tickets, all for fun. This was just the start of their careers.
Garza proved that she can do it and continues to renew that contract with her parents to this very day. She is one of the stars who are in every episode of the biggest psychological experiments tv series out there, The Purge.
There are very few roles available for Hispanics/Latinos in Hollywood. For those few parts that are offered, the competition is rough for all. Having so many skilled actors all aiming for the limited positions creates tension and frustration. During our interview, Garza expressed as much.
"It's frustrating. There are going to be things you want to audition for, but you can't, and if you do they will give you a cryptic answer as to why you can't audition for it. My answer to that is that there are many people out there making movies and shows for all— including Hispanic/Latino people. There were times that I auditioned for spots that weren't Latino. Sometimes you have to put yourself out there. If all avenues fail, go out there and create a show, write one, produce, join the industry and do something to change it. Actors are going to have to keep going for whatever they can, and if you do you should do your best."
Garza is becoming more than just an actress, she is honing her art and gaining ground in The Purge. Garza portrays Penelope as a young naive woman who is a member of a purge worshiping cult. Penelope uses the night as a blessing, who is run by the cult leader named Good Leader Tavis (Fiona Dourif) who preaches about sacrifice and how it will be rewarded.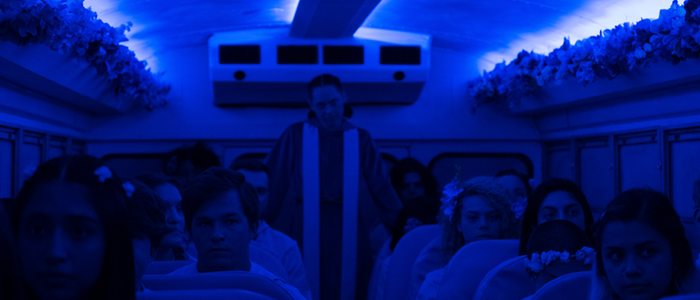 Penelope is going out on purge night not to purge, but to be purged. This will cleanse America of its maltreatment, violence, and anger that you see on purge night. When one sacrifices themselves, they will go to a world known as the invisible. This is their paradise. She almost certainly understands the reality of purge night. Or does she?
The method in which Garza so convincingly exemplifies Penelope's reality lies in the amount of research she undergoes to prepare for such a sympathetic character. She formulates her method by watching cult videos and reading up on cults, like Heaven's Gate. In Heaven's Gate, their beliefs seemed outrageous. The participants are so willing, happy, and grateful to go in and do what they are doing. In their mind, it would have been suicide to not do what they are doing. They posted this video as they exited this world.  Garza invests countless hours to her work, so much that she even sees parallels to her character.
Garza is an incredibly humble actor. She has a spot in one of the biggest franchises, The Purge, but she does not believe she has made it. Garza is one of those actresses that might not be as well-known as Jennifer Lawrence or Sofia Vergara but given enough time, she will no doubt become a household name people will remember.
You can see Jessica Garza in The Purge TV series on USA Network September 4. Check your local listings for showtimes.
Donnie Lopez
Donnie Lopez is a gay Latino/Hispanic social and political commentator, writer, entertainment journalist, and professor. He writes on topics that affect Hispanic/Latino culture. With his novel insight, veracity, and sense of humor, he entertains as well as educates the world.