This week at Star Wars Celebration the panels have enlightened us from diving into the history of how structures and concept designs are made within the Lucasfilm universe. The Light & Magic panel featuring Ron Howard, Lawrence Kasdan, Dennis Muren, Phil Tippett, Joe Johnston, Rose Duignan, and Lynwen Brennan showcasing these luminaries shined a light on the inner workings of the film industry . There's also Lucasfilm studio showcase panel which highlighted new shows and series premiering on Disney+ this year and next. John Williams celebrated his 90th birthday and a surprise appearance from Harrison Ford stunned the crowd.
However, today's panel was the one that fans of The Mandalorian looked forward to the most.
Moderated by Screenrant's Ash Crossan the panel started out with Jon Favreau sharing his love for Star Wars. And also how important as someone who grew up watching the franchise, how important these characters were to him. "I wanted to pair down to a few characters and I knew people may not be up on the lore, so I knew this would be an entry ramp. We were most proud the viewership went up for not only this show, but all of the other animated series."
As Favreau said this, the audience roared with applause. The Mandalorian has had two major secrets. One disclosed at the beginning of season one and the other at the end of season two. Dave says, "I'm just glad the secret was out in the first episode." This, of course was the Grogu reveal, which is now the show's most popular character in the series. "And the secret in last episode of the second season when Luke Skywalker came back," says Dave.
Jon Favreau is now pop star icon status to Star Wars fans. For the series The Mandalorian, it was a continuation of a serialized story and there were cliffhangers. "Those chapter stories were very fun to write. We know we could tell the stories over the course of many hours. It's the most fun I ever had," Favreau adds.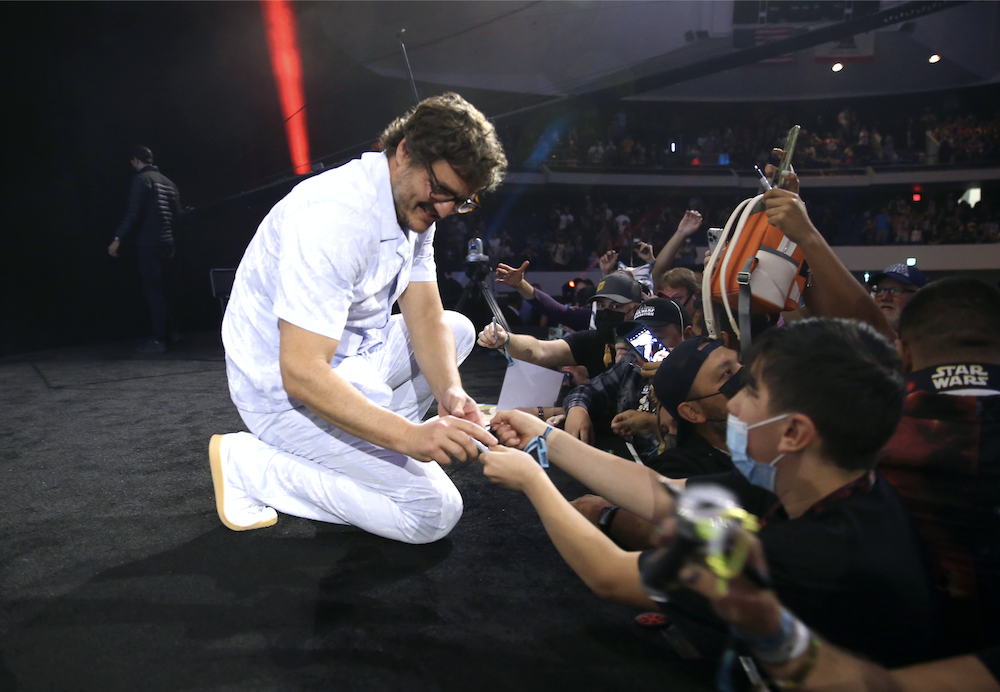 The panel introduced other cast members including the mandalorian himself actor Pedro Pascal. The actor after the playing the role for two seasons now talks about being a patriarchal figure in the series. "It's the close I've ever come to being a dad, and you watch the show and to see a child to love his father and I get it."
Lateef Crowder (who starred in Kingsmen with Pascal) and actor Brendan Wayne (John Wayne's grandson) joined the stage of panelists. "The way we work is so inclusive, Wayne adds. We get to play cowboys in space. It's always been apparent to me in creating The Mandalorian, we want to be of service to your fandom and I think about it everyday on set when I'm there."
Veteran actor Giancarlo Esposito was brought to the stage and shared some of his insight to the panel. "It gives me pleasure to drop into a character that is honest and truthful. The filmmakers give me hints and I fill in the blanks. I know a bit of the Star Wars franchise from the beginning and I catch up as I go."
For Giancarlo having Jon Favreau trust him as an actor was empowering to him. Giancarlo says, "That's what this show is about. Empowerment. Jon changed my existence as an actor. I'll never forget it."
Emily Swallow who is nothing like her character on the show elaborates on how fans interact with her in real life. "I love getting to live in her space. There are often people who will meet me at conventions and they will catch me in an excited mood and they are like 'are you really the armorer?' She is so grounded and so patient", she adds. "What I appreciated in season one, in that scene in episode three when they came to blows and fight and she says simmer down and she reminded everybody that he abided by the same creed that everyone had, he was one of them and he had made the same sacrifices. And that kind of bond of community is so important," she says.
Carl Weathers, who I personally remember best from Action Jackson fame, but has made a splash in The Mandalorian universe graced the stage and was amazed by the turn out of fans in the arena. "I owe at least 90% of what you see on screen to Jon Favreau. If Jon hadn't invited me, I wouldn't be here right now. His support along with Dave's has been phenomenal," he says.
Dope director Rick Famuyiwa also directed 3 episodes of The Mandalorian. And will take on more in season 3. "From the moment I saw the opening crawl of Star Wars my life changed This has always been a dream of mine to tell stories. And to get to walk in and to have Jon offer to have to do the second episode, was great and I got some exciting developments to come.
Katee Sackhoff spoke about women roles in The Mandalorian. "My dad raised me on strong characters and when I was little you didn't have strong character to choose from. But I wanted to be Bruce Willis, and to be able to play the women I have been able to play in my career has been such a gift," she says.
The final cast members added to the panel were Rosario Dawson who plays Ashoka and Natasha Liu Bordizzo who plays Sabine Wren. Fans roared when Rosario came out on the stage.
We're excited for the new season of The Mandalorian and what is to come.
Jamie Broadnax
Jamie Broadnax is the creator of the online publication and multimedia space for Black women called Black Girl Nerds. Jamie has appeared on MSNBC's The Melissa Harris-Perry Show and The Grio's Top 100. Her Twitter personality has been recognized by Shonda Rhimes as one of her favorites to follow. She is a member of the Critics Choice Association and executive producer of the Black Girl Nerds Podcast.