CRS
C R Sparrow wants desperately to throw off the shackles…
Everyone's favorite barkeep in the Quad gets his own episode and it manages to balance fun and sexy with fraught and arc-propelling. From Dutch and Johnny's baring of their souls to the expansion of the lore, to the bittersweet love story at the center holding it all together, this episode has something for every type of Killjoys fan.
The Farren are an interesting bunch. I remember when we found out that Pree had a backstory as a warlord. I figured his past was Xena-esque, cutting a bloody swath through the J until he finally had a come to the Trees moment and gave up his wicked ways. I like the reality far better. In a corrupt system, it makes sense that conscientious objectors and warriors who only fight in righteous conflicts find themselves outlaws living on the edge of society.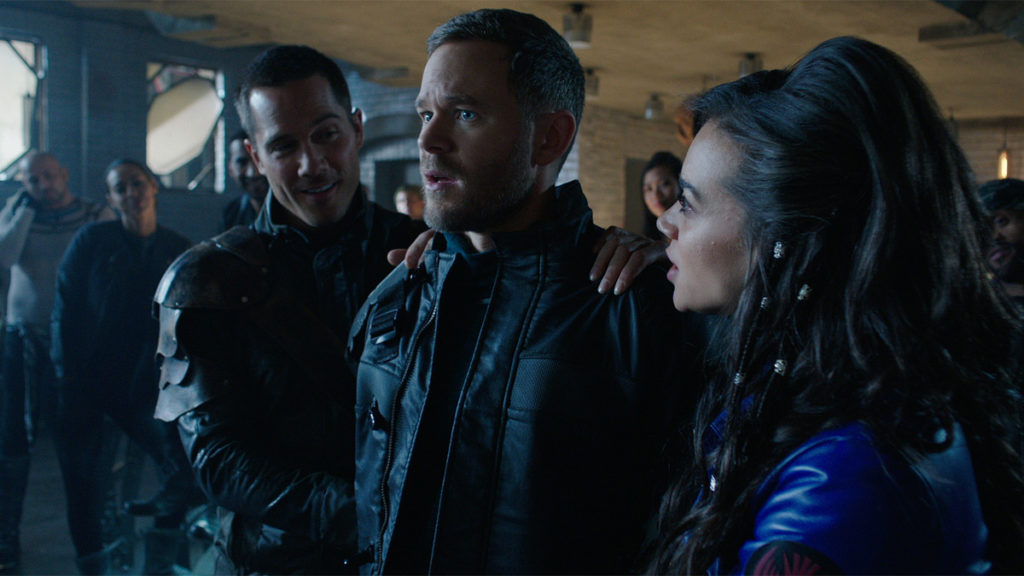 "Warlord" struck the right balance between providing backstory for Pree and addressing Dutch and Johnny's, issues. As close as they are, as much as their lives intertwine, it's important to note that they don't always see things eye to eye. They cover it with quips and avoidance, but underneath their bond are unarticulated conflicts and resentments.
Hands down, the best scene is the one where Dutch and Johnny are forced to tell each other their inner truths thanks to Lachlin's bitching brew. While Johnny's blurted, "Your hair is too big for your face," is hilarious, it's the admissions that Johnny doesn't think they can win and Dutch wishes Johnny hadn't come back that make the lasting impact.
Dutch is the true Xena figure in this story. She has a hell of a lot to atone for even though she's had a lot of choices taken away from her. She worries that she's turned Johnny, a rakish-but-lo-lovable ship-stealing rogue into an unrepentant murderer and it weighs on her.
I like that Johnny is fully ready to own up to his own choices. She didn't make him the way he is, but after indulging his vengeful impulse to shoot Seyah Kendry, he thinks he understands Dutch more. This war isn't about saving the Quad or the J, its' about Dutch's need to prove to Khlyen that she's better than Aneela. She doesn't deny it, in fact leans into it. Interesting.
I love that they can drop their masks, get uncomfortably honest with each other and get back to normal just like real siblings. Conversely, it usually takes Dutch and D'av a lot longer to get it together after a dust up and that seems authentic to their characters and the dynamic the show has built over the past three years.
After the truth serum wears off, Dutch and Johnny find themselves physically bound but with their freedom to soft pedal their truth again intact. They can be honest without the bluntness, and it restores the peace quite a bit. Working as a team to get out of their predicament helps too.
Meanwhile, in D'avin's world, he and Zeph manage to contact Aneela. That's an important moment that relays a lot of information to the characters in a few short minutes. The way Aneela says "Tell her I'll see her soon," is enough to make the blood run cold.
There are some thrilling and fascinating things coming in the next few episodes. And yet, there are still so many more tales this bunch can tell. I really don't want this show to go anywhere, so I know I'm going to be out there using the hashtag #RenewKilljoys and watching live when I can.
Roses
Pree and his sexy men from Lachlin to Gared he sure can pick 'em
The bookending of Pree vs Dutch's bar etiquette
I like that the show is giving us the nitty gritty of obtaining war assets. Some of the organizing is off screen but that's to be expected
Gander and Delle Seyah's blistering hatred for one another
The solid contribution to the main arc while simultaneously giving us more Pree
Thorns
While it's sweet, I sort of wish Pree leaving the warlord life was a bit more interesting than 'I loved a man too much to stay with him,'
Did Johnny think shooting Delle Seyah would just never catch up with him? I hate when characters think leaving their loved ones ignorant of what's to come somehow protects them from it.
CRS
C R Sparrow wants desperately to throw off the shackles of wage slavery and live a life of leisure. Unfortunately, she hasn't quite figured out how to turn her encyclopedic knowledge of Star Trek Deep Space Nine or deftness at playing Bioware RPGs on the easiest setting into a fortune. She's still working on it though. Sci-fi/Fantasy blerd with a strong affinity for binging television shows and having lots of feelings about them.