Guest Blogger
BGN works to feature strong, unique content from writers who…
Surprise, You're a Cool Mom
Mother-daughter relationships can be a little challenging to portray on television, but Speechless gave a thoughtful performance this week with Maya and Dylan. We are so used to seeing Dylan the feisty younger child with a "winning" attitude. It was nice to see her truly vulnerable and expressing her true feelings.
This week Maya didn't listen to Dylan and threw her one of her annual surprise parties. Dylan just wanted to have a mother-daughter day, but instead, she got a house full of popular kids. Maya is consistently pointing out how cool she is and how she is not embarrassing Dylan. We have all seen how cool of a mom Maya is, and how much she loves her kids. Even the coolest of moms can get it wrong sometimes. It was a nice way to say, even the closest of families have issues. Things go awry when the cool girl Ella distracts Maya from focusing on Dylan. Dylan makes the most heartbreaking speech about how she tries to be easy amongst the craziness of Ray and the needs of J.J. She tries to take care of herself. Sometimes she just wants the family to take care of her. I can relate.
This is the one time when Maya wasn't my favorite person in the episode. This is when Speechless strikes a chord with so many family issues apart from having a kid with special needs. Dylan knows how awesome her mom is, which is why she didn't want to share her on her birthday. It was fantastic to see a more child-like side to Dylan in the "build-a-bear" store. It shows that underneath her strong, winning mentality is still a young girl who sometimes just needs her mom.
This second half of the season is giving us a deeper insight to the family's different relationships, and I love that. We even got a taste of Ray and J.J. this week, who are always trying to work out the older brother/younger brother dynamic. We were also introduced to the Kenneth and Jimmy relationship, or lack thereof. It was funny to think, they really are never alone, except for that one time when Kenneth took care of everyone as they got sick.
I can't wait to see what the next episode has in store for us. Don't miss out on a brand-new episode of Speechless, only on ABC.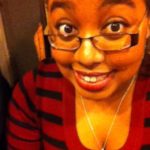 Catalina Combs is an aspiring film critic from California. She loves reading, writing, film, baking, music, drawing, traveling, Disney, and playing soccer. Her life usually revolves around all of these and her family. The oldest of six, Catalina tries to set a good example for her siblings. She graduated from Santa Clara University in 2010 with a BA in English Creative Writing and is pursuing an MA in Film. I also blog on WordPress and contribute to the website Examiner.com. Twitter- @tiggercraze | Facebook- Cat Combs | Instagram: @tiggercraze
Guest Blogger
BGN works to feature strong, unique content from writers who speak to our niche. If you are interested in having your work highlighted contact jamie@blackgirlnerds.com to be featured as a guest blogger on the site.