On February 13, 2022, get ready to have a little Philly added to your life. This time, instead of superstar Will Smith telling a comedic fish-out-of-water story, we'll be introduced to newcomer Jabari Banks as a troubled young man trying to make his way in Peacock's Bel-Air. While the West Coast may protect Will from gun violence and street fights, it only heightens the pressures of trying to fit into a community that doesn't see you.
I had the chance to visit the Bel-Air set and talk with the stars who will bring this story to life.
Jabari Banks (Will)
On why this story matters to him
"I just really focused on being me and staying true to what I know and how I grew up. I lived with my uncle in Philly. [Fresh Prince] has been a huge influence on me in my life and how I grew up and the way I approached my work. One of my first memories was Fresh Prince, and it was one of the shows that I recognized what entertainment was. I had no industry experience. So it's great to have this opportunity to just be me in front of the camera. I think it's why they chose me! In the log line they say, 'This is Will Smith. His name is Will Smith, but this isn't the Will Smith superstar.' This is somebody totally different, but gives that same feeling, and I just lean into that."
Olly Sholotan (Carlton Banks)
On finding the angst in Carlton
"I'm totally stealing this from Cassie [Freeman who plays Aunt Viv], but if the original Fresh Prince of Bel-Air was the story from Will's perspective, this version is the story as if you're reading each and every character's diaries. The Carlton that we see is a 16-year-old kid who is trying to navigate his place in the world. He has a lot of pressure to do great and as well as his father, if not better than his father. I'm a child of immigrants, I'm a first-generation American, so a lot of my approach to the character was taking my understanding of my growing up and putting it into Carlton. How I relate to success, how I relate to ambition, how I relate to the idea of doing better than the generation before me."
Akira Akbar (Ashley Banks)
On what she hopes people see in Ashley
"I'm just excited for people to see Ashley in a new way. She deals with more modern-day problems that a lot of teenagers are dealing with now. I feel like Ashley really is in tune with the world, and she cares about the environment. I think that really shows in the series, you know? We're talking about climate change and her dealing with those issues. I just think it shows her coming of age."
Coco Jones (Hilary Banks)
On Hilary remaining a fashion icon
"When we were prepping for the show, we were having a lot of discussions about just how I'm gonna be portrayed. Because it's so easy to get overly sexualized. But I really wanted there to be a formula of you can still look good, you can still create these looks, and it not be that you have to wear nothing. It was a conscious effort to include Black designers, so we have a lot of Brandon Blackwood. We've had Black designers create looks specifically for Hilary. It was a conscious effort to bring culture in as many ways as we could and use Hilary as a platform for Black designers who create and deserve that spotlight."
Jimmy Akingbola (Geoffrey)

On bringing Geoffrey a certain type of swagger
"Sometimes there's a perception that all Brits talk like the queen and I'm like, 'I'm from East! We don't all talk like that!' So it was really exciting for me to get license from TJ [Morgan, EVP/co-showrunner] and Rasheed [Newson, EVP/co-showrunner] to create a Geoffrey who has more swagger, more essence of the 'top boy.' We said let's have him be his 'brethren,' as we say in the UK. He's like Philip's consigliere; if Phil's the general than Geoffrey's the lieutenant. I look at Geoffrey, and I understand the journey of what it's like to be a fish out of water, how that coincides with Will's journey and how that triggers Geoffrey."
Simone Joy Jones (Lisa)
On what role Lisa plays
"I was thinking of the bridge of Will and this idea of 'home' and the nostalgia of the show. Lisa is like that in a different way. When it comes to a new place and it's a new universe to him and he's completely uprooted from his family, I think Lisa is someone who feels familiar. I feel like she's a little bit of soul food in a place that's very plastic. In the beginning it feels like trying to find where you fit in, and so I think Lisa being a cool match to a puzzle piece early on is what's special."
Jordan L. Jones (Jazz)
On making Jazz more than just a sidekick
"Jazz is such an iconic character, but I wouldn't say I'm exactly like him. I feel like every character has a little more depth. So in this one, my character is actually from Compton. I'm the one who picks him up from the airport, I'm the one with the dice in the mirror and the license plate that says 'Fresh,' so there's more of a home freeling.There's a lot of funny moments where I'm being funny, I'm being serious, flirtatious. I had to take a different approach. It wasn't a specific thing, it was just like, okay, let me see what difference I can bring to the character."
Adrian Holmes (Philip Banks)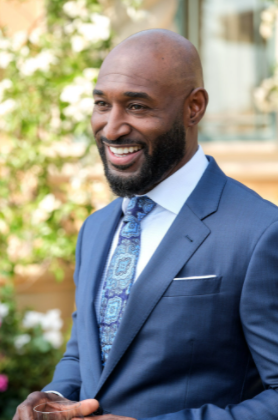 On refusing to fill Uncle Phil's shoes
"I didn't see myself as Uncle Phil for obvious reasons. But then when I got the material, I really connected with the energy, the essence of the character, and… Uncle Phil is a vibe! He's not just a physical presence, he's an energy and he's a spirit. So I wanted to connect with that. I look at this as a tribute to the late, great James Avery. The role was just iconic. I could never fill his shoes, and he wouldn't want me to. He'd want me to do my own thing. He would say, 'You go there and you have fun, and hopefully I was able to be a blueprint for you.' Which he definitely was.
Cassandra Freeman (Vivian Banks)
On the "real" Aunt Viv
"I really believe that we don't know what the true essence of a Black woman is. Without having the guise of white culture and patriarchy on top of that and capitalism — you got all of that, and you get a specific sort of Black woman. I think you'll see throughout the course of the season what happens when some of those cages start to be removed and what starts to emerge. And one of those cages is even marriage. What does marriage do to a woman? So I think Will coming in is like the cue ball that hits everyone and sends them off on their own journey."
Bel-Air will premiere the first three episodes on Super Bowl Sunday, February 13, 2022, on Peacock.
Stacey Yvonne
Stacey Yvonne is an entertainment journalist who is often found in some corner of the internet pontificating about pop culture and its effect on women, Blackfolk and the LGBT+ community. You can see more of her work at https://syvonnecreative.com