It's always a good time when commentary on the real world makes its way into animated films. Tension due to fear of the unknown. Tension because of visual differences. There's no need to fear those who are different from you. We have more in common than you think. These are just some of the deeper topics from the latest Pixar film, Luca. 
I am all about immersing yourself in other cultures and learning their ways. I was worried that some of the cultural attributes would come off stereotypical or cliche, but I was wrong. Luca is an engaging, tasty treat with vibrant colors and authentic culture, and it features another fantastic duo in Luca and Alberto.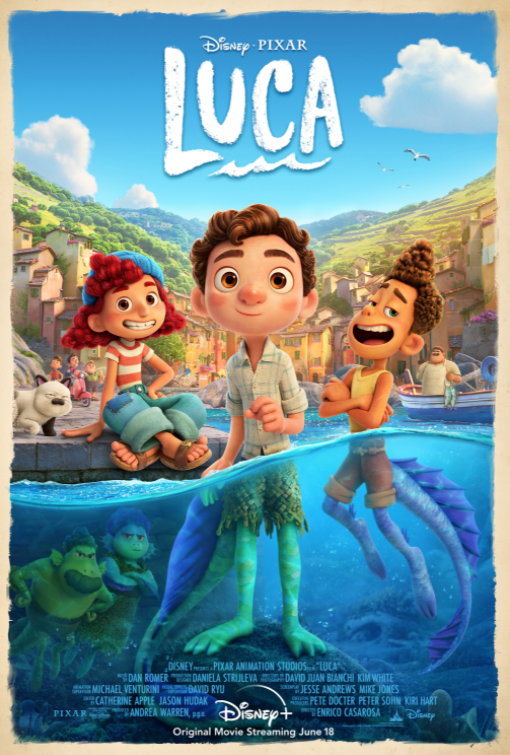 Luca follows its titular character Luca Paguro, a shy and good little sea monster. He does what he is told. He tends to his flock of fish and he never goes to the surface — that is, until he meets Alberto Scorfano, the sea monster who is, literally, a fish out of water. The challenge with being a sea monster on land is keeping it a secret, especially in a fishing town built on the legends of killing sea monsters. Luca and Alberto experience an epic summer on the Italian Riviera full of first-time experiences and a bond that will last a lifetime.
The film is directed by Enrico Casarosa (La Luna) and co-written by Jesse Andrews (Me and Earl and the Dying Girl) and Mike Jones (Soul). The film stars the voice talents of Jacob Tremblay (Good Boys), Jack Dylan Grazer (Shazam), Sacha Baron Cohen (Borat), Maya Rudolph (Bridesmaids), Giacomo Gianniotti (Grey's Anatomy), Jim Gaffigan (Troop Zero), and newcomer Emma Berman.
Luca is, at its core, a film about friendship — a friendship we all want at some point. Someone to plan big adventures with, who won't laugh at our outlandish dreams, and someone who pushes us out of our comfort zone. Some of us are lucky to get one of those, let alone all three. Luca and Alberto's friendship is charming and innocent. Of course, it's not perfect, and why should it be? Their friendship is one of the reasons this film works as well as it does. It's boyhood. It's two young boys having the best summer of their lives. Their friendship gives off a nostalgia that encapsulates the entire film. 
Luca and Alberto not only highlight the theme of friendship, but also the theme of belonging. The two of them represent every kid that ever felt like they didn't belong, the kids who are off in their own world because the one they live in doesn't accept them for who they are. When you find that person who gets you and is weird with you, it's exciting. Luca, Alberto, and even their new friend Giulia, who comes later in the film, are aware of their outsideness to the point where they give themselves a name and learn how important it is to stick together. At such a young age, Luca and Alberto realize what it means to be a true friend and wanting the best for someone, even if that means being apart for a while.
Luca takes us on a wild adventure to a small town on the Italian Riviera. In real life, I am socially distant and sitting on my couch. But, in my mind, I am eating gelato next to a Vespa. The travel bug hit, and it hit hard after watching Luca. The attention to detail was amazing. From the bright colors, the landscape, the food, the little Italian phrases nestled in the dialogue, the cultural identity of the Italian people was acknowledged and actualized. Director Casarosa made it a point to include as much authenticity as possible, and it shows.
While there were a lot of amazing things about this film, there were a few things that could have been handled better. For one, there was a heavier moment in the film that was never fully actualized. Even though the film is titled Luca, we learn a lot about Alberto and how his friendship with Luca changes his life. I wish we could have gotten a deeper dive into Alberto's past. We get a slight opening to the past where we find out where Alberto's "Bruno" comes from. Bruno is that voice that tells us we can't do something or gives us fear. Alberto's Bruno developed when his dad left. It's a lot more poignant than when Luca realized "Bruno" came for him when he was getting ready to break the rules. It would have given the film more dimension. But, as such, Luca remains a purely positive film. 
Luca is a warm, family-friendly experience that reminds us what friends are for (cue Dionne Warwick ballad). The film is full of positivity, optimism, and determination, all great things that make for a fantastic Pixar film. Luca is the character who represents everyone, at any age, wanting to get out of their comfort zone and learn about other people, take in other cultures, and make new friends along the way. Luca is available on Disney+ June 18, 2021.