Diedre Johnson
Diedre Johnson is a Los Angeles-based former staff writer covering…
By Diedre Johnson @diedremichelle
The first episode of the second season of The Bold Type recalls one of those old soap operas that begins, "when last we left our heroines …" True to form, in the first season Jane (Katie Stevens), Kat (Aisha Dee) and Sutton (Meghann Fahy) had an interesting time of it.
In the finale, Jane left Scarlet magazine to work at the edgy Incite website. Kat finally admitted her true feelings for Adena and the couple went off for an extended vacay in Peru. Meanwhile, Sutton successfully settling into her stylist position—and flirted with the idea of starting a budding relationship with her colleague, Alex (Matt Ward).
Ironically, despite these neatly wrapped little packages, "Feminist Army," (the aptly-named title of the second season premiere) mostly deals with romantic relationships. For example, Adena (Nikohi Boosheri) comes to New York to live with Kat, but like all new couples, they must come down from their cloud long enough to deal with their likes and dislikes and what they need from each other to grow.
Sutton ended her romance with Scarlet executive Richard (Sam Page) in last season's finale because the two couldn't take the pressure of trying to keep their office romance a secret. Neither was willing to lose their job for it. While a smart call, the passion obviously lingers.
Meanwhile, Jane finds that some parts of the grass may not be greener over at Incite as she tries to impress her new boss. Some things don't change though, such as the women's ride or die friendship, their meetups over drinks and food, and their respect for Scarlet editor-in-chief Jacqueline Carlyle.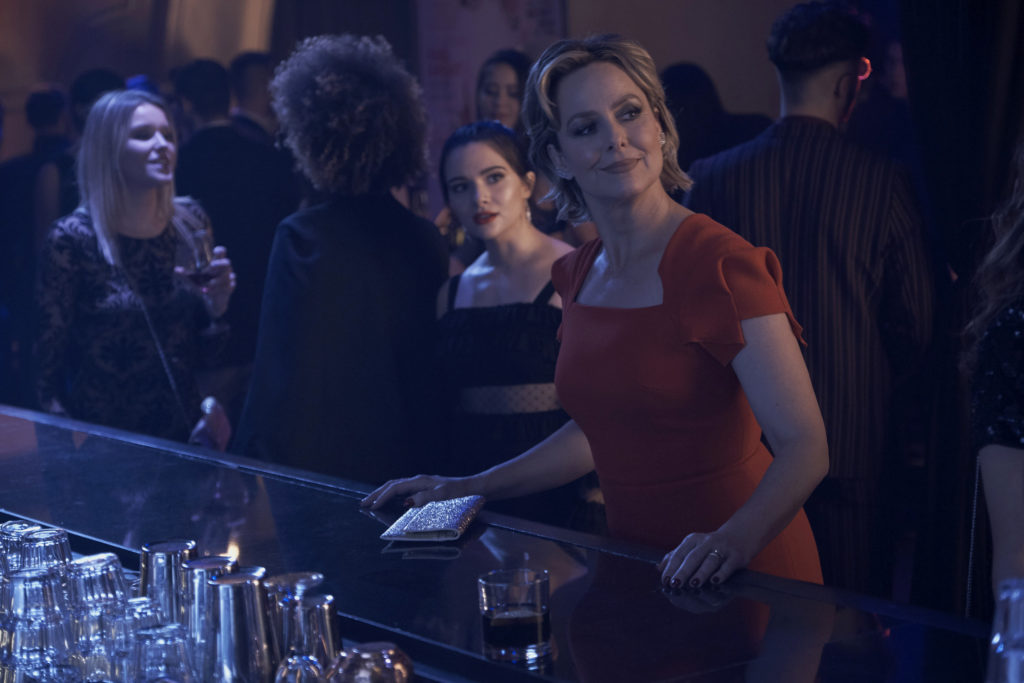 Carlyle (played with stylish grace by Melora Hardin) is still front and center at Scarlet, assigning stories, offering gentle discipline, and guidance where needed. Yet, this EIC appears more layered after the season finale's poignant reveal that she endured blatant sexual harassment early in her career.
In fact, the threat of office sexual harassment has been addressed by the characters in several plots on the show during this era of #MeToo. In a time when it's been reported that 81 percent of women have experienced sexual harassment, real life and reel life need to mirror. In The Bold Type, it does as this subject flows into Season 2, especially in the form of Sutton's love life.
Feminism and femininity also run side-by-side as the main characters face issues that require them to rely on their own female strength while all the time looking pretty and appealing. The characters even talk about the juxtaposition of the two while on break and lounging in their beloved fashion closet at Scarlet. Since The Bold Type is reportedly based on the experiences of an ex-Cosmopolitan editor, these themes aren't surprising. However, they are even more on point post-Weinstein as all sexes navigate the waters of working together in a more aware office environment.
Office sexual politics still shows up in a number of funny and not-so-funny moments in Season 2 and contribute to the drama of the ever-changing world of three young women working in the media. However, the show tries to find a way to wade into the topic while finding a possible solution. Suddenly, it not so much about victimization but about women and men finding legitimate ways to respect each.
Yet, other things happen too. While Season 1 introduced the media world that the characters work in and build their lives around, Season 2 explores some of the trials of adulting. These include themes of coming into one's own identity and making choices about integrity versus the lure of reaping rewards from just going with the flow. Speaking of rewards, Jacqueline finds herself both affected and enticed by the change.
Expect to see more of peripheral characters such as Sam and Matt, plus a view from Jacqueline of what an older woman faces in the workplace and how it threatens to chip at self-esteem.
The great thing about The Bold Type is that it touches on some very serious subjects, but the appeal of the show is that the message is often made subtly. So subtly that if you blink you'll miss salient points–little bits of wisdom and humor almost lost between the one-liners. Yeah, every story or shoot is the most intense or fantastic ever and sometimes there's a little too many editors and co-worker pats on the back for it to be a competitive magazine. (Yes, it happens but these days, there are so many stories, so little time, even in print.) But, the show is still touching on a lot of on-point subjects such as diversity, inclusiveness, racial and cultural identity, fake news, responsible reporting, our obsession with all things tech—all relevant conversations in our current milieu.
If this season is like the first, there will be even more hot-button subjects woven between the romances and scoops.
Watch The Bold Type Tuesday nights at 8/9c on Freeform
Diedre Johnson
Diedre Johnson is a Los Angeles-based former staff writer covering entertainment whose work has appeared in Variety, The New York Daily News, TV Guide.com, The Crisis, Vogue Japan and Italia, and Harper's Bazaar China, among others