Guest Blogger
BGN works to feature strong, unique content from writers who…
Thanksgiving, that special time of year when friends and family gather to eat and give thanks. It is also that time of year when stress levels rise and you realize why you only see certain family members once or twice a year. The latest episode of Speechless took on Thanksgiving and like most of us during the holidays, it was a memorable, chaotic mess. Maya is super stressed about the arrival of her mom, Andrea, who likes everything to be very British. There are rehearsal dinners, rehearsal topics of conversation, and rehearsal do's and don'ts. Right away I could tell all this planning was going to cause some very comical DiMeo mishaps. Boy, was I right?
The house was full of people and full of drama. It was full chaos. Maya couldn't get things right. She was dropping food on the floor, spilling wine in her mother's lap, and swapping her children with her son's girlfriend and her brother. Yeah. Taylor and her brother with cerebral palsy pretended to be Dylan and JJ. This just made things worse. Turns out there is a feud going on between JJ and Taylor's brother that was formed during their time at summer camp. I am still waiting to learn what happened between the two of them. Turns out Dylan is nothing but loyal to the U.S of A. She does not want to pretend to be British or like soccer. Ray, in charge of getting his siblings into grandma worthy shape, calls an audible when Andrea thinks Taylor and her brother, are Dylan and JJ.
Unfortunately, Ray can't contain his googly eyes for Taylor and is caught playing footsies with his grandmother. What makes it even better is that grandma Andrea didn't even realize that Dylan and JJ weren't there. She thought her grandson and granddaughter were in love with each other. Maya's mother had nothing but shame for the DiMeo family. Her opinion does not change, despite Maya's confrontation. Maya and her mother will never be what they want each other to be. The mother-daughter relationship is something that Maya never got to have because she chose Jimmy and opted for a life in the United States.
Amidst the DiMeo drama, Kenneth and his father, the Colonel, brought their own family dysfunction to the house. The amazing Keith David as Kenneth's father is perfect. I want more of this family pairing as we learn more about Kenneth. Let's be honest, I just want more Colonel and Kenneth duets. This time around, Kenneth and his dad argue and yell at each other amidst preparations for dinner. Turns out they used to be a singing duo before Kenneth left the group on the eve of a big gig. His father wasn't very happy about that. But, Maya with her cunning ways, gets the two talking at a lower octave. Soon enough they are singing again, cracking jokes, and hate quickly turns to love. A duet at a restaurant solidifies their newfound relationship.
I love the exploration of the mother-daughter and the father-son relationship via the adults of Speechless. Maya and Kenneth are two very strong characters with equally strong personality. It just makes sense that their parents would be just as stubborn and loud. Families during the holidays can be complicated and unavoidable for the most part. What you realize is some relationships work better in some ways more than others. If you're like Kenneth and his dad, you argue and fight, but in the end, you make-up and forget why you were arguing in the first place. Or, you're like Maya and her mother. You realize you love each other best when you are apart. If there's one thing this Thanksgiving episode taught us, it's that Thanksgiving is best spent with people who love you. If that's just your immediate family, so be it. If that's your friends, that's great too.
Thanksgiving break is upon us, so catch up on episodes of Speechless on ABC and have a great holiday.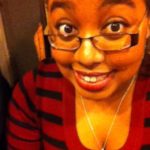 Catalina Combs is an aspiring film critic from California. She loves reading, writing, film, baking, music, drawing, traveling, Disney, and playing soccer. Her life usually revolves around all of these and her family. The oldest of six, Catalina tries to set a good example for her siblings. She graduated from Santa Clara University in 2010 with a BA in English Creative Writing and is pursuing an MA in Film. I also blog on WordPress and contribute to the website Examiner.com. Twitter- @tiggercraze | Facebook- Cat Combs | Instagram: @tiggercraze
Guest Blogger
BGN works to feature strong, unique content from writers who speak to our niche. If you are interested in having your work highlighted contact jamie@blackgirlnerds.com to be featured as a guest blogger on the site.