Guest Blogger
BGN works to feature strong, unique content from writers who…
Speechless 1×11 "R-O-ROAD T-R-TRIP"
Spontaneous Disaster
After a short break, the DiMeos are back at it in R-O-ROAD T-R-TRIP. What started off as a pretty slow re-introduction of characters finished with a big smile. I will say, I was incredibly excited for how the family announced they were going on a trip. It was very "Dimeo" of them. Then things got monotonous, with the family ganging up on Ray, and Kenneth not fitting in without J.J. But, by the second half of the episode when all is revealed, we see that this start to the second half of the season is just as good as the rest.
When the road trip custom of spontaneous turns, turned out to be Ray's devious plan all along, I was surprised. I was with Maya and Jimmy in thinking he was lying. But slowly, like them, I came to realize that it was true and it was genius. Ray always seemed to be the butt of every joke, but now the tables had turned and he relied on his family's mistreatment to do what he wanted to do. Then he goes around and gets an appendicitis. It's a fine line between thinking 'that's what he gets for tricking his family' and 'this poor guy can't have anything his way.'
Once again, however, the idea of family reigns supreme. Despite the trickery, Maya, Jimmy, J.J., and Dylan all rally together when Ray gets sick. Love endures with this family, even if they act like they don't like each other on the surface. Kenneth had to remember that he is also in this family love. When he seems lonely and out of place at school without J.J., it is because deep down he misses the DiMeos. This becomes clear when Mya calls and he immediately forgets about his coffee meeting with the Principal. I said "meeting" on purpose, because it would be out of place if he started dating the Principal. The Principal is the outlier that makes the DiMeo's type of crazy seem almost normal. Let's not 'ship' this one.
I am excited to see if Speechless can continue it's strong presence on Wednesday nights. This episode was okay, so I look forward to more conflicting stories and the DiMeos doing what they do best.
Speechless "H-E-R-HERO" 1×12
No Horsing Around For J.J.
Now this was a great episode. It was definitely better than the last. Maya was the star this week. She had me laughing out loud the entire time. She is one of the most relatable characters. As a mom of a disabled child, her willingness to do all and anything for her son is astounding. Jimmy also had his moments. I mean the opening scene with the parents being the one to okay the J.J wheelchair ramp was hilarious, but it was Maya who carried this week's episode.
From wooing her old insurance claims manager with British conversation and chocolate cake to dancing for a horse, she was amazing. The sarcasm, the snarky comments, and her total release of "mom powers" to ride a horse was great T.V. It was a blast to watch. Is it all moms that are this crazy, or just Mrs. DiMeo? I do know some parents like Maya. But, somehow Maya brings charm and a charismatic tone, that makes you cheer and want her to get her way. When Maya couldn't let Dylan lose just to help her other child, that is when her true "mom powers" came out. She was not willing to choose one kid over another. She treated them as equals, as she should, even though Dylan was willing to help her older brother.
There were some great tender family moments. Dylan was willing to lose for the first time in order to help J.J get a new wheelchair. Ray decided not to use J.J as a pawn to win a hoverboard in an essay contest, and J.J was willing to help Ray win.
Kenneth and his "magical black character" was a great way to end the episode. It was one of those, it's funny because it's true, moments. Just like other ABC shows, Speechless throws some truth at you that may make some people cheer and others uncomfortable.
All-in-all I think this show is really picking up speed in this second half of the season. Can't wait till next weeks all new episode, only on ABC.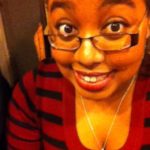 Catalina Combs is an aspiring film critic from California. She loves reading, writing, film, baking, music, drawing, traveling, Disney, and playing soccer. Her life usually revolves around all of these and her family. The oldest of six, Catalina tries to set a good example for her siblings. She graduated from Santa Clara University in 2010 with a BA in English Creative Writing and is pursuing an MA in Film. I also blog on WordPress and contribute to the website Examiner.com. Twitter- @tiggercraze | Facebook- Cat Combs | Instagram: @tiggercraze
Guest Blogger
BGN works to feature strong, unique content from writers who speak to our niche. If you are interested in having your work highlighted contact jamie@blackgirlnerds.com to be featured as a guest blogger on the site.