Guest Blogger
BGN works to feature strong, unique content from writers who…
Speechless Returns with Humor and Heart
The DiMeos are back and this first episode was everything I needed it to be and more. Speechless season one was a great introduction to the family and their life with a disabled teen, JJ. If you haven't seen season one, please do. It's great and will leave you very excited about season two.
The great thing about this show is how the characters and plot drive the episodes. You become emotionally invested in the DiMeos and can't wait to see what kind of shenanigans they get themselves into. The show has heart and shows us what family is all about. This first episode titled, "We-re Back" was the perfect opening. It was a full-blown reminder of why we love the DiMeos and why we love this show.
Of course, with the DiMeos there is bound to be some type of commotion. That's just how they roll. We start the episode with Ray (Mason Cook) dreaming of his girlfriend and his younger sister Dylan (Kyla Kenedy) incepting his dream whilst their house is being tented for fumigation. The tent has blocked the sun and they realize it's noon. Panic ensues and the whole family goes into a whirlwind of panic trying to get out of the house. It's a perfect blend of comedy and ridiculousness. Then Ray is running into and bouncing off the tent blocking the front door. Just when Maya (Minnie Driver) is threatening to sue, JJ calls. Everything else is futile. Family is more important. See, the DiMeos are teaching life lessons without even trying.
Moments later, JJ (Micah Fowler) is telling his family all the cool things he has been doing at camp, because being disabled is not an excuse. Lesson number two. This is when the show takes a turn into brilliant television showcasing the DiMeos at their best. It comes to the DiMeos attention they have been using JJ as an excuse to be lazy. The neighbor asks them when they are going to cut their grass. They all reply in their own way that they have no time. It's very insightful and very funny. As they consider getting their life together the conversation is honest yet hilarious.
Dylan: So when something goes wrong, who will we blame?

Jimmy: Tough call. All the good races are taken. Maybe tall people?

Maya: We won't blame anyone. If JJ can water ski, we can do a bloody dish.
I love this family. Kenneth (Cedric Yarbrough), JJ's aid, even abandons his vacation and joins in on the DiMeos life clean up with a fun little song highlighting their disaster of a lifestyle. The writer of this show is a genius (Scott Silveri). Although a musical number, it fits in perfectly with Kenneth as a character and the DiMeos as the train wreck they are. Now that we have season one under our belts, I hope season two takes the time to dive into Kenneth's life.
As Kenneth goes back to his summertime fun, each member of the DiMeo family decides to change their ways and do better. Dylan gets a job mowing lawns so she can have money. Jimmy shows up for work on time. Maya makes "friends" with a neighbor and follows her schedule. Ray…well, Ray is freaking out because there is nothing for him to criticize or fix. Love it. Ray freaking out about how well his family is doing is great. Dylan has so much money, Jimmy got a promotion, and Maya has a phone with a calendar scheduler. Ray actually finds comfort from his dad, Jimmy, that things will eventually go wrong. Bad things are coming. This kid has issues, but I love him for it.
When JJ returns, the show finds its balance between fun, heart, comedy, and serious moments. Dylan finds a love letter in JJ's bag left by Alexa, the girl at JJ's camp who clearly has a thing for him. It talks about wanting to kiss and meeting her at a spot on the last day of camp. Whoops. JJ missed that memo, but no worries the rest of the DiMeos and Kenneth have his back. They drop everything, make bad decisions, and find the girl near the Grand Canyon so JJ can kiss her. Lesson 3, when family needs you, you make yourself available. In the end, JJ has his first kiss!
Speechless does a great job showcasing its characters. Sometimes I forget I'm watching a made for TV family. Everyone just clicks with each other. I can't wait to see what the rest of this season has in store for us. Speechless is on Wednesdays on ABC.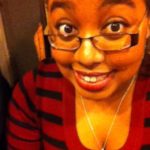 Catalina Combs is an aspiring film critic from California. She loves reading, writing, film, baking, music, drawing, traveling, Disney, and playing soccer. Her life usually revolves around all of these and her family. The oldest of six, Catalina tries to set a good example for her siblings. She graduated from Santa Clara University in 2010 with a BA in English Creative Writing and is pursuing an MA in Film. I also blog on WordPress and contribute to the website Examiner.com. Twitter- @tiggercraze | Facebook- Cat Combs | Instagram: @tiggercraze
Guest Blogger
BGN works to feature strong, unique content from writers who speak to our niche. If you are interested in having your work highlighted contact jamie@blackgirlnerds.com to be featured as a guest blogger on the site.