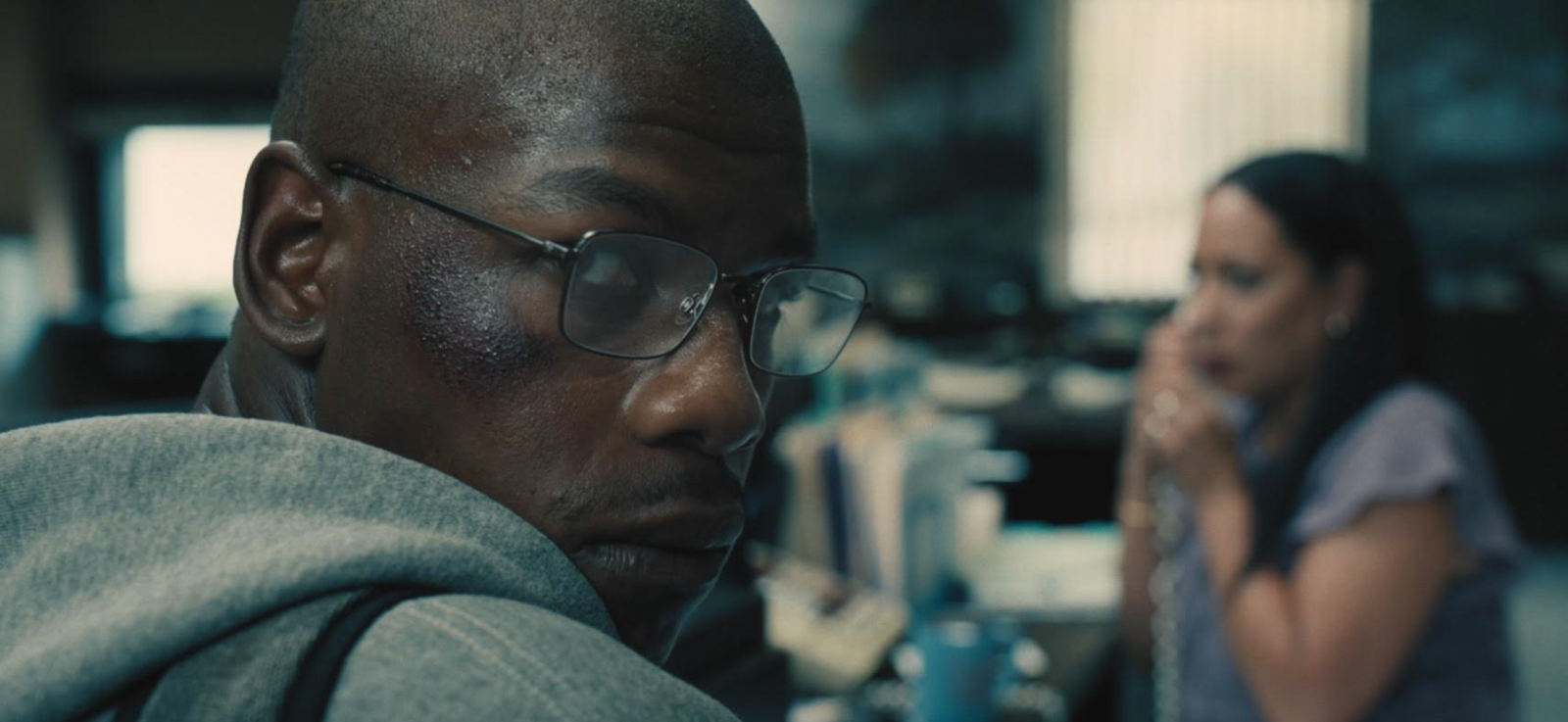 Jamie Broadnax
Jamie Broadnax is the creator of the online publication and…
Eight hundred and ninety-two dollars. That is the exact amount of funds missing from Brian Easley's disability payment. The true-life account of the story of military veteran Brian Easley is depicted in the film 892, directed by Abi Damaris Corbin.
On a quiet sunny day in an Atlanta suburb, a mild-mannered man walks into a Wells Fargo bank. As he patiently waits to see the next available bank teller, he approaches and slips a white sheet of paper with the words "I have a bomb" inscribed. This sets off a series of events that will forever change the lives of people in the bank that day and most importantly, send the message that Easley wanted to send to Veterans Affairs about his financial needs.
Star John Boyega (Brian Easley) swaps out his notable English accent for an American one in this role. Brian is a former U.S. Marine who fought and risked his life for this country. He is now destitute and on the brink of homelessness because of a clerical error from the VA regarding his disability payments. Drawing from real events, 892 digs deep into Easley's motives for going into the bank that day. His motives have little to do with taking money from a Wells Fargo safe and everything to do with being heard and seen. When Easley passes the note to frightened teller Rosa Diaz (Selenis Leyva), the fear on her face does not go unnoticed.
In fact, her manager Estel Valerie (Nicole Beharie) notices from several feet away that she is being robbed and quickly starts escorting customers out of the building. Everyone in the bank is let out that day with the exception of Rosa and Estel, who become hostages.
When Estel tries to offer Brian money from the safe, he refuses. For Brian, this isn't about money, it's about being heard. He wants the VA to deposit the $892 they owe him for the missed disability payment. It is at this point that both Estel and Rosa question the mental acuity of Brian. However, Brian wants attention and calls a local news station.
Lisa Larson (Connie Britton), an assignment editor for the station, picks up the phone. The intensity increases as Lisa is helpless to act on Brian's demands about the VA, but she promises to work on giving him the air time he wants. However, she doesn't want to show anything gruesome on camera. In 892, we see the wheels turning in Brian's head as he's trying to explore every option and later demands a negotiator. What was fascinating in this film, as opposed to other hostage-genre films, is that negotiators are usually immediately on the scene in this kind of crisis.
Brian had to ask 911 dispatch repeatedly for a negotiator. It was almost as if law enforcement never had the intention of using one. When the negotiator finally arrives, we meet Eli Bernard, played by the late Michael K. Williams. In what became his final screen role, Williams plays a fellow military vet who has some common ground with Brian. Both are Black men and have dealt with their own issues with the red tape over at the VA. Eli also places a call to Brian's estranged wife and his daughter. Eli wants safety for Brian as well as the hostages inside as he can understand that this is all a big misunderstanding and Brian is not a vicious man.
What 892 unpacks is the deterioration of our safety-net system that is supposed to help American veterans. According to the Disabled Veterans National Foundation, 1 in 5 vets suffers from PTSD and depression; 3.8 million have a service-related disability. And over 40,000 are homeless, mostly due to unemployment, mental illness, or a service-related disability.
While 892 places its focus on the momentum of the hostage event in Wells Fargo, there are extraneous scenes that add context to Brian's character development and motives that support why he chose to walk into that bank in the first place. At every turn, he tried to get his funds and go through the proper channels to get his paperwork fixed just to be ignored and dismissed. Meanwhile, Brian's mental health is declining and he thinks that everyone is out to get him, further building up his paranoia and anxiety.
John Boyega, who gave one of the most brilliant performances in Small Axe's "Red, White, Blue," may have outdone himself here. He commands every scene and manages to switch from being angry and filled with rage in one moment to soft-spoken and gentle in the next. Nicole Beharie is a strong supporting character here as Estel, who manages to keep it all together on the surface, even though she's likely falling apart at the seams deep down inside. The two women hostages have children and families they want to get home to, and they have no idea if this day will be their last.
Seeing Boyega in this role with his American accent and middle age was a bit reminiscent of Denzel Washington's hostage crisis performance in John Q. The two doppelgangers may get some comparison here between the two roles. However, Boyega will stand out as his career evolves and he continues to take on characters that challenge him as an actor, which 892 most certainly did.
As mentioned previously, 892 is Michael K. Williams' final on-screen role, and it's tough to watch knowing he would pass after the film was completed. There are several themes of mortality addressed in the movie that his character Eli discusses that adds to the gravity of his performance.
The story here is a tragic one. You can read the real-life story about Brian Easley here, which gives incredible detail about the events of that day, as well as some backstory about him and the SWAT team involved. 892 is an intense, emotional, and gut-wrenching drama that sticks with you. It's also a movie that is a teachable moment about one of the biggest failures in our society to our American vets. 892 uncovers the ugly truth of a system that is supposed to provide healthcare to our vets but instead discards many of them.
892 premiered at the 2022 Sundance film festival.
Jamie Broadnax
Jamie Broadnax is the creator of the online publication and multimedia space for Black women called Black Girl Nerds. Jamie has appeared on MSNBC's The Melissa Harris-Perry Show and The Grio's Top 100. Her Twitter personality has been recognized by Shonda Rhimes as one of her favorites to follow. She is a member of the Critics Choice Association and executive producer of the Black Girl Nerds Podcast.