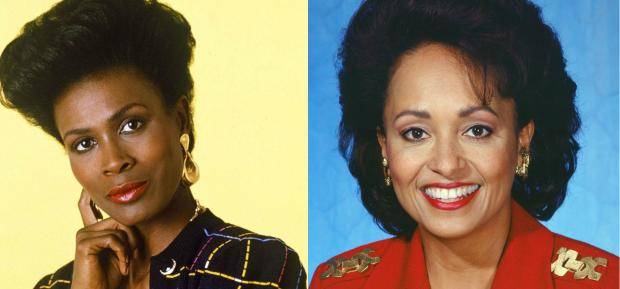 The Fresh Prince of Bel-Air– Aunt Viv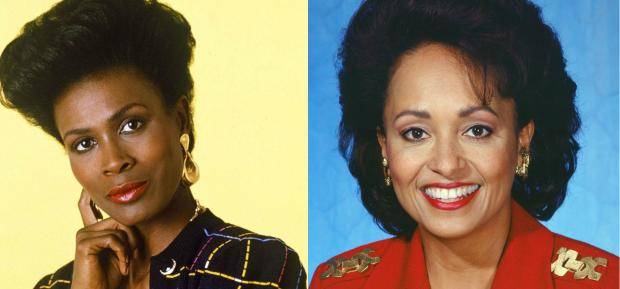 Now, we all remember the chocolate goddess, sassy, unapologetically-Black Aunt Viv (Janet Hubert) who didn't take any mess from anyone on iconic sitcom, The Fresh Prince of Bel-Air. On the other hand, some of our minds are clouded by a fair-skinned, less mouthy, more passive Aunt Viv. If you are like me, you wonder what prompted the Fresh Prince producers to replace one of the stars of the show. Hubert was said to be a diva, so they replaced her with Daphne Maxwell-Reid. That may have been the reason for her replacement, but there was no doubt that in viewers' minds the feeling was just not the same without the original Aunt Viv. She was a strong, independent Black woman who made little Black girls like me know it was okay to be strong as a wife.
The second Aunt Viv hushed the character and made her a submissive housewife who stayed in her lane. As a child, I wondered why the first one was replaced and couldn't help but think that she was too strong to play merely a supporting character which made her outshine even the main protagonist at some points. Asking a Black woman to dim her shine was harder than finding someone else to replace her.
Blue Mountain State– Craig Shilo to Radon Randell
Blue Mountain State was an FX Original show based on college life as an athlete-booze, football games, and a supportive college town that worshiped their football team. The players were always drinking, doing drugs, having intercourse, and getting away with things because of athlete privilege. One character, Craig Shilo (Sam Jones III), seemed to be the only one on track. He abstained from substances for the most part; he was loyal to his girlfriend and was the football team's star football player. Craig was Black Boy Magic until the second season where he "transferred to Georgia tech." When he was written out, they replaced him with another token Black friend, Radon Randell (Page Kennedy). Radon, was a little bit more on the stereotypical side. He chased women, went out a lot and was there on an athletic scholarship.
My Wife and Kids– Claire Kyle
 The original Claire Kyle from My Wife and Kids was played by Jazz Raycole and was replaced by Jennifer Freeman. They even go so far as to comment on it and say "I don't know what it is, but you look like a whole new person." Which was poking fun at the cast change. Jazz's real life mom pulled her out because of a teen pregnancy storyline. The producers could have still found a replacement that actually looked like her. As much as I loved Jennifer Freeman's portrayal of Claire, I believe the blatant switch did not look good on the casting department's part. They could have at least found a Claire of the same complexion, but they did not seem to care if she looked anything like the last. The new Claire grew on me. They were both talented Black actresses. However, I will admit that Jennifer Freeman's portrayal of Claire made her seem more like an airhead.
By Aminah Rhodes
Guest Blogger
BGN works to feature strong, unique content from writers who speak to our niche. If you are interested in having your work highlighted contact jamie@blackgirlnerds.com to be featured as a guest blogger on the site.