Guest Blogger
BGN works to feature strong, unique content from writers who…
By Alisha Netis
BGN had the honor of visiting the set of Little to spend time with Marsai Martin (Black-ish), award-winning actress Regina Hall, and star/creator of Insecure Issa Rae. In the film, Martin is a young Jordan Sanders — a young lady forced to relive her traumatic childhood. Hall plays an adult Jordan, a successful CEO of a tech company. Jordan is known as a bully among her associates. Rae plays her assistant April who is desperate to reach for her own success within the tech world.
Little is a classic body switch comedy about a young girl, Jordan, who is bullied by her peers in middle school. She makes a promise to herself to bully others before they had the chance to bully her. With this mindset growing up, it's no wonder adult Jordan is a 'boss from hell'  as the CEO of a tech company.
Will Packer says, "She is a bully. She is mean to everybody. This is like Devil Wears Prada, and she is giving it to everybody." Meanwhile, her assistant April is a little soft-spoken and awkward. She is Jordan's right hand and much-needed. Then, Jordan wakes as her younger self, a consequence for making fun of a little girl and her donut truck. April is then forced into the position of not only being a young Jordan's caretaker but also taking care of Jordan's entire company.
Here are three generations of women who, on and off the screen, exemplify Black Girl Magic and they do so on a day-to-day basis. They are now placed in a film together that as director Tina Gordon Chism states, "is all about 'Black Girl Magic.'"  It's there, from the art on the walls of every scene setting, right down to the wine within this film by African American winery owners of Brown Estate in Napa.
Tina says, "From the first production meeting, I said we want to find women that are out there that aren't blown up yet. It takes some effort to build a career. So we have a platform to say 'hey, we're doing this thing over here…' Marsai started it. This little girl stated it and then joined with Will. and He was like, 'yeah I'll give my influence on that.' Then, he found me and I'm like, 'yeah let's do that and let's reach and find more women and just put them everywhere.'"
She went on to describe the magical atmosphere of the film. "I feel like there are details that you end up feeling in a movie. Like you come on the set and you see a Black girl Einstein on the wall and it touches you a little bit."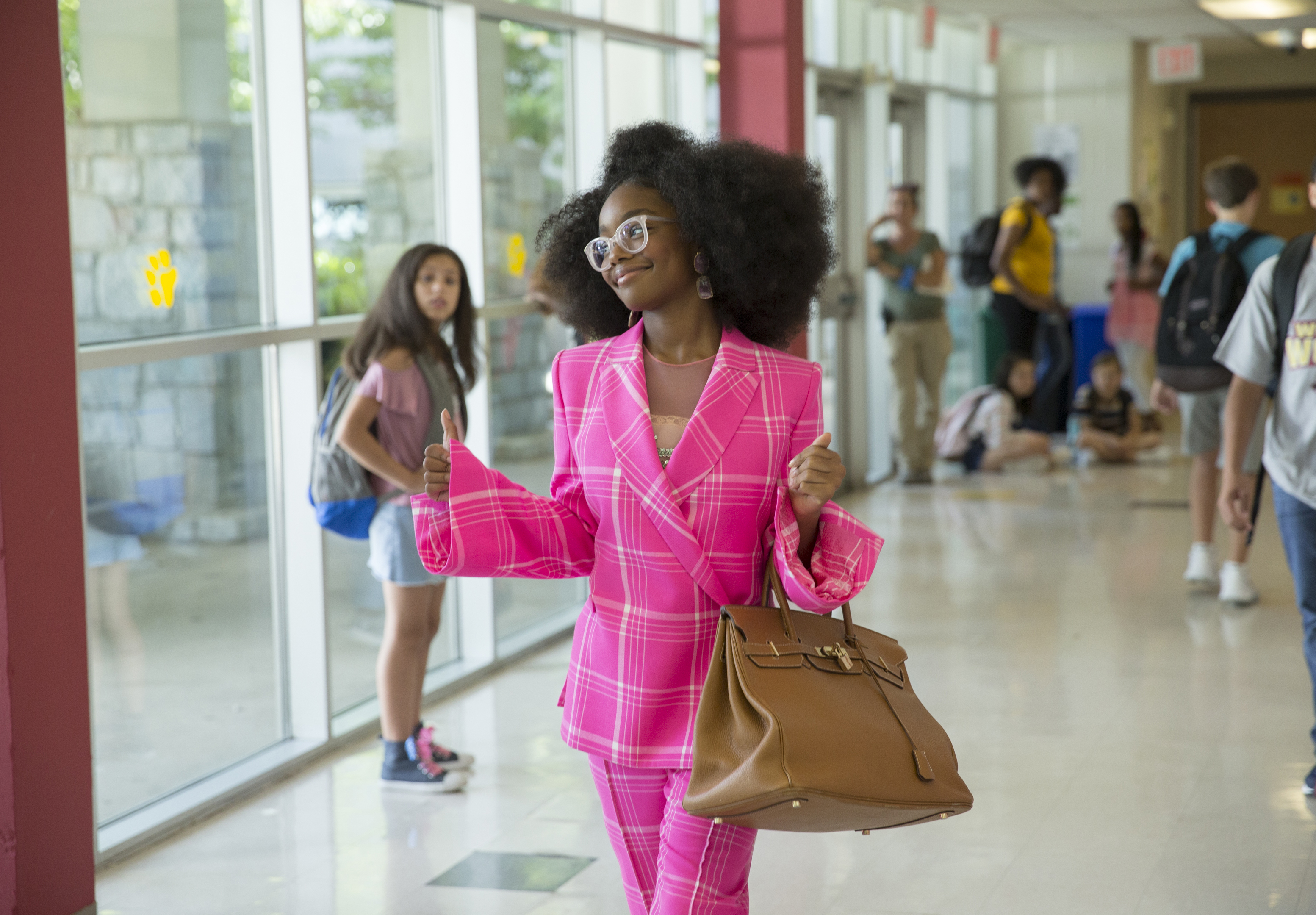 This Black Girl Magic theme naturally influences empowerment for women of all races and ages. It also brings some much-needed attention to bullying awareness. Unfortunately, Jordan's story is a classic reality within our society. Martin spoke intimately about her experiences in grade school where she was bullied by her peers for being different. Of course, Martin had an amazing support team around her that helped to secure her personality. They continue to push her to be herself no matter what.
However, not all children or young adults are this fortunate. The storyline in Little is one we are all too familiar with. Will Packer and the team of creators use Little to introduce those issues in a matter that is relatable to everyone. The hope is that the film will help someone in the audience.
It's Past Time for Black Girl Films Like Little
With an all black cast in a successful environment and a positive message, Little is not just a movie for Black people but a movie for all people. This was Packer's intent exactly. Gordon tells us that it was her specific mission to use this platform to introduce the world to upcoming Black women entrepreneurs. Gordon really did her ground work on this one. She expresses that she is not personally on social media but took it upon herself, with the help of her team, to seek out amazing talent that has not been recognized yet.
Packer said, "I want this movie to be successful. There hasn't been a movie like this with these characters. I really want it to work because I want to say to Hollywood that we've gotta tell all kinds of stories with all kinds of people. If you're making content that doesn't feel like the real world, then you're leaving money on the table. You're leaving audiences out there that aren't coming because they're gonna say, 'well that doesn't feel authentic.'"
Little Origins
We got the story behind this film as well. When the Marsai Martin pitched the idea for Little to Will Packer and Universal Studios at only ten years old. Packer says he immediately agreed to the deal because it was a great idea. Martin now holds a title on the set of Little as not only the star but also a thirteen-year-old executive producer.
And, who better to help launch a young career in film production than with super producer himself, Will Packer. Packer says Marsai is an asset on the production team. He vibrantly expresses how much they value her opinion. He believes that her young age brings a unique perspective that will make Little a film that other teenagers can relate to.
Little premieres in theaters April 12.
Guest Blogger
BGN works to feature strong, unique content from writers who speak to our niche. If you are interested in having your work highlighted contact jamie@blackgirlnerds.com to be featured as a guest blogger on the site.