Photo by VCG Wilson/Bettmann Archive
Black performance art has been crucial to the advancement of Black culture. Anytime a Black performer comes on stage, they transmit the energy of magic and limitless possibilities. Black performers communicate the joy, sorrow, and triumph of the Black experience. This is evident through past performances such as Beyonce's Super Bowl XLVII halftime performance that paid tribute to the Black Panthers. There was also the musical collaboration of the decade when James Brown, Michael Jackson, and Prince shared the stage in 1983 at the Beverly Theatre in Hollywood. These memorable performances wouldn't have been possible if not for showstoppers of the past. Here are five Black performers who were revolutionary and astounding in their acts.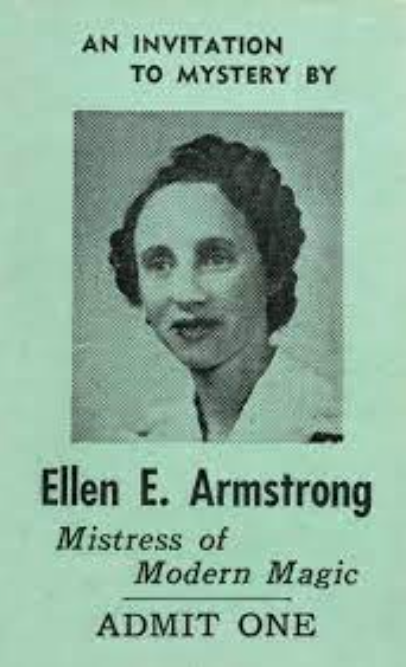 Ellen E. Armstrong: American Stage Magician (1914–1979)
The term Black girl magic has been a popular term to describe women like Beyonce, Simon Biles, Issa Rae, and Zendaya. Yet the one woman who embodies the concept of magic is Ellen E. Armstrong. In the early to mid twentieth century, she was the only African American woman to independently run a touring magic show. She stepped into this role following the death of her father, J. Hartford Armstrong, "King of the Colored Conjurers," in 1939. For 30 years she performed for Black audiences in churches and schools. She created her art for her people. Her acts included different elements such as cartoon chalk drawings, mind reading, and making a coin appear behind the ear of an unsuspecting observer. Although Armstrong performed what may now be considered simple parlor tricks, she reminds us that there is magic in us all, helping us to believe in the impossible.
Clementine Hunter, Celebrated Painter (1886–1988)
Clementine Hunter, a self-taught artist from Louisiana, didn't know how to read or write but became a reputable artist. On wood, a left-behind window shade, plastic milk jugs, wine bottles, and other disregarded surfaces, Hunter claimed her canvas. Many of her paintings, which were done from memory, depicted Black figures in their everyday life on the plantation. Towards the end of her life, her art became more recognized within the art world. In 1949, she had her first exhibit. In the 1970s, she had two exhibits: one at the Museum of American Folk Art and the second at the Los Angeles County Museum of Art. 
Josephine Baker, Sensual Dancer (1906–1975)
Bravery, sensuality, and uninhibited passion describe the sensational dancer, Josephine Baker. This international star was born as Freda Josephine McDonald in St. Louis, Missouri. After her marriage, she changed her name and became Josephine Baker. Her dance career started when her parents, also performers, would pull her onto the stage during their shows. When times were hard, she would often dance on the streets for money. Her talent caught the attention of an African American dance troupe that led her to perform in New York. Her success continued, and she went on to perform in Paris and became one of the most sought-after performers. Her unique performance style was sexy yet silly with many of her costumes following African-styled themes.
When Baker returned to the United States during the time of segregation, she refused to have her art subjected to the political climate. She would often demand that club owners integrate her shows. In 1963 she spoke at the March on Washington for Jobs and Freedom. during her speech, she communicated a powerful message:
You know, friends, that I do not lie to you when I tell you I have walked into the palaces of kings and queens and into the houses of presidents. And much more. But I could not walk into a hotel in America and get a cup of coffee, and that made me mad.

—Josephine Baker
Bessie Smith, Highest-Paid Singer of Her Time (1894–1937)
Bessie Smith was an influential artist. Her music stood out as she sang about issues surrounding poverty, interracial conflict, bisexuality, and female sexuality. Her single Down Hearted Blues, a song about heartbreak and unrequited love, reached #1 on the charts in 1925. A powerhouse of talent, she released 160 recordings with Columbia Phonograph Company. Her business helped the company stay afloat. She also performed on Broadway and sold millions of records. Nicknamed the "Empress of the Blues," Smith continued to tour and record through the Great Depression.
Hattie McDaniel: First Black Academy Award Winner (1893–1952)
Most known for her role as Mammy in Gone with the Wind, Hattie McDaniel grew up singing and dancing. With a flourishing radio career, she transitioned into the film industry by playing small roles and went on to appear in over 300 films. Winning the award for the best-supporting actress was a victory yet a controversy. Although her role as Mammy reinforced house-servant stereotypes, McDaniel's work can be viewed in two ways: as a perpetuation of a stereotype or as a Black woman finally getting recognized for her talents allowing her the financial stability to have a decent quality of life. She is quoted as saying, "I can either work as a maid and make $7 a week or a play a maid in Hollywood and make $700 a week." McDaniel died hoping to be a credit to her race, which many would say she was.
Kiersten Brown
Kiersten is a freelance writer and coach. As a writer, she has written for Travel Noire, Passion Passport, BAUCE mag, and various travel and lifestyle blogs. As a writer, her goal is to write content that inspires others to take action. As a coach, her goal is to empower women to be their most authentic selves. In her free time, you can find her dancing to any song any where.