Throughout her career, actress Angela Bassett has portrayed some of the strongest African-American female leads in both fiction and historical works of cinema. This includes her breakout role as Tina Turner in 1993's What's Love Got to Do with It, which garnered her a nomination for the Academy Award, to her appearance as Queen Ramonda in 2018's Black Panther. Of course, this also includes this year's Gunpowder Milkshake, an action thriller film in which she performs as a dangerous gun-wielding librarian/gun for hire.
However, those are just some of Bassett's more prominent roles in her best-known movies, which don't really show the full extent of her talent. Bassett has built an acting career that spans well over three decades, counting her early work. This multi-faceted actress is credited with over 100 appearances in television and cinematic titles, including her own first responder drama series 9-1-1, in which she stars as an LAPD patrol sergeant.
Unfortunately, despite her incredible work, very few people can actually name this fantastic actress outside the handful of films she's best known for. So, to rectify that, we're presenting you with five roles of Angela Bassett that were criminally overlooked.
Two years after her breakout role in What's Love Got to Do with It, Bassett took a deuteragonist role in 1995's Strange Days, playing Lornette "Mace" Mason — a bodyguard and limousine driver to Ralph Fiennes' Lenny Nero. Unfortunately, despite Bassett and Fiennes' praised performances, the movie polarized film critics, with some praising the movie's overall storytelling, while others compared the film with snuff movies. As a result of poor reviews and poor marketing strategies, Strange Days was a massive box-office bomb that nearly derailed its director's career. With that said, the movie's critical standing has improved over the years, with many prescribing the film's initial reviews to misguided criticism. At the 22nd Saturn Awards, Basset won the Best Actress Award for her work in Strange Days.
Directed by Spike Lee, Malcolm X is a biopic on the life of Malcolm X, portrayed by Denzel Washington, with Angela Bassett playing the late activist's wife, Betty Shabazz. The movie mainly centers around Malcolm, one of the most influential people in the African American community during the early 1960s, beginning from his childhood until his assassination in '65. So naturally, the film also revolves around people in Malcolm's life who helped him become the man he was, including his wife. Malcolm X was one of the most controversial films of its time and a commercial and critical success. Denzel Washington's portrayal of Malcolm X was widely praised, but it was Bassett who won an Image Award for Outstanding Supporting Actress in a Motion Picture. Bassett reprised her role as Betty Shabazz in 1995's Panther.
The fourth season of FX's American Horror Story television series centered its narrative on one of the last remaining freak shows in the United States and the troupe's struggle for survival in the 1950s. Again, Angela Bassett was brought back to the show. Still, instead of reprising her role from the previous season, Bassett portrayed Desiree Dupree, a Three Breasted Woman, who was mistaken for a boy during childhood due to her oversized and disproportionate genitalia. However, puberty struck and revealed the growth of not two but three breasts. Years later, she struggles for work, even with the troupe, and through a series of events, saves members of the troupe from the murderous intents of several different individuals. Bassett's performance as Dupree brought her nominations for the NAACP Image Award for Outstanding Actress in Television Movie, Mini-Series, or Dramatic Special, and the Primetime Emmy Award for Outstanding Supporting Actress in a Miniseries or a Movie.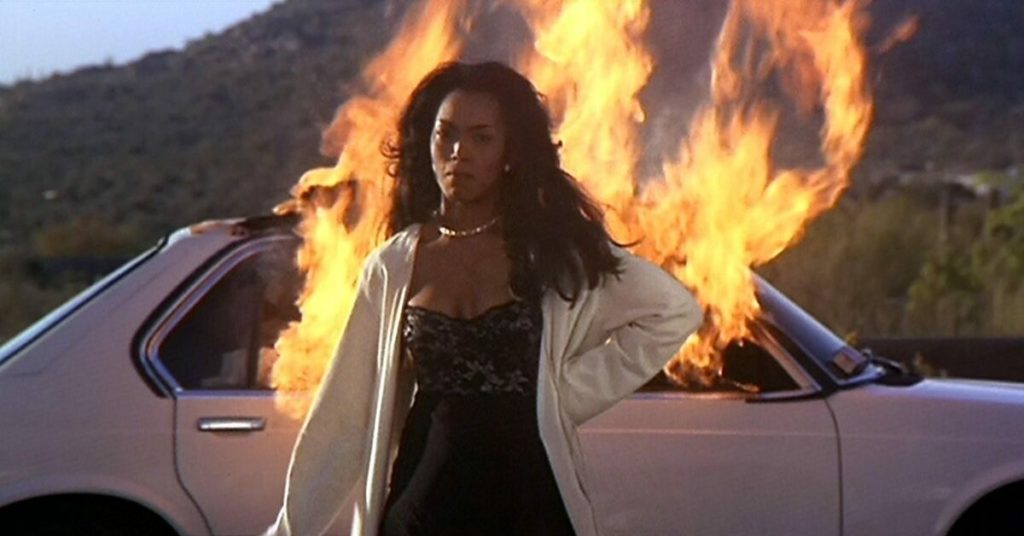 1995's Waiting to Exhale is an American romance film about four best friends, portrayed by Angela Bassett, Whitney Huston, Loretta Devine, and Lela Rochon, through their frequent get-togethers in which they support one another and listen to each other vent about life and love. Bassett plays a mother of two with dreams of starting a catering business that are shelved by her 11-year marriage to her husband. However, she gets a massive divorce settlement from her ex-husband after he announces that he's leaving her for a white woman with whom he works. Luckily, she finds love with a widowed civil rights attorney who's fully supportive of her catering dream. Bassett won an Image Award for Outstanding Lead Actress in a Motion Picture for her work in Waiting to Exhale.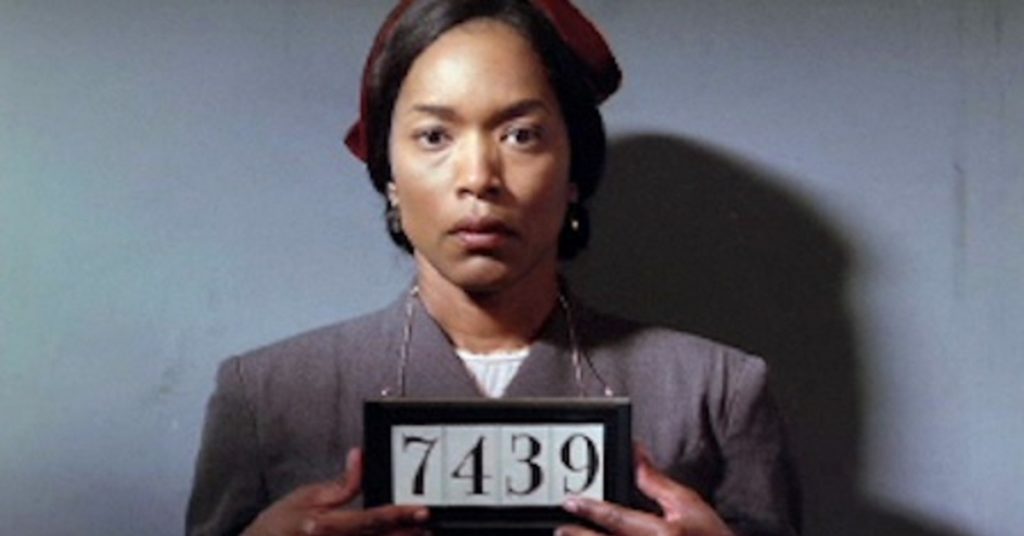 The Rosa Parks Story from 2002 is an American television biopic on the life of Mrs. Rosa L. Parks and her actions in the civil rights movement, best known for her pivotal role in the Montgomery bus boycotts that lasted 381 days from 1955 to 1956. The film explores Parks' past from her childhood to her part in the civil rights movements. Bassett's portrayal of the iconic Black woman earned her the Black Image Award for Best Actress, the NAACP Image for Outstanding Actress in a Television Movie, and a nomination for a Primetime Emmy Award; however, that award went to Laura Linney (Wild Iris).
Honorable Mentions
As we previously stated, Bassett is credited with over 100 appearances in different cinematic and television releases. Her groundbreaking role as Tine Turner in What's Love Got to Do with It is a must-see motion picture for the fans of the actress or the singer Bassett's portraying. Music of the Heart is also an exceptional film that sees Bassett as a principal of an art school. But if the readership's in the mood for something more family-oriented, Akeelah and the Bee sends an intense "chase your dreams" message, next to the spelling lessons given by Laurence Fishburne.
Whatever the title, nobody can mistake this fact: Angela Bassett is one of the best at what she does. Although she's currently involved in producing and starring in her own 9-1-1 series, fans of her cinematic works won't want to miss her portrayal of Ramonda, the Queen Mother of Wakanda, in the upcoming Black Panther: Wakanda Forever.