Guest Blogger
BGN works to feature strong, unique content from writers who…
 5 Tips to Make Your Force Friday II A Blast!
Tonight at 12:01 AM Force Friday II is happening! This is the first major drop of new toys, clothes, and collectibles from The Last Jedi. This year there are some amazing Augmented Reality elements to add to your FF fun and some cool hashtags to share your evening adventures.
So here are 5 tips to make your Force Friday II a blast!
Toy Store Tailgate!
This will be my second time standing in line at my local Toys R Us store. I had some great conversations with other Star Wars fans, had better odds at getting the figures I wanted and got some cool Star Wars exclusives. Be sure to check online to see what stores in your area are participating.
Find The Force
Each store participating in Force Friday will have special displays that give you an AR experience with Porgs and other characters from TFA. The more interactive experiences you have will unlock more exclusive content. Visit the hashtag #FindTheForce to share your photos and see what experiences other fans are having.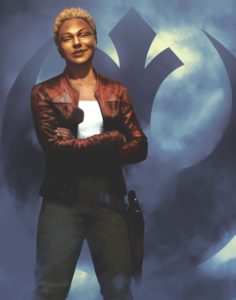 Celebrate The Ladies
From the looks of this year's Force Friday offerings, there will be a lot less of Where's Rey? And a lot more of #BringYourReyGame
There are also figures for the Asian sisters Rose and Paige, and possibly the appearance of the new Hera Black Series figure from the animated show Rebels.
New Reads
Two highly anticipated books are being released on Friday:
Phasma
This novel gives us the backstory of one of the most intriguing characters from The Force Awakens. This book will have three different posters featuring characters from the novel. I will be picking up the target edition that has this poster
Leia: Princess Of Alderaan
In this novel, we learn about Leia's beginning days in politics and the Rebellion. Fan favorite author Claudia Gray is helming this story
Share Your Haul!
Use the hashtag #ShareTheForce to show pics of your goodies and AR adventures! Happy shopping! May The Force Be With You!
Written by: Kai Charles
Guest Blogger
BGN works to feature strong, unique content from writers who speak to our niche. If you are interested in having your work highlighted contact jamie@blackgirlnerds.com to be featured as a guest blogger on the site.