Blindspotting is written with such a poetic and rhythmic cadence that the flow of the words is just as important as the visuals within the film. The natural chemistry between Collin (Daveed Diggs) and Miles (Rafael Casal) pours through the screen.
At a recent dinner with journalists in New York City, the director Carlos López Estrada shared that the inspiration behind both characters stemmed from "…the bond that they had in Oakland growing up, and I think that indirectly a lot of the dynamic as a mixed raced duo and the intricacies of their relationship translated to the relationship between Collin and Miles. For Daveed and Rafael, it was important to present different angles on the conversations that are now becoming more and more relevant. It was important to show an angle that offered a new perspective. I think what Daveed and Rafael did really well was to change the formula enough so that it affects you a little bit differently, but at the same time contributing to this conversation that is still important and still necessary."
Under the direction of Carlos López Estrada and the nuanced writing of Daveed Diggs and Rafael Casal, Blindspotting is a true gem. The film rhythmically weaves the narrative around the minds of the viewers in such a way that one can't help, but to re-examine their own personal perceptions of race, the double-standards associated with those racial constructs and ponder the residue that is left behind when a community is gentrified. Miles and Collin are truly spirit brothers who love each other to the core, but it is through their relationship and how others perceive their racial identities that we are able to witness the double-standards that are ascribed to their individual personas on the premise of their skin complexions.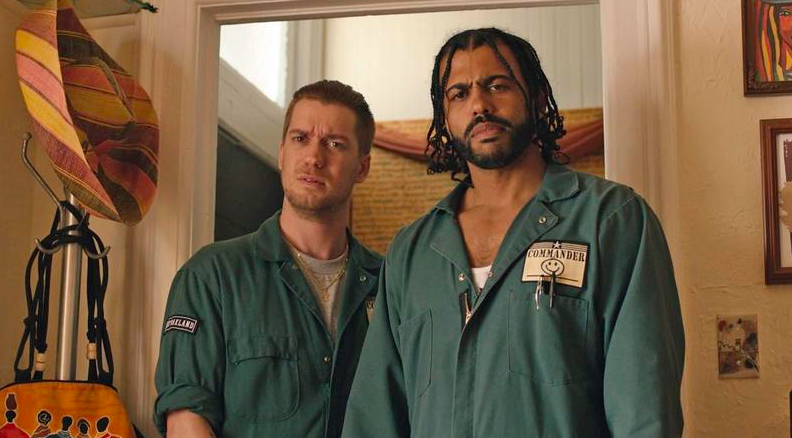 Estrada states in reference to the imagery in the film and Collin's witness to another Black man's death, "It looks at what it feels like to see someone else's life getting taken away. To witness a police officer take the life of an unarmed citizen…what it feels like to find out that this man had a life and people who loved him. I think that seeing Collin's instances of instability are meant to show you the fear and the terror that a lot of men, Black men go through is because all we hear is the headline on the news."
Yet, Blindspotting gives a very clear picture of the psychological residue that is left behind in communities where oftentimes the victimizers come from outside the community, and in a unique way.
The power of listening is a recurring theme throughout the narrative. At the beginning of the movie, Miles and Collin are forced to stand in silence and just look and listen to each other. They can't handle it and laugh at the circumstance with cynicism. In reference to the two staring scenes where Miles and Collin are forced to "see" each other, Estrada states "At the end of the movie, they stare at each other but this time, Miles is listening. This time Miles has learned something about him…Miles for the first time really get to see Collin…That moment of eye contact, of stillness, is the arc of the film. By the end, that stillness by the end, is reflective of two people that have connected in a way that very few people get to in their lifetimes."
Through actually being still, recognizing another living soul and actually seeking to understand and see them for who and what they really are is at the core of this film. Estrada asserts that listening is a major key to change. In Blindspotting, Collin is not depicted as just another angry, Black man. Collin is sensitive, intelligent, perceptive and a great listener.
Estrada states "There is a lot of social action. There is a lot of people wanting to get their thoughts heard, but I don't think that there is enough people wanting to take a step back and listen. Miles and Collin spend their entire lives talking, making comments on each other, playing around with each other, and being caught up. Up until this moment, they'd never take a moment to just be still. The ability to listen is just something that the movie tries to convey."
However, Miles his counterpart and best friend is hot-tempered, violent, hurting disenfranchised and surviving in Oakland too.  In Miles, we get to see a white guy who has to find alternative ways to be empowered economically to support his family as well. It would be all too easy to assume that as a white guy that he does not have struggles, but the reality is that Miles has some serious issues too.
"I think that those are the instances that we try to portray in the movie, trying to show people that are being ignored, trying to show people that are frustrated because they're not being considered." Miles, is also affected by the new changes happening within the community. This representation on screen is unique.
Estrada believes that through their writing that Diggs and Casal, are "trying to show people that have blind spots, and that these blind spots cause friction and this friction creates conflict. And that's essentially what the movie's about." 
The critically acclaimed film was released digitally on 11/6 and the DVD will release today on 11/20. Blindspotting makes for a great holiday meal conversation about the complexities of race.
Lynnette Nicholas
Lynnette Nicholas is a NYC based writer, freelance journalist and voice actress. She writes about: women, black women, parenting, faith and pop culture. You can find her on Twitter posting inspirational content for women and young girls (@truelylynnette), or Instagramming (@lynnettenicholas).