Mel Perez
Writer. Podcast contributor. Costume design enthusiast. Lover of fantasy movies…
What's going on in the TV world?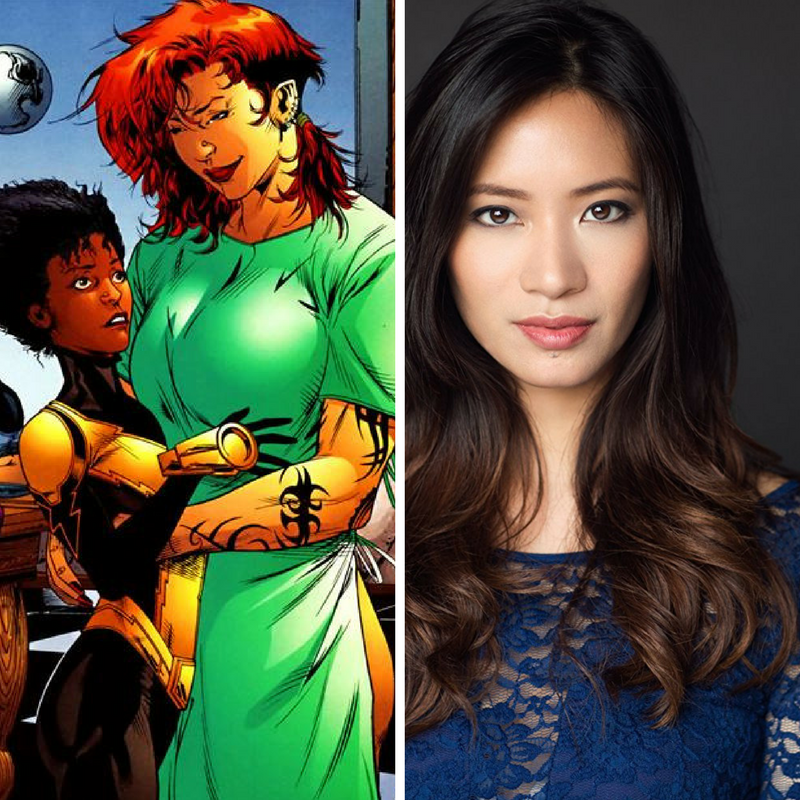 Black Lightning is already set to bring in some much needed diversity into The CW's superhero world. Their cast has now grown with the addition of Pretty Little Liar's Chantal Thuy. According to Variety, Thuy will be playing Grace Choi, a bartender and comic book fan. She befriends and eventually becomes a love interest of Anissa Pierce played by Nafessa Williams who is also daughter of the titular character and has her own powers to contend with. Grace Choi was originally created by Judd Winick and Tom Raney and was a member of the Outsiders.
Mindy Kaling is currently developing an anthology series based on Four Weddings and a Funeral for Hulu. According to Tracking Board "like the film, the show will follow a group of friends whose lives intersect through major life events. Each season will track one particular story arc." Kaling will write and executive produce the series along with Mindy Project executive producer Matt Warburton. Richard Curtis, the writer of the original film, will also serve as an executive producer.
Speaking of reboots, it looks like The Lord of the Rings might be coming to the small screen. The estate of J.R.R. Tolkien and Warner Bros. Television are in early negotiations with Amazon Studios. It's not clear yet how well those negotiations are going but we do know from Variety that Warner Bros. is shopping the idea of a show around and this will fit in with Amazon's new programming mandate shift "toward large-scale genre programming with potential for broad international appeal."
Park Chan-wook, the director and writer of The Handmaiden and Oldboy, is working on a new project for AMC and BBC. He will be adapting John le Carré's 1983 novel The Little Drummer Girl. le Carré is best known for his cold war spy novels. AMC and BBC recently teamed up to adapt his novel, The Night Manager which starred Tom Hiddleston and Hugh Laurie. The Little Drummer Girl will star Florence Pugh as a young British actress in the 1980s who meets an Israeli intelligence officer and gets deeper than she would like into the world of espionage.
After cancelling 24:Legacy earlier this year, Fox is gearing up to return to that universe with a new female driven show. As stated by EW the new "24 show will focus on a female lead within the criminal justice world in real time as she works to uncover a conspiracy against a potentially innocent death row inmate with a time-sensitive execution date." The Killing's Jeremy Doner will write the script along with Howard Gordon. Brian Grazer and Gordon will serve as executive producers.
We talk a lot about who is on screen and not enough about who is behind it. A Color of Change report entitled "Race in the Writer's Room," released this week stated that during the 2016-2017 television season only only 35% of writers' rooms had a black writer on staff. Of that 35%, only 17% of those rooms featured two more more black writers. Furthermore, these black writers were "often excluded from influencing the creative process and passed over for advancement." The report looked at 18 networks and 234 original, scripted comedy and drama series. CBS, the CW and especially AMC were seen as the worst offenders. These numbers are both startling and unsurprising. 91% of showrunners are white and 80% are male. As study noted only 13.6% of white showrunners hired two or more black writers while every black showrunner had multiple white write writers. There is a clear problem of how showrunners tend to treat and downright ignore black writers that needs to be addressed. Hopefully this report will help open some eyes. For more on the report, check out this Variety article.
Amid sexual harassment allegations leveled at star Kevin Spacey, the future of his Netflix show, House of Cards, has been in flux. Almost immediately after Anthony Rapp's allegations were made public, Netflix announced that the sixth season would be the final one of the show, though this was apparently a decision made months previously, and production of it was suspended indefinitely while they figured out their next steps. Following the release of now multiple allegations against Spacey, it's being reported that the sixth season will happen but Spacey will no longer be involved in the project. While Netflix has decided to take action against Spacey, nothing has been done against Danny Masterson, who stars in Netflix's The Ranch. Masterson is currently under investigation for the rapes of four women. "We are aware of the allegations and the subsequent investigation, and will respond if developments occur," Netflix told Huffington Post. Masterson is currently filming part 5 of The Ranch.
Finally, Misha Green, co-Creator and executive producer of Underground announced on Twitter that the show will not be coming back. After it was cancelled, many of us were hoping it would find a life on another network or streaming service. Sadly, Underground's journey has ended.
https://twitter.com/MishaGreen/status/926637063465664514
In Movie News…
The full cast of Disney's The Lion King is here and they are beautiful. It was announced this week that none other than Beyonce will be playing Nala. Check out our article on the announcement to read how excited we are.
EW just released a cover and feature story by Shirley Li on Crazy Rich Asians. Speaking of EW covers, Nerds of Color looked at how many times EW has featured Asian Americans on their covers. The movie is based on the book by Kevin Kwan. It is being produced by he Hunger Games' Nina Jacobson and directed by  Now You See Me 2's Jon M. Chu. The story revolves around a character played by Fresh Off the Boat's Constance Wu who accompanies her boyfriend, played by Henry Golding, to Singapore to meet his family and attend a wedding. Once there she finds out that her boyfriend's family is extremely rich and not everyone is happy to see her. "It's been too long since there's been an all-Asian cast," said Michelle Yeoh, who also stars in the movie. This isn't the first time Kwan was approached by Hollywood about an adaptation of his book. In the article, Kwan described an experience in which he was pitched a movie version in which the main character was whitewashed. Thankfully he met a producer who saw the value in keeping the source material as it was. Crazy Rich Asians will be released August 17, 2018.
Thor: Ragnarok is now Marvel's 17th number one opening movie. According to Box Office Mojo the film earned $120 million this weekend giving it a higher box office gross than Spider-man: Homecoming. This will make it the 4th highest grossing film this year after  Beauty and the Beast at $174.8 million, Guardians of the Galaxy Vol. 2 at $146.5 million and It at $123.4 million. Internationally, Thor has brought in $306 million over its two week showing. [Spoilers] Thor even had a few surprise cameos including Luke Hemsworth, Sam Neill and Matt Damon. Ira Madison III did a great feature on director Taika Waititi that you should check out. Your can read our review of Thor: Ragnarok here.
This week a teaser trailer was dropped Sliced. The horror film is from A24, the distributors of Moonlight, and directed by Austin Vesely who is best known for directing some of Chance the Rapper's music videos. The film stars Chance the Rapper along with Deadpool 2's Zazie Beetz, Stranger Things's Joe Keery and Paul Scheer. In the film, which takes place in an alternate universe were the supernatural is normal, Chance plays a former Chinese food delivery driver who also happens to be a werewolf. He gets caught up in the investigation of a series of murders. Check out the teaser below:
Millennium Media is producing a new version of Red Sonja. Based on the comic series created Roy Thomas, it was originally made into a film in 1985 starring Brigitte Nielsen as the titular character and Arnold Schwarzenegger. "We have been waiting for the right time for this remake," said one of the producers, "and with the success of Wonder Woman, the audience has spoken. They want female heroes." I'm happy Hollywood learned from the success of Wonder Woman. Here's hoping these new batches of women led films will include women of color in pivotal roles too.
Finally in other news, Tejano singer Selena Quintanilla received the 2,622nd star on the Walk of Fame on Friday. A record breaking 4,500 fans attended the ceremony. The ceremony was ended with Selena's own words delivered through her sister, Suzette: "'The goal isn't to live forever, but to create something that will.'"
If you have anything I missed, email me at mel@blackgirlnerds.com or tweet me at @jane_anon. Check back in next Monday for all the exciting news happening next week.
Mel Perez
Writer. Podcast contributor. Costume design enthusiast. Lover of fantasy movies from the 1980s and bizarre deep sea creatures. Can be found tweeting about comics, Yuri on Ice, Doctor Who or Star Wars at @jane_anon or on the Nerds of Prey podcast.