CRS
C R Sparrow wants desperately to throw off the shackles…
Dragon Con is a vast playground with so many attractions and events it's a bit like an open world video game. As any enthusiast of games like Elder Scrolls, Fallout, Assassin's Creed, and Red Dead Redemption can attest, experiencing an environment where you get to be the architect of your experience is pretty heady stuff.  All of these games have a main story with critical missions you have to accomplish if you want to see the end. But it's just as satisfying to spend 100 hours completely ignoring that in favor of doing every side quest you can find and diving headfirst into shenanigans. At Dragon Con, you choose your own adventure.
For the past two years, my main story path was reporting for Black Girl Nerds, and like any game worth its salt, the sequel upped the ante with even more challenges to get right. I had interviews this time around. Now, whether or not I mastered the Interviews Level is up to BGN readers and listeners to decide, but I can say I had an amazing time getting that XP! Interesting people talking passionately about their work, is a weakness of mine, so a sincere thanks goes to Richard Garriott, Starr Long, and Michael Dorn.
Other critical quests were the 30th Anniversary ST:TNG panel, the parade, and helping out with the Blerd Tweetup. Everything else was side quests and I stayed busy!
And since all open world games are really about the people you meet along the way….
Wonder Woman looking resplendent.
Hello, beautiful elven royalty!
Richard "Lord British" Garriott regaling me with tales of his career.
Starr Long thinks that if it's not challenging, it's not worth doing.
Nice mashup!
Steampunk Bride of Frankenstein!
I don't want any trouble!
Matriculating wizard!
Always here for Wakanda's guardian, Nakia.
Bow ties are cool! So is that blue steel this Doctor is giving me!
Preston looking over the settlement. Everything looks peaceful for now.
L.L.-Even! Such an amazing mashup!
Visitor from South Park.
Star Burns is looking streets ahead.
Geordie LaForge reporting for duty!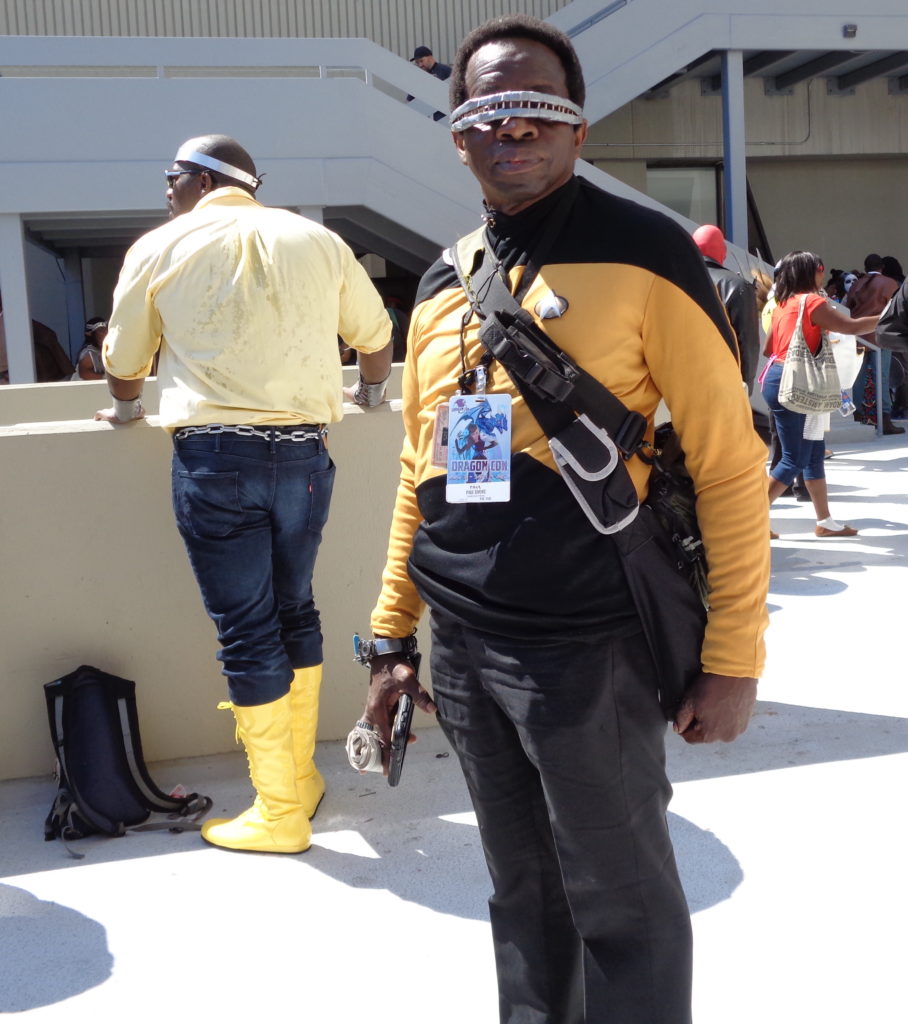 About to bust out in the Magic Dance. I'm with it.
Super cute.
Star Fleet welcomes all officers to rock their funky fly fros.
Looking good ladies!
For a troll he was pretty chill.
The subject becomes the photographer. 'Sup photobombing pirate.
Lavellan is my canon Inquisitor. Time warp magic made this trio possible.
Don't hurt 'em sis.
Hotel Fun
Headed to the Blerd Tweetup with these nerds.
Highlights From the Blerd Tweetup Sponsored by EFF
Highlights From the Blerd Tweetup Sponsored by EFF
Highlights From the Blerd Tweetup Sponsored by EFF
Trivia Winner and Cosplay Winner @ Blerd Tweetup Sponsored by EFF
Dragon Con is wild but nothing to lose your head over ma'am.
The couple that cosplays together…
Beautiful!
The construction on these costumes was amazing.
The NCR has things under control.
Looking good!
Auron!
Lady Thor means business!
Cool public art between Dragon Con and the Air BnB
Don't be alarmed when the nerds start swarming.
Saturday stroll with the Looney Tunes.
Dragon Con is fun for the whole nerdy family. Start 'em off young!
CRS
C R Sparrow wants desperately to throw off the shackles of wage slavery and live a life of leisure. Unfortunately, she hasn't quite figured out how to turn her encyclopedic knowledge of Star Trek Deep Space Nine or deftness at playing Bioware RPGs on the easiest setting into a fortune. She's still working on it though. Sci-fi/Fantasy blerd with a strong affinity for binging television shows and having lots of feelings about them.