Guest Blogger
BGN works to feature strong, unique content from writers who…
More than 30 days after its release on Feb. 16, Marvel's Black Panther broke a box office records of earning $1 billion dollars and triumphantly became the top-grossing superhero film of all time in the United States, snatching the title from The Avengers. An incredible feat for the Marvel's first predominantly black cast that has shattered the narrow-minded idea that black people don't have international appeal to the masses.
Show them, they did. 
Black Panther was compelling in the layers of the story whether addressing the communication and cultural gap between Africans and African Americans or T'Challa (Chadwick Boseman) inheriting the mantle of king of the African nation of Wakanda and Black Panther after the death of his father T'Chaka. Director Ryan Coogler (Creed, Fruitvale Station) was intentional in magnifying the beauty and resilience of black women that radiated. Their strength, individuality, intelligence, and feminine power coexisting with T'Challa as they served as his protective village.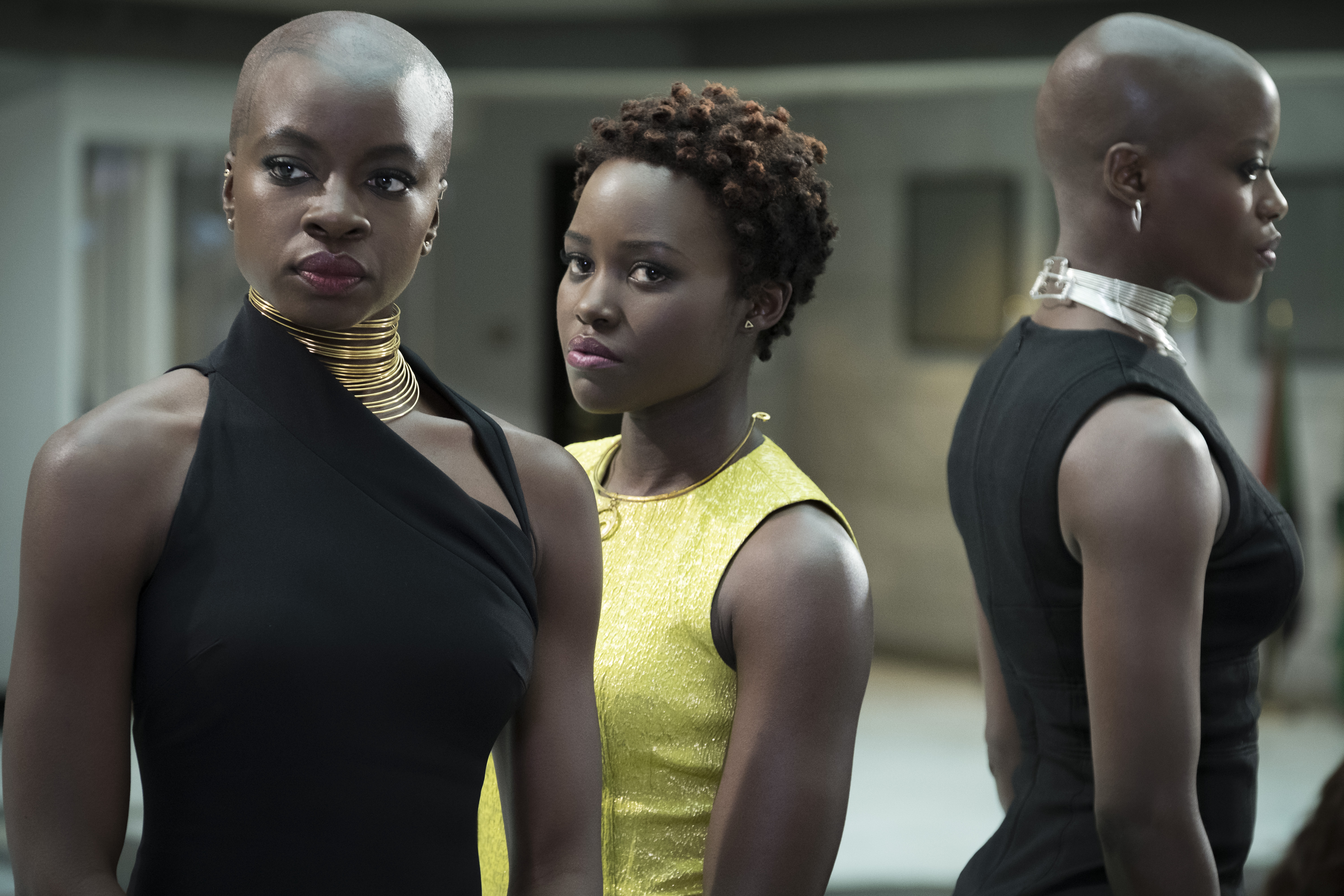 Ayo (Florence Kasumba), a bodyguard of the Dora Milaje, gave a glimpse of their boldness when she famously spoke a declaration of "try me not" to Black Widow in Captain America: Civil War (2016): "Moved, or you will be moved."
I was in awe like a little girl watching my sisters on the big screen in their raw natural beauty like the cocoa brown queens they were with their energy complimenting the Black Panther instead of simply being ornamental. It made me realize that we're truly deserving of seeing ourselves elevated and how these images have already transcended in how creative people of color have translated it into their art and stories.
Most importantly, Black Panther will impact how black youth view themselves as superhero action films have been dominated by white men for decades. For me, the women in these films broaden the treasure women are to our culture: bold, endearing, sacrificing, unyielding in their loyalty. 
Okoye (Danai Gurira), the general of the Dora Milaje; Nakia (Lupita Nyong'o) Wakandan spy and love interest of T'Challa; Shuri (Letitia Wright), genius-level intelligent teenage technical innovator, and Queen Ramonda (Angela Bassett), mother of Shuri and T'Challa, all represented the diversity of black women. Each one of them an asset, strong in their conviction of protecting Wakanda.
True to the comics, the women are liberated from external and internalized oppression, and from Western beauty standards as they're shown fully embracing their beautiful black features, natural hair, and African roots. Neither are they one-dimensional; they're nurturing yet strong, poise yet volatile and they're strong in their beliefs. 
In interviews, Boseman has praised the female characters and the importance of their presence in the Marvel universe, many who will be returning in Avengers: Infinity War in April 2018.
"It's important because we do get to see very strong women in this film. Women don't have to conform in any sort of way. Whether you want your head to be bald, whether you wanna have white locs, little nappy curls, whatever it is. It's all possible here."    
The positive portrayal of black people challenges the notion that people of color cannot command the global stage and how we've been pushed into the societal attitude that we're not capable of shattering. Black Panther's revolutionary presence has proved that to be a fallacy as it continues to soar with a message that simultaneously reassures black women and men of the good of ourselves while shattering perceptions that said or thought otherwise.
Coogler peppered the film with moments that echo the role that black women that celebrate us and made me proud.  Whether it was the joyous sibling teasing between Shuri and T'Challa or Nakia challenging him on both his privilege and creating his own legacy as king that's not dictated by his father's choices; or Okoye not intimidated to oppose him if she doesn't agree. Besides, who else but Gurira and Nyong'o can make throwing a wig in an attacker's face or striking someone with a high heel so glorious?
"There is a kind of strength that is almost frightening in black women. It's as if a steel rod run right through the head down to the feet." – Maya Angelou
A poignant moment for me that was the spiritual faith of Nakia, Shuri and Queen Ramonda surrounding a nearly dead T'Challa, who was rescued by a Jabari Tribe member after Erik Killmonger (Michael B. Jordan) threw him off Warrior Falls. Pouring the heart-shaped herb in his mouth, they chanted on their knees to the ancestors until he was revived, only to stand by him in the war to defend Wakanda because of loyalty.
"The Black Panther lives. And when he fights for the fate of Wakanda, I will be right there beside him." – Shuri
I left the theater inspired, carrying what I saw with me on the car ride home, thinking of my own stories that I had in me to tell. That's the power of representation that we've thirsted for. To see ourselves reflected in spaces that we were told were unattainable and to have the permission to create our own spaces. A black man as a superhero? Now, possible.
If you strip away the phenomenon of it all you can see the little moments. Little children of all races dressed as little Black Panthers looking to Boseman with wonder on Good Morning, America, the viral video of two little boys pointing at a poster proclaiming, "I'm that one!" or actress Amanda Seales requesting a handmade Dora Milaje costume for a friend who wanted to dress a young girl with cancer and paint her bald head to look like Okoye.   
Now that this film has the world's attention, my hope is that a ripple effect will create more possibilities for more superheroes of color because "it can't happen" or "there's no global interest in a ___ superhero" is no longer a belief to accept.
By: Ashley G. Terrell
Guest Blogger
BGN works to feature strong, unique content from writers who speak to our niche. If you are interested in having your work highlighted contact jamie@blackgirlnerds.com to be featured as a guest blogger on the site.