Guest Blogger
BGN works to feature strong, unique content from writers who…
Written by: Megan Maher
Black Lightning is a show filled with characters that you want to root for (even the non-metahumans).
And with a season as nuanced as entertaining as Season 3, it is a tough call to say who has been the stand-out character this season. For me, the standout has been Jennifer Pierce and her becoming Lightning. Here are my Top 5 reasons why Jennifer is my favorite Pierce this season.
Jennifer chose her own path
At the beginning of Season 3, we saw how opposite Anissa and Jefferson were on their approaches to handling the threat of the ASA. With Jennifer being the youngest and most susceptible to influence out of the Pierce family, she pleasantly surprised me when rather than following her big sister or father's initial reactions, she went with her own gut. Granted her gut caused her to kill someone without fully understanding what it means to take a life, but it was such a character-defining moment.
Jennifer and Agent Odell's relationship
Jennifer, by all means, is the quintessential teenage character (minus the superpowers). She is annoying, she is bratty, and she uses the "woe is me" trope at every opportunity. On the other hand, Agent Odell is the quintessential man of service character, motivated by duty; he is professional, and he is extremely sharp. Every time the pair interacts on the show, it is the highlight of the episode. I found it highly entertaining when Lightning came back from her alternate realities with one thought, "Kill Odell!"
During a sit-down group interview with China Anne McClain (Jennifer Pierce) at the beginning of Season 3, she shared what her reaction was like the first time she had to act with Bill Duke (Agent Odell). "I avoided him after that. I really did because I was scared when he crept in and we're dancing and then we turn around he's just in the living room, which has turned into his new norm. It scared me! And then when he said the lines and he was standing in the suit, it just creeped me out. So, I avoided him for a long time, but then I actually had a conversation with him and he's like the coolest guy on Planet Earth. He's just amazing at his job."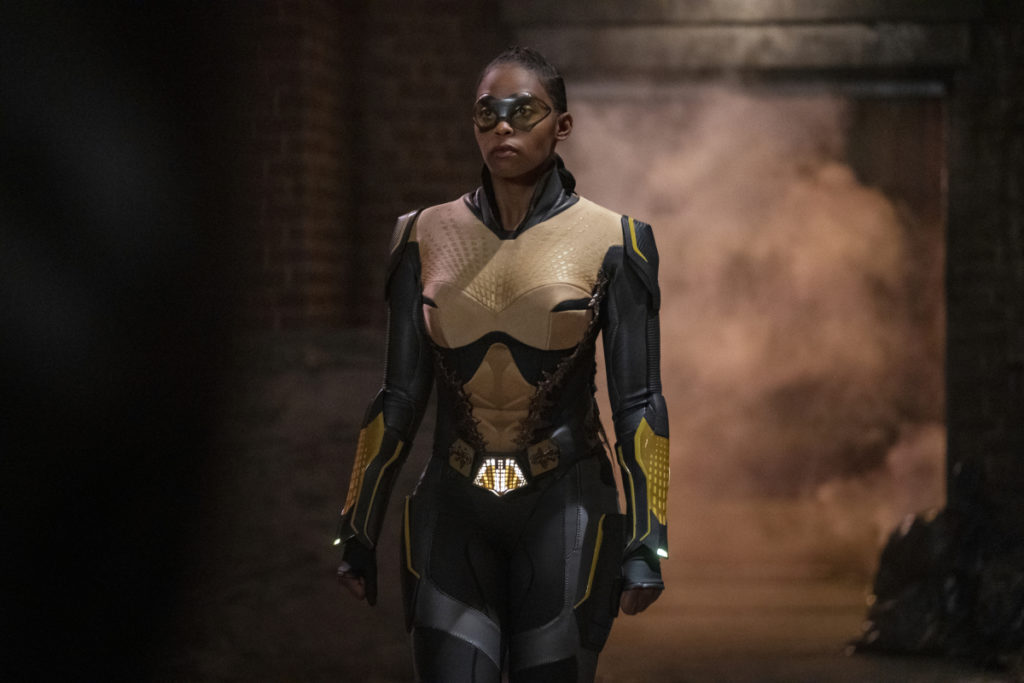 Jennifer is her own biggest threat
We learned just how powerful Lightning is this season thus far, and we know that her powers are still growing. Initially, at the start of Season 3, Jennifer's biggest threat seemed to be obvious: Odell. However, as the season continues Jennifer seems to be her own worst enemy. The choices she makes are fueled by her emotions, but nonetheless they are her own and she is convicted by them. There is something so badass about being in a world with evil metahumans and a corrupted system, but your power is so strong that the only person that can stand in your way is yourself.
During the group interview, McClain shared who she thought Jennifer's biggest threat is this season: "Jennifer is at a crossroads between Odell and herself. In Season 2, she really struggled with trying to control her powers and trying to control her emotions. We got to a point where it was clear that she could destroy herself if she kept going down the road that she was headed down after Khalil died. So, now that her powers are continuing to grow and they're physically getting painful for her, I'm worried about how much of a danger she is to herself. I'm going to go with herself being the biggest threat and then Odell second because he's just a sneaky little something."
Jennifer flew into space as Lightning!
There is not too much to say regarding this, other than I think everyone should watch that scene.
In the group interview, McClain was asked what her favorite scene was: "I don't even have to think about it. It's when I flew up into space. Yes! That was so much fun to shoot. When you're doing it, it's just a green screen. So, you really have to use your imagination and listen to the people around you when they tell you what it's going to look like after they do all the visual effects. But after really trying to just throw myself into it and trusting people, knowing what they were going to do on their end, it turned out so well. I was really happy with how it looked and the music and everything else."
China Anne McClain shows just how dope of an actress she is as Jennifer Pierce in Season 3
In episode 9, "The Book of Resistance: Chapter Four: Earth Crisis," McClain has to act as three versions of herself. She does such a great job! She is nuanced, she is distinct in all three interpretations of Jennifer, and she was acting solo. I was very impressed and honestly would watch a spin-off of the other two Jens simultaneously with Black Lightning.
Guest Blogger
BGN works to feature strong, unique content from writers who speak to our niche. If you are interested in having your work highlighted contact jamie@blackgirlnerds.com to be featured as a guest blogger on the site.