Siren is a series about mermaids, but don't go into it expecting a love-struck redheaded teenager with a great voice and a clamshell bra. At WonderCon this past weekend, the creators and stars of the new drama from Freeform make it clear that you won't see any pet flounders and singing crabs in this gritty and suspenseful mermaid's tale.
What are Mermaids?

In The Little Mermaid (TLM): In both the Hans Christian Andersen and Disney versions, mermaids are beautiful and harmless half-human, half-fish creatures of the sea, who sing beautifully.
In Siren: Executive Producer/Showrunner Emily Whitesell and writer/Executive Producer Eric Wald's mermaids aren't based on a particular legend or story but are an amalgam of lore we are familiar with and other more obscure legends they discovered while researching. They are beautiful, so the broad definition of siren applies, though they don't go so far as to say they lead men to their doom.  Said Wald, "In terms of mermaids we tried to invent mythology that was interesting and unique but also pretty simple. We don't want to get too crazy with the mythology and start to get lost in it and, 'All of the sudden mermaids have super powers!' It's really good to keep it as biological and specific as possible, and really reign in the mythology and go deep with it."


What do Mermaids look like?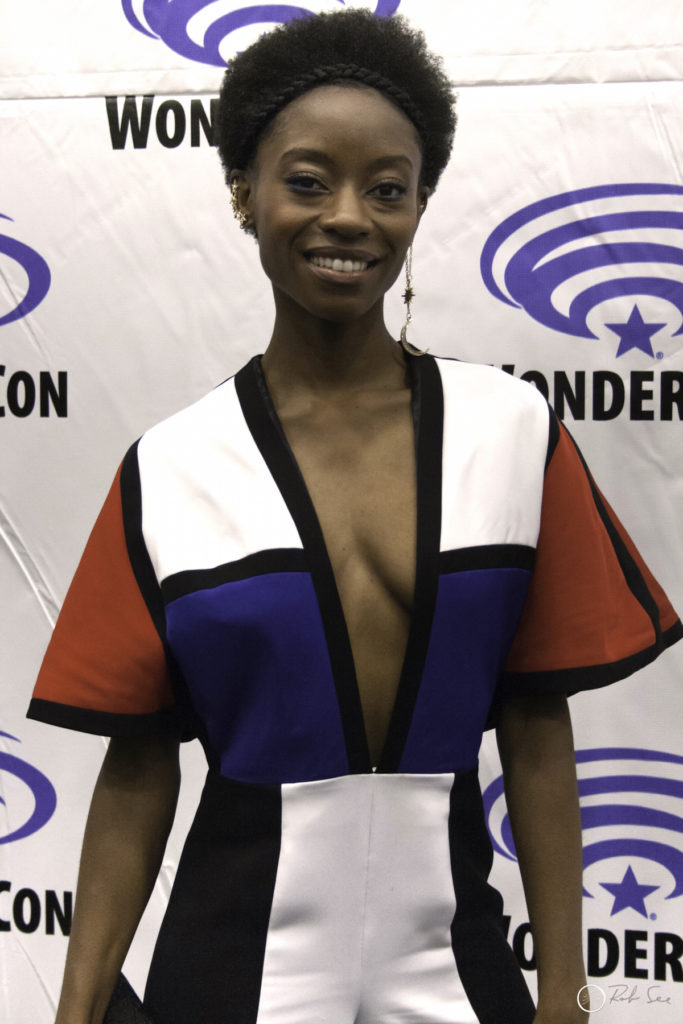 In TLM: White. Some blond, some brunette, some redheads. Straight hair. All white.
In Siren: Ryn, the mermaid played by series star Eline Powell, has fair skin, but mermaids, like humans, come in different shades and happily there are merfolk of darker skin tones with naturally textured hair. This could be another cultural moment. Sibongile Mlambo, the beautiful actress with a dance background, plays the captive mermaid, Donna. Mlambo talked a bit about her casting process which involved a swim test. She swims well but didn't grow up swimming much, like many other people of African descent. She said, laughing, "You know, you go to pool parties, hang out and look cute in your bikini, try not to get your hair wet." As cast member Ian Verdun, who plays Xander McClure, a human fisherman, pointed out, "Little girls are going to want to be the mermaid. This may be the first time they've seen a Black mermaid." Actors of color Fola Evans-Akingbola and Sedale Threatt, Jr., play a human and merman respectively.
Rena Owen, who plays Helen, an antique shop owner and the local folklore expert, says Siren's creators never thought in terms of color, creed or ethnicity in casting. "That's a big part of our mermaids. They don't see that either. They don't see gender, color, culture, or creed. They're just spirits, they just see souls. It's the ideal world we'd all like to live in.'
Humans vs Mermaids
In TLM: Disney's teenaged mermaid, Ariel, thinks everything about humans is just great, especially the junk, er, gadgets and gizmos they throw in the ocean. You want thingamabobs? She's got twenty!
In Siren: Though the whole story is yet to be told, we got the impression from the creators and cast members at WonderCon, and from the teasers, that mermaids aren't all that thrilled with humans, especially not their thingamabobs, er, trash. Whitesell and Wald promise that Siren tackles tough subjects like man's supposed dominion and stewardship of the planet and the destruction of the environment.
Said Wald, "We thought a lot about the marine biology aspects of mermaid life and explored what is being done out there in the ocean, what is happening with the ocean environmentally, which is really terrifying, and is a huge story point for us. It's really the "'Why now?" of our show. Our oceans are getting trashed at an alarming rate and that is what's forced these creatures closer to the surface."
Why did the Mermaid come to town?

In TLM: Looking for love. This is a common theme in mermaid lore and Arial's story in the Disney movie is no different. She trades her lovely voice for a chance at love with a human she fell for.
In Siren: Looking for…? As of now, why the mermaid Ryn comes to land is a mystery (no one revealed a thing at WonderCon), but Whitesell and Wald made it clear that the show is not a rom-com like the amusing Splash from the 80s, but a compelling mystery thriller. Still, according to Powell, who did her own research to prepare for the role, mermaid lore typically involves love and/or fertility. In fact, the earliest of mermaid lore involves a goddess and a man falling in love, resulting in the death of the man and the goddess flinging herself in the sea in her grief, and turning into a mermaid. "But Ryn doesn't come to town to find humans and explore relationships…but she has to find humans she can trust to help her on her journey…I think it's a give-and-take journey."
Sounds like she may eventually stumble into love, or something, along the way.
Previous Siren Coverage

Siren Brings Its Alluring Song To Freeform
Siren premiered last night on Freeform.
DaVette See
Originally from the Midwest, DaVette lives in Inglewood, CA and can't name a single sports team. She's a sci-fi fan, a movie geek, a drama freak, a Trekkie, and a Browncoat. She has a BA in English and Theater, as well as a Law degree, but don't hold that against her. She acted and directed for the stage for many years, but really loves filmmaking and writing. She owns Running Lady Studios and she is the producer/star of the web-based talk show, Afro Bites! She is wife to Rob, daughter to Martha, and mom to seven (yes seven) cats. When not covered in fur, she's a West Coast correspondent and occasional movie reviewer for BGN. Follow DaVette on Twitter and IG @mariavah.