"Great men make history, but only such history as it is possible for them to make. Their freedom of achievement is limited by the necessities of their environment. To portray the limits of those necessities and the realization, complete or partial, of all possibilities, that is the true business of the historian." —CLR James
When Trinidadian author, historian, and journalist CLR James wrote these words in 1938 in the first edition of his book The Black Jacobins, he had no idea what would befall the Mangrove 9 slightly more than three decades later in London. But James, who was a mentor and friend to some of the nine, did know that men, women, and children of the African diaspora would have to continue to fight long and hard for their rights and recognition in the Western world.
What is most fascinating about London's Mangrove 9 is not that many of them represented themselves in a trumped-up riot incitement case in 1971 in the Old Bailey. It's that they fought the law and won. A lot of people outside of England don't know about their victory and what it means. Until now.
Mangrove, a biopic that triumphantly tells the true story of the activists, is the lone feature-length film in Steve McQueen's dramatic five-part anthology series Small Axe. Mangrove is now streaming on Amazon Prime, with his four other hour-long films premiering Fridays through Dec. 18. Set from the late 1960s to the mid-1980s, each movie tells a different story involving London's West Indian community, where pride and force of will shaped many of their lives for the better, despite rampant racism, discrimination, and excessive policing. The tragic murder of George Floyd at the knee of a Minneapolis police officer earlier this year and the racial reckoning that has followed makes Mangrove especially timely.
"What happened unfortunately with George Floyd — I wish he were still alive today," McQueen told Black Girl Nerds in a recent Zoom interview. Best known for 12 Years a Slave, McQueen was the first Black filmmaker to win an Oscar for directing. "All I can think is that at least [Floyd] hasn't died in vain. There's never a good time for this subject but at the same time, it's just one of those things that is prescient. This [anthology] was made before the unfortunate incident involving George Floyd and what have you. There's never a good time for it. I'm just happy it was made and we got to make it with the support of BBC and Amazon, which was great."
Even though this collection of films is set some decades ago, the stories are as vital today as they were for the West Indian community in London at the time. Small Axe (which is made up of "small acts" of resistance) is a celebration of Black joy, beauty, love, friendship, family, music, and even cuisine. And each film, in its own unique way, conveys hard-won successes and brings hope and optimism for 2020. The title is both a reference to the African proverb — "If you are the big tree, we are the small axe" — and the Bob Marley song.
"This starts in 1968 and is about the second generation of Black people when their roots had deeply been implanted in the soil," explained McQueen, who is of Grenadian and Trinidadian descent. "This wasn't a case of arriving. This is a case of belonging, of owning, of influence. The West Indian community influenced British culture and popular culture to the extent that it was unrecognizable from the moment we came. We changed the history and the landscape of the UK."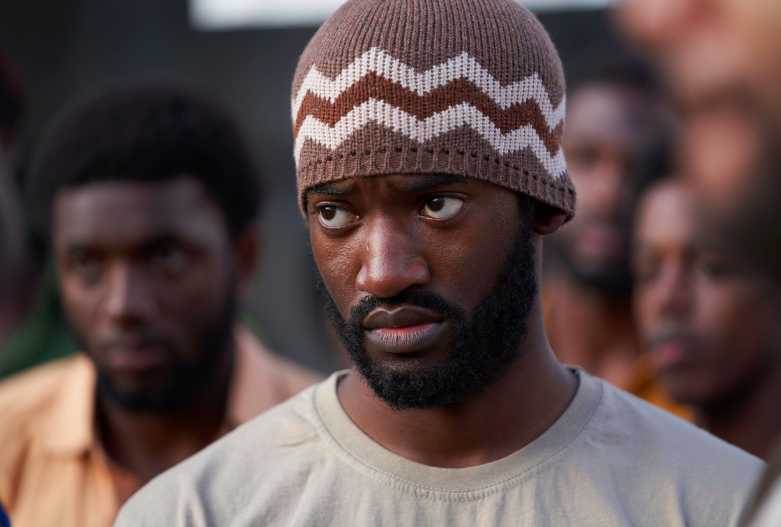 The heart of Mangrove begins beating when the police harass Frank Crichlow (played by Shaun Parkes, Lost in Space), the Trinidadian-born owner of the Mangrove, a West Indian cafe in Notting Hill. Before the raids and intimidation started, members of the Black community had frequented the eatery because they felt safe. The clientele included Black radicals, which authorities used as an excuse to harangue Crichlow and his customers.
Tired of the injustices, Crichlow and his friends organized a peaceful march for their rights in 1970. But after 300 officers surrounded the crowd made up of half as many protesters, the march turned violent and authorities later charged Crichlow and eight others with inciting the violence. The court case took place a year later.
The trial was the first judicial acknowledgment of behavior motivated by racial hatred within the Metropolitan Police. Parkes, Letitia Wright (Black Panther) and Malachi Kirby (History's Roots reboot) star alongside Rochenda Sandall (Line of Duty), Jack Lowden (The Long Song), Sam Spruell (Snow White and the Huntsmen) and Gershwyn Eustache (I May Destroy You). Mangrove was co-written by McQueen and Alastair Siddons. Cinematographer Shabier Kirchner, who is Black, worked as the director of photography for all five films.
Lovers Rock, meanwhile, is a fictional tale of young romance and music at a blues party in the early 1980s. Amarah-Jae St. Aubyn makes her screen debut opposite BAFTA's 2020 Rising Star award recipient Michael Ward (Top Boy). Co-written by McQueen and Courttia Newland, Lovers Rock is the musical McQueen has always wanted to make and premieres Nov. 27. Take note of the Janet Kay song "Silly Games." It's a bop.
The third film, Red, White and Blue, spotlights the true story of Leroy Logan, who at a young age saw two cops assault his father and joined London's Metropolitan Police to dismantle racism from within. John Boyega (Star Wars: The Force Awakens) stars as Leroy Logan and Steve Toussaint (Prince of Persia) co-stars as his dad in this father-and-son love story. McQueen and Newland co-wrote Red, White and Blue, which premieres Dec. 4.
Premiering Dec. 11 is Alex Wheatle, an hour-long film that unpacks the inspiring life of the award-winning author of the same name. A product and survivor of the notorious Shirley Oaks children's home, Wheatle (played by newcomer Sheyi Cole) protested in the 1981 Brixton Riots, which landed him in jail. While incarcerated, he developed a love of books, including The Black Jacobins, thanks to his older and wiser Rastafarian cellmate (Robbie Gee, Snatch and Paddington 2). McQueen and Siddons co-wrote Alex Wheatle.
The final installment, Education, begins streaming Dec. 18 and is McQueen's semi-autobiographical look at England's racially and historically biased school system. As a way to pigeonhole Black students as future service industry workers, officials would administer IQ tests that favored white test takers. When Black kids produced low scores, they were often labeled educationally subnormal and socked away in special and inadequate schools. McQueen cowrote Education with Siddons.
While all five films edify audiences on the systemic racism Black Britons have had to endure and overcome, that isn't what motivated McQueen, he said. He also had no intention of tying the anthology's release to England's Black History Month, which takes place in October.
"I am not interested in that. Black History Month is twelve months of the year," McQueen said. "There are a lot of things that I don't understand that are very unfamiliar to me from other parts of the world. But there's a fundamental humanness about these stories in which everyone can identify with and understand. That party for example in Lovers Rock, that could've been anyone's party. But you understand all of the emotions and the feelings that are going on. Of course, the circumstances are slightly different. To me, it's very much specific but at the same time, it's universal."
By telling the stories of Small Axe, McQueen and his cowriters and cast are taking on the role of historians, much like James before them, while also showing that the struggle for Civil Rights happened across the pond as well.
"All of these films are very much about the future," McQueen said. "They're like science fiction pictures. They show us where we are, how far we've come and how far we need to go. This was an attempt to fill a hole in the narrative of British film. Our influences inside this country have not been genuinely recognized.
"But now people are opening their eyes and finding out or wanting to understand how influential the West Indian community has been to the UK," he added. "But also to fill the gap in the narrative of British film. That is why I made five films. These movies should have been made at the time when these things were happening. But they weren't because we were not welcome as Black people in the British film industry. We were not. Absolutely not. And I think now we are finding our feet. We'll see how things go, but that's how it is."
Mekeisha Madden Toby
Mekeisha Madden Toby is a Los Angeles-based, award-winning journalist who has been covering television and entertainment for 20-plus years. The Detroit native, wife and mother has written for TV Guide, Essence, CNN.com, Variety, The Detroit News, Shondaland.com, espnW and more. She has been a BGN contributor since 2013.