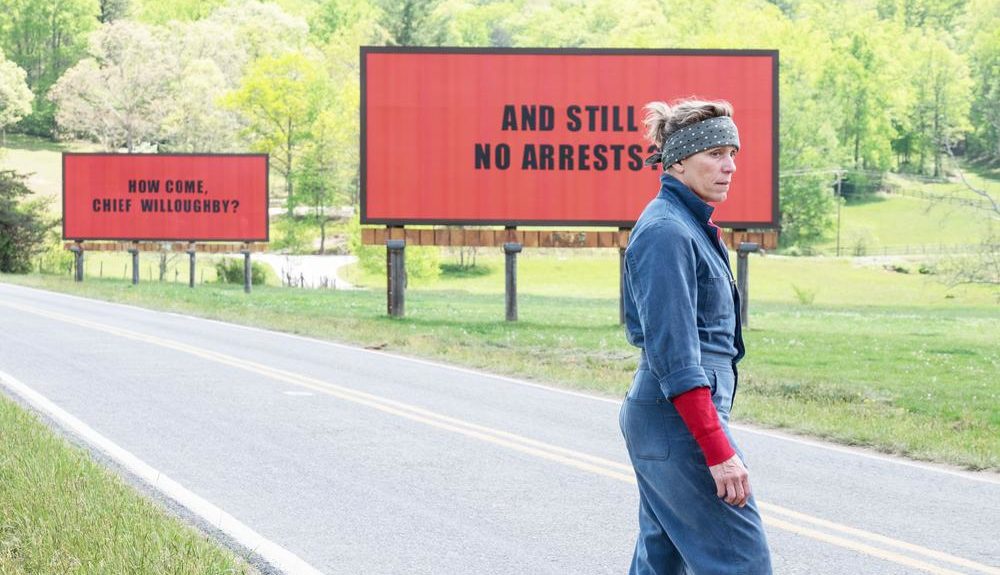 Three Billboards Outside Ebbing, Missouri is the third feature written and directed by playwright-turned-filmmaker Martin McDonagh (In Bruges, Seven Psychopaths). This is a film about the most lit town in middle-America that rife with racism, sexism, and violence. There is so much crisscrossing, backstabbing angst that it goes beyond the idea of revenge. It's intense, but at the heart of it are flawed characters who use self-reflection as a means to change the world around them.
A trio of broken-down, unused billboards stand alongside a barely used road on the outskirts of town. Seeing this as an opportunity, Mildred Hayes (Frances McDormand), springs into action. She storms into the local advertising office that owns the billboards and drops $5,000 to rent them for a year. She's in need of answers, so she uses this as an opportunity to get the attention of the authorities and the townsfolk with each containing a harsh message:
Billboard One: "Still No Arrests?"
Billboard Two: "How Come, Chief Willoughby?"
Billboard Three: "Raped While Dying."
Mildred is in mourning. Her daughter Angela (Kathryn Newton) was raped, killed, and burned (not necessarily in that order), seven months earlier. Ebbing town Sheriff Bill Willoughby (Woody Harrelson), and Officer Jason Dixon (Sam Rockwell) have failed to find Angela's killer, and Mildred is convinced they haven't put enough effort into finding a culprit.
But Mildred isn't free of guilt, either. Her last words to Angela were "I hope you get raped too."
Mildred seems impenetrable, but it's a facade. With the death of her child, Mildred has had time to reflect on her internal struggles by breaking down her internalized misogyny, while simultaneously recovering from domestic abuse. However, her strength of will is tested when Chief Willoughby learns of the billboards. Not one to back down from a fight, it's Mildred against Ebbing, Missouri as others in the town try to intimidate her into taking them down.
At its heart, Frances McDormand carries the story. I cannot imagine anyone else in this role. She deserves all the praise and accolades her performance is garnering. She delivers a brave, unapologetic performance that commands the screen. She's continually shown a commitment to her characters, and works to understand what makes them tick. Come award season, my money is on her to win best actress. I have yet to see another actress execute a performance with the fearlessness and resolve that McDormand delivers.
As writer and director, Martin McDonagh (with cinematographer Ben Davis), gives the small middle American town of Ebbing, Missouri a feeling of grandiosity. He uses wide angles which isolate each character to the point of loneliness. Beginning as a playwright, you can see subtle theater influences within each scene, and even the blocking is very reminiscent of a Broadway play. Some may see this as a drawback, but it's a personal Hallmark of McDonagh's that enlivens the atmosphere with raw emotion.
Everyone deals with the loss of a loved one differently. Sure, it may not be customary for women to resort to violence (by societal standards), but if that is Mildred's way, who are we to stop her? She's hurting, she's angry, and she's done with waiting around. I don't blame her. One thing is for certain: Three Billboards Outside Ebbing, Missouri is bound to make audiences uncomfortable, but if they can stick through it, folks will sure be talking about this film well after it's over.
Valerie Complex
Valerie Complex is a freelance writer and professional nerd. As a lover of Japanese animation, and all things film, she is passionate about diversity across all entertainment mediums.