Guest Blogger
BGN works to feature strong, unique content from writers who…
We here at Black Girl Nerds recently had the pleasure of speaking with Traci Renee Braxton. Known to many as Toni Braxton's sister, Traci has made a name for herself and proven that she is much more than just Toni's sister. Although many of us were introduced to Traci through the hit show Braxton Family Values, she has been in the music industry long before the show began.
Traci and the Braxton sisters were a singing group and released music together in 1990. However, when Toni was later signed as a solo artist, the remaining Braxton sisters planned to continue the group with a new record label. The only problem was that Traci would not be joining her sisters as part of the new group. At the age of 25, Traci became pregnant and was faced with a huge decision: continue her career as a singer or have a child. Traci made the decision to keep her child and defer her dreams of stardom.
Now, 20+ years later, Traci is back and she means business! She has her own radio show, she is about to release her second solo album later this month, she is starring in an upcoming movie, and the 6th season of Braxton Family Values premieres on March 22nd. In addition to all of this, Traci finds time to be a philanthropist, motivational speaker, and passionate about healthy living.
Anique: Thank you for speaking with me today! I am a big fan of the show.
Traci: Thank you for having me! Thank you to Black Girl Nerds for giving me this opportunity.
Anique: When Braxton Family Values started 6 seasons ago, what were you hoping to get out of the experience?
Traci: I really was just looking forward to having fun with my sisters and spending time with them.
Anique: Braxton Family Values is a hit show. When you first started the show, did you ever think it would be as popular as it is?
Traci: No, I really didn't expect for the show to be this popular. But we are a funny, awesome, relatable family. Still, I didn't think the show would last long.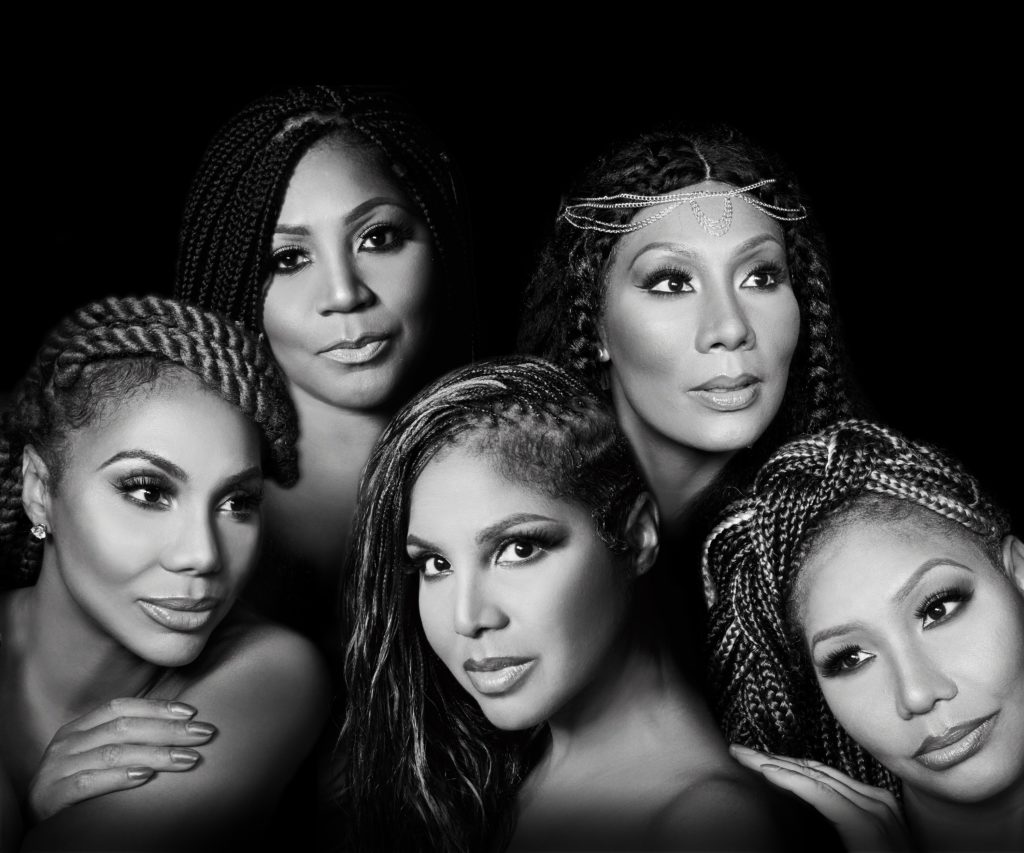 Anique: Your description or tagline on the show went from "the wannabe" to "the wildcard." Obviously, "the wannabe" was not very flattering, but what prompted you to want that description changed?
Traci: My growth. My growth as an individual. I was the wannabe before because I wanted so badly to be with my sisters. When you come from a litter of sisters like I did…did I just call us a litter? (Laughs) When you come from a litter like I did, being separated can cause an ache within you. Almost like a toothache. But don't complain when you get what you ask for (laughs).
Anique: Early in the show, we didn't see much of your husband (Kevin) and son (Kevin Jr.). Were you purposely trying to keep them out of the public eye for their well-being and for your family's privacy?
Traci: At that time, my son was still in school, middle school, and then high school. People can be so cruel, so I just really wanted to protect him. When someone messes with him, the mama bear in me comes out. It was such a journey just to have him, so I am just very protective of my son. I wanted to keep him away from the trolls. There were predators, grown women, trying to talk to him. I had to be a hands-on mama bear.
Anique: Do you believe reality television has the power to put a strain on marriages?
Traci: Yes. But you have to focus on your marriage, not everyone else's marriage. I have been with my husband 28 years, married for 22 years. I had to step back and deal with some hard truths. I had to step back from the allegations. I had to take a look at myself as well, because I am no angel either.
Anique: Unfortunately, we will soon have seen 3 of your sisters' divorces documented on the show. When you decided to do Marriage Boot Camp with husband Kevin, was part of the reason because you were fearful that the same could happen to you?
Traci: It's cheaper to keep her (laughs). My love for my husband is great. But it is up to you to decide what your tolerance level is. Some of the accusations are true, some are false. I'm not squeaky clean either. I had to place some of the blame on myself. I had to learn not be so mean and not to want to get even with him. As Toni said, either you let your man cheat in peace or do something about it.
Anique: Do you and Kevin still apply the tools learned while at Marriage Boot Camp in your marriage, and have those tools helped?
Traci: We absolutely still use the tools that we learned at Marriage Boot Camp. Our communication has gotten much better since the show. Now, I say what I have to say, but I do it in a loving way. Boot Camp made me look at myself and change what I needed to change in order for us to change as a married couple. I had to change my bad habits and see it for what it is. I am a dominant woman; I came from a dominant woman. But we (as women) have to be submissive sometimes, as do men.
Anique: I wasn't ready for all these jewels that you're dropping on me! (Traci laughs) Your solo career got off to somewhat of a late start, after taking time to have a family. You were released from the Braxtons group after choosing to have Kevin Jr. In hindsight, do you believe that you could have successfully balanced a career as a singer and raised your newborn son at that time?
Traci: It wasn't supposed to happen for me at that time. Everything happens for a reason. It just wasn't my time. Had I done it back then, I would have been trying to juggle my time, not giving my all. When we had it (the record deal) back then, it was easily given to us. It was easily given to us at that time simply because we were Toni's sisters. I wasn't finished with my blood, sweat, and tears. I had to go through something first. To really put in the work and have the passion, I had to go through what I've been through in order to deliver my style of singing.
Anique: It must have been quite traumatizing to be faced with such a decision: have a child or have a career. Many women are faced with that same decision daily. How did that situation shape your life and your view of the world?
Traci: Well, I was 25-years-old when I had my son. For me not to sing, it was ok because I still had a career to fall back on. My social work with emotionally disturbed children is my passion, and I still had that.
Anique: On the show, we've seen you struggle with your weight, which is something that most women can relate to at some point in their life. Do you ever feel pressure to be a certain size in order to be accepted and successful?
Traci: Absolutely. In this industry, you're not acceptable if you don't look a certain way. People thought I got liposuction, but it was hard work and dedication that helped me to lose weight. Also, the help of my gynecologist. Some women are walking around with fibroids or endometriosis and don't even realize it. Some of these conditions can make it harder to lose weight. That's why it's so important that women get their annual well-woman checkup. My gynecologist, eating right, and exercise helped me, not surgery.
Anique: Over the course of the show, we've seen you really come into your own. You have your radio show, you're about to drop your second album, and you will be starring in an upcoming movie. You even seem more confident now than in season 1. What motivated you to jumpstart your celebrity career now?
Traci: I was loving music again; music was coming back into my life. I had lost that for a while. When you are doing what you love to do and showing your talent, it's never too late. With my first album, everyone wanted to know why I named it Crash and Burn. They thought it was so negative sounding. But everyone crashes and burns sometimes. Whether it's in their career, in their relationship, parenting, addiction, everyone crashes and burns at some point. But you can prevail, and I prevailed from crashing and burning. I'm showing joy, showing my sexy. After the crash and burn, things can look beautiful.
Anique: This summer, the movie Sinners Wanted will be released, and you play the character of 'Nana'. Please tell us about the movie and your character.
Traci: I had a ball being in this movie, I really did. It reminded me of when I did Dreamgirls with my sisters in high school and college. Sinners Wanted is about a young man who becomes a preacher, and I play his grandmother. I take him in when he falls by the wayside. I don't want to give too much away though!
Anique: "Last Call," your hit single from your first solo album Crash & Burn, was dope. It charted on the Billboard Adult R&B songs chart. Did you feel vindicated to finally be able to show people what you can do?
Traci: I was proud of myself more so than concerned about other people being proud of me. "Last Call" meant more than last call for love to me. For me, it was my last call to get my crap together. I was like, I'm not getting any younger, I'm only getting older. It was my last call of pleasing myself with what I wanted to do with my life.
Anique: What is your favorite song on the new album and why?
Traci: "Lifeline" is definitely my favorite song. It's about relationships and life in general. It's about when you're putting your all into something, whether its loving someone or your career, you have a decision to make. You have to decide if you want to live or not, meaning do you want to live out your dreams and aspirations, or if you want to let them die.
Anique: You have always used your platform (as a reality TV star) responsibly: giving back to the community, and supporting charities and non-profit organizations. It is very admirable to see a reality star be so humble, selfless and balanced. What or who do you give credit to for keeping you so grounded?
Traci: My parents. My mother and father always told me "don't forget to remember where all your blessings come from." When we were children, we would sing in hospitals and nursing homes. We were also in the choir. We always gave back to the community as kids, so my parents instilled that in us early. I love giving back to the community. I just need everybody to stop asking me for money! (Laughs) Your community is your village and you have to take care of your village and set the example for the next generation, so that they'll want to give back and do the same for their village.
Anique Coney is a Brooklyn native living in Atlanta. When she's not working or volunteering, she's watching cartoons while enjoying cookies and wine. She's a mom 24/7 and enjoys plotting world domination with her awesome kid.
Guest Blogger
BGN works to feature strong, unique content from writers who speak to our niche. If you are interested in having your work highlighted contact jamie@blackgirlnerds.com to be featured as a guest blogger on the site.