Guest Blogger
BGN works to feature strong, unique content from writers who…
Written By: Jaime Blanson
Super-heroines and their masculine counterparts are the bread and butter of today's popular culture. In a comic book industry that is both overly saturated and boasting record sales, it is important to give people their flowers while they can still smell them, even if said persons are of the fictional variety. With that being said, here are twenty-five Black LGBTQ+ female characters definitely owed their proverbial flowers.
Anissa Pierce (Black Lightning): Years before her CW debut, Pierce was kicking ass and taking names under the moniker, Thunder. In between the ass-kickings, she found time to romance her fellow heroine Grace Choi, who happens to be half-Amazonian.
Laura Wilson (The Wicked and the Divine): Arguably the star of the graphic novel The Wicked and the Divine, Laura Wilson is a bisexual queen. A reincarnation of the pagan goddess Persephone, with an almost obsessive devotion to her underworld paramour, in this case, it's Lucifer or Luci for short. Still, at the end of the day, it's Laura who rescues the rest of the recently risen Pantheon from imminent death.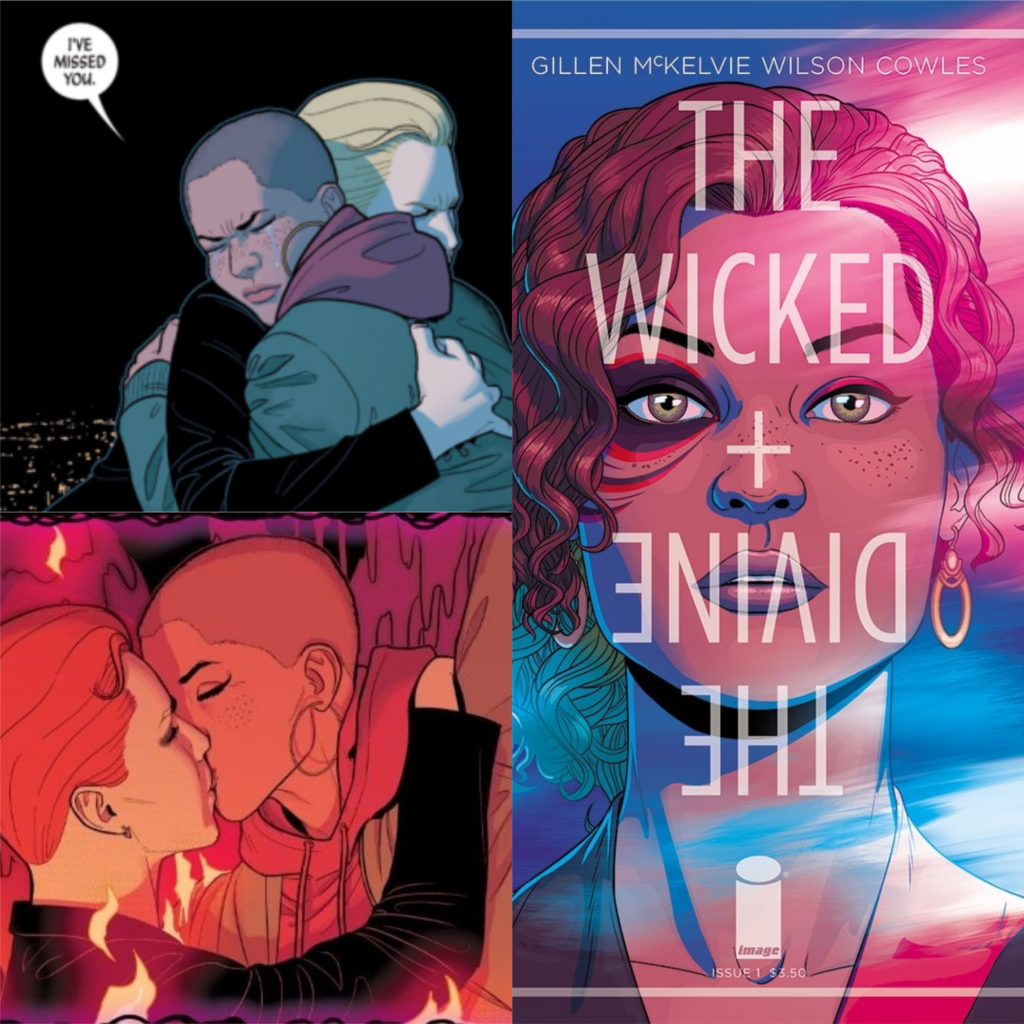 Agent 355 (Y: The Last Man): Pronounced "three fifty-five", the agent works for a secret government task force tasked with guarding the last living man on Earth. The agent is another one of our bisexual faves, with romantic feelings for both her charge Yorick Brown and bioengineer Allison Mann. After years in pre production, Y: The Last Man television adaptation has officially begun production in Toronto, with actress Ashley Romans replacing Lashana Lynch in the role of Agent 355.
Xavin (The Runaways): Born into the Skrull royal family as a prince, Xavin began training to become a Super-Skrull almost immediately. The training was eventually abandoned when they chose to go in search of their betrothed, Karolina Dean. Xavin is beloved by many for their gender identity and fluidity. As a shape-shifter, Xavin is able to switch between genders rather easily. Their chosen gender identity is highly influenced by the fact that their partner Karolina identifies as a lesbian. Xavin also usually chooses to shift into human forms that are Black or Latina. The character was portrayed by Clarissa Thibeaux in the now-canceled Hulu series adaptation of the comic, Runaways.
Gwendolyn (Saga): First appearing in Issue #8 of the popular graphic novel Saga, Gwendolyn is the daughter of a vice-minister, a relationship that allowed her to avoid serving in the war. Her ill-fated engagement with Marko leads to a slight obsession with the disposing of her ex-fiance. Still, Gwen is a definite bisexual icon, losing her virginity to a Wreathan woman donning a single unicorn-like horn.
Sakhmet (The Wicked and the Divine): The Egyptian goddess of sun, wrath, and sex is a member of the reincarnated pantheon in The Wicked and the Divine. The pansexual deity is known for causing chaos and catlike behavior. With ailuranthrope as one of her superpowers, she's definitely a formidable opponent to any daring to cross the Pantheon.
Natasha Irons (Steel): The niece of John Henry Irons is the fifth hero brandishing the moniker of Steel. However, Natasha has gone by a few names during her public career, including Starlight and Vaporlock. After a falling out with her overbearing uncle, Natasha joined up with Lex Luthor. This team-up didn't last long and resulted in a reconciliation with her uncle. Post-Flashpoint, Natasha was revealed to have been in a now-ended relationship with the magic-wielding Traci 13.
Toni Topaz (Riverdale, Season 3, Episode 2): The depiction of the character in the Archie comics varies quite dramatically from her portrayal on the CW show Riverdale and the subsequent comic based on the series. Released in 2019, the show's tie-in comic covers Toni's summer-long bike trip with her girlfriend Cheryl Blossom.
Jayla Cooke (Raven: The Pirate Princess): Cooke is a "self-professed sex-repulsed asexual." She's a member of Raven's pirate crew who at just fourteen is the youngest matey on the ship. Jayla would much rather spend her free time performing science experiments with her friend Cid than exploring anything seemingly romantic.
Sojourner "Jo" Mullein (Far Sector): A resident of Earth-Prime, Mullein is a member of the Green Lantern Corps. The powerful ring-wielder has been in respective relationships with a Nah female and a Nah male.
Rook (Isola): The character is the royal guard to the Queen Olywn of Maar. However, her majesty has unfortunately been cursed into the body of a tiger by her evil brother. Cue the adventure music as the queen and her bodyguard set out on a path to locate the cure necessary to return the queen to her rightful body. Of course, Rook harbors feelings for Olywn, which may or may not be reciprocated.
Brigid Roth (Injection): A computer geek and hacking maven, the Dublin native Roth has hacked into most of the computer systems across the globe including the International Space Station. In Issue #8, Brigid is seen naked in bed with Maria Kilbridge. 
Priscilla LaShayla Smith (Unstoppable Wasp): She is a physicist from Brooklyn who while building a teleporter gets discovered and later recruited by Nadia Van Dyne to be a part of the organization G.I.R.L, which is also known as Geniuses In Action Research Labs. A Potterhead and a fan of Tegan and Sara, Shay is surely a sapphic dreamboat. Currently, she is in a relationship with Ying Liu.
Victory (Vampirella): Vampirella's estranged lover was abandoned by the vampiress in Los Angeles. Victory now wreaks havoc impersonating her ex-lover.
Bill Potts (Doctor Who: The Twelfth Doctor #3): The final companion to the Twelfth Doctor and also the first queer companion makes an appearance in the Doctor Who Magazine's comic stories.
Debrii (New Warriors): Also known as Deborah Fields, she is a member of the New Warriors. She is also the first openly lesbian superhero in the MCU. History-making aside, Debrii is pretty badass in her own right. Described as a telekinetic magnet, she is able to maneuver both large and small amounts of "debris" at will.
Elena Abbot (Abbot: 1973): The comic follows a reporter investigating a series of occult crimes. She's a chain-smoking hard-nosed journalist with mysterious abilities set to get to the bottom of the supernatural forces plaguing her city of Detroit. Along the journey, she encounters her ex-girlfriend Amelia Chee.
Marigold "Goldie" Vance (Goldie Vance): The biracial 16-year-old, along with her friends, solves crimes at the Florida resort managed by her divorced father. When she's not sleuthing, she's spending time with her girlfriend and record seller, Diane.
Hazel Johnson and Mari McCray (Bingo Love): Bingo Love is the story of two women forced apart by societal pressures who reunite much later in life only to realize their love never wavered even when they did.
Princess Amira (Princess Princess Ever After): After the heroic Princess Amira rescues Princess Sadie from her tower prison, the two embark on a cross-kingdom adventure to defeat a jealous sorceress. Along the way, each learns what "happily ever after" actually means to them.
Ayo and Aneka (World of Wakanda): Both women are members of the elite fighting force Dora Milaje, who are sworn to protect Wakanda and its ruler at all costs. In true trope-y fashion, the two fall in love as Aneka trains the insubordinate Ayo.
Sera (Angela: Queen of Hel): Born a wingless male Angel of Heaven, Sera is rescued from her celestial purgatory by Angela. With Angela's help, Sera was able to alter her masculine form into a femine one. The two eventually fall in love, as evidenced by Angela descending directly into Hel in order to retrieve Sera. Sera is believed to be Marvel's only none-shape-shifting active trans character.
Domino Swift (Motor Crush): Motorcycle racing, crime-busting badass with a reliance on a specialized narcotic that grants her superhuman speed, she also has a thing with her pink-haired mechanic, Lola del Carmen
Chloe Pierce (Clean Room): A collorbration between Vertigo and Gail Simone, the comic focuses on protagonist Chloe Pierce as she delves deeper into her fiance's suicide. However, some forces would rather keep her in the dark. One such force is Killian Reed whose "sole sexual attraction is to Chole Pierce."
Malie and Justine (Fresh Romance #1): The introductory issue of the anthology series, School Spirit features a two queer leads, Malie and Justine. In an effort to keep their love a secret, both girls feign an interest in Miles. However, Miles is hiding his own secret.
Honorable Mentions:
Liv (Avant Guards): From Boom! Studios, the comic centers on an aspiring actor/basketball enthusiast straddling the fence between both worlds, when she meets the answer to all of her problems in the form of Charlie, a transfer student.
Ramone Watts (West Coast Avengers): Vibranium-infused, this female-surfer and small business owner is in a league all of her own. Watts, who is also known as Alloy, is in a relationship with America Chavez.
Guest Blogger
BGN works to feature strong, unique content from writers who speak to our niche. If you are interested in having your work highlighted contact jamie@blackgirlnerds.com to be featured as a guest blogger on the site.