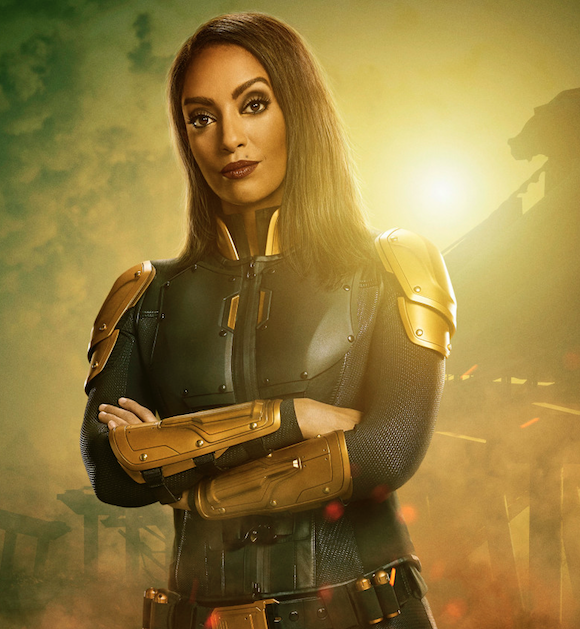 Azie Tesfai first joined the Supergirl cast in its fourth season as ex-military psychologist Kelly Olsen. Tesfai made history as not only the first Eritrean/Ethiopian actress to play a superhero ever, but also the first actor in the Arrowverse franchise to co-write for the show. Now Tesfai is hanging up her cape as the series comes to an end on The CW, and joining the cast of ABC's award-winning show A Million Little Things. Tesfai calls her character, Cassandra, the "polar opposite" of who she really is. I chatted with her on the phone about both roles and what's next for her.
You joined the cast of Supergirl in Season 4, and now the show is wrapping up in its sixth season. Tell me what your experience has been like the past few seasons.
I think the most memorable for me is becoming a superhero, which is something that not many people get to experience. It's pretty cool. It's pretty fun to put on a super suit for work. That was really exciting — finding strength, power, training, and all that I really love. For me in this last season, writing an episode and getting into writing was life-changing because it's something I'm really passionate about now and seriously pursuing. So both those opportunities came in at a good point in my life, and I feel grateful to Supergirl for having that.
Loving comics and coming onto a show where the options are white in the comics is exciting. We're in a time right now where there are Black superheroes who are fully developed and are aspirational. It's an exciting time especially for Black women to have the space in this world that I don't think has existed before as much as it does now. Hopefully, that door is being opened on our show and Catwoman, and I hope it continues.
You brought a lot of your own personal experience and culture into the storyline. What was the writing process like?
I had about three or four episodes off of Supergirl so that I could join the writer's room for a month. We broke the arc story for 9, 10 and then 12 — the episode that I co-wrote — and I loved it. I love the creative side of that. I like writing because I get to do it in my bed in my pajamas, and I enjoy that much more than two and a half hours of hair and makeup. It was a very Kelly-focused episode. We were coming out of a time of the pandemic and Black Lives Matter protests, and there was a lot of stuff personally in my life that was unprocessed in terms of trauma. I got to just write how I felt, and a lot of the things that Kelly said were my own feelings. A lot of it was just me voice recording out loud and then transcribing it. So it ended up being very personal and very cathartic as an experience.
What have you learned about yourself through playing Kelly? It's obviously a very different role than your character on Jane the Virgin and other roles you've played.
I've never played a character who I've admired more than Kelly. She's just such a kind person. I like to think of myself as kind, but, I mean, I'm human. I can find myself judging things and people, you know? I try to catch myself. Kelly is so compassionate and sees the other side of every situation and is so incredibly patient. I am not one to be patient in my own life. I feel like I've learned so much from her. In playing her, [I'm] getting some of those qualities that I admire so much into my body, when it comes to patience and her strength as a superhero and even simple things like putting my shoulders back and lifting my chin even on days that maybe I don't feel strong or I don't feel great. Playing this character has definitely opened my heart much more, and my posture is better because of this.
Now you're playing Cassandra in A Million Little Things. What do you love about this character and the new role?
I don't want to spoil anything. Things that are coming up are interesting, and they're kind of sharp right turns with her and Rome. [I went from] from the superhero show, which was fun in itself, to probably the most opposite end of the spectrum in terms of a type of show, where it's all story and it's two people sitting down and having a conversation, and that's the whole scene. There are no explosions and villains, and no one's flying over your head. It's so different. Working with Romany Malco is a joy. He is such an amazing actor. He's just a sweet, funny person. This storyline evokes a lot of conversation, which I think the fans will realize over the next couple of weeks. Her dynamic with Rome is complicated, and there's a gray area in life and in relationships. It will start some conversations for sure. It did for us on set, like morality and what's right? What's wrong? Life is messy. The beautiful thing about this show and especially with Cassandra coming in is it highlights the messiness of life and how we deal with it as human beings.
You've really expressed your love for writing. Are there any dream writing gigs or collaborations you'd like to have?
Yeah! I am writing right now and developing a couple of ideas. I love working. I'm working with a writer from Jane the Virgin, and I've been working with a lot of people that I've done shows with before as I'm writing and developing. My dream is to take all the best people that you've had experiences with who are really talented and also really kind and create a community of people and work with them and tell stories that you feel are really important. Especially as a Black woman — stories that I haven't seen yet. It's going back to projects I've done and working with the people who I know are really wonderful — women, specifically but wonderful people.
Catch Azie Tesfai on A Million Little Things on ABC on Wednesday nights, fall 2021. You can also stream episodes of Supergirl on the CW app.
Sierra Lyons
Sierra Lyons is a senior Broadcast Journalism student at Florida A&M University. She has extensive experience in writing and speaking on race relations, politics, and culture. She currently is the Opinions' Editor for FAMU's award-winning publication, The Famuan. Sierra is deeply committed to creating dialogue and strategy in eradicating social injustices from a Biblical perspective.