Guest Blogger
BGN works to feature strong, unique content from writers who…
This episode of Speechless started off with comedy greatness. While preparing for the annual Oscar Party, Maya lost her keys. Ray channeling Maya to find the keys, is the best thing I've seen all month. He channeled her mentally, while physically dressed like her. I was laughing out loud. After the opening scene, the entire family got a chance to shine. Maya and Dylan with the mom group, Kenneth and J.J with the disability kids, Jimmy with the dads, and Ray with the unicorn-loving Zelda. Lots of shenanigans and laughs this week. This Oscar party was the best and the worst.
Maya's beef with Becca, the new mom in the special-needs group, was fantastic. Their "food fight" in the pantry was hilarious. Maya also had some funny moments when she made her group favorite, pigs in a blanket, and none of the regular moms wanted to eat them because Becca was on a cleanse. After enough was enough, Dylan had to come in and save the day. In a roundtable discussion, Dylan got all the moms to come together and agree that moms with normal kids were the worst. Good job Dylan.
Kenneth and J.J have an amazing disabled-friendly movie trivia contest. I loved how the show highlighted Kenneth's personal connection with his job as an aid. He not only helps J.J., but he is helpful to all the different special needs kids at the Oscar party. Kenneth finds a way to incorporate all their handicaps in a cool way. In a "cage fight," Kenneth makes sure J.J. and the rest of the kids are properly padded and have the same advantages and disadvantages. Love this guy. Is it weird that an older man is watching kids fight? Not at all!
When the kids are away, the dads will play. Jimmy takes advantage of the "do anything their wives say" dads of the special-needs kids. He has them fixing an old car, organizing his music, and even building furniture. It's hilarious. Of course, Jimmy can't be the bad guy forever. When he comes clean, surprisingly no one is mad. In fact, they bro it out do whatever their hearts desire. Dance party! I loved the slow-motion dancing and the giant smile on Jimmy's face. The dads only dance party looked like the best thing ever. I enjoyed watching every minute of it.
Then there was Ray. Poor guy, he has the worst luck with girls. I say this because none of them ever stick around. He did get a confetti bomb kiss before the night was over. His short-lived romance with the free-spirited Zelda was ridiculous, in a good way. Ray knows who he is, but is constantly getting himself into situations where he must become someone he isn't. Last week, he was a rich country club attendee, this week he was a pixie-loving, wild-child. He is all over the place. This week he got so into it, he snuck into school and threw a chair through a window. Whoa there Ray, whoa! Even Zelda had to move on because he was too much. Which is hilarious, because it's Ray.
They whole family was in the spotlight this week and they did not disappoint. I am sad to see Speechless taking a mini break, with a new episode not coming back until March 8th. My weekly dose of DiMeos will be missed. Be sure to catch up while you can, only on ABC.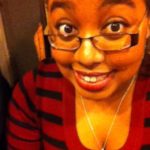 Catalina Combs is an aspiring film critic from California. She loves reading, writing, film, baking, music, drawing, traveling, Disney, and playing soccer. Her life usually revolves around all of these and her family. The oldest of six, Catalina tries to set a good example for her siblings. She graduated from Santa Clara University in 2010 with a BA in English Creative Writing and is pursuing an MA in Film. I also blog on WordPress and contribute to the website Examiner.com. Twitter- @tiggercraze | Facebook- Cat Combs | Instagram: @tiggercraze
Guest Blogger
BGN works to feature strong, unique content from writers who speak to our niche. If you are interested in having your work highlighted contact jamie@blackgirlnerds.com to be featured as a guest blogger on the site.