With everyone already following Lovecraft Country and The Haunting of Bly Manor, let's see what else streamers are offering this fall. 
Bad Hair (Hulu, debuts October 23) 
Hulu's Bad Hair, debuting later this month, isn't just a bad hair day, it's an everlasting bad curse. Directed by Justin Simien (Dear White People movie) the Hulu Original is a satiric comedy-horror set in the big-hair days of the late 1980s, so let's get our MTV on. And in these days of Black empowerment, this film is a not-so-sly commentary on hair politics in the workplace.
Anna (Elle Lorraine) is a girl-next-door, young Black woman who just wants to succeed at her music television show. To do so, she is told what she needs is swirly, straight, anchorperson hair. What she gets is a human hair weave that apparently contains a way wicked spirit. 
Laverne Cox, Lena Waite, Kelly Rowland, Blair Underwood, James Van Der Beek, Chante Adams, Ashley Blaine Featherson, Michelle Hurd, and Usher (yes, that Usher) round out a cast that is able to play satire straight, just like we like it.
50 States of Fright: Season 2 (Currently on Quibi)
If you are a Quibi fan, then you know that 50 States of Fright, the urban legends horrorfest, has been on the app since its September 28 debut. But did you know that it's chock full of actors we may know involved in perils like we've never seen before? 
For example, what the heck is wrong with AnnaSopha Robb's baby in "The Expecting"? What is Taissa Farmiga doing out on a rainy Iowa night with a car that won't work in "Almost There"? Why does Lulu Wilson go to look for a child's toy in underground stairs right next to an overgrown cemetery in "13 Steps to Hell"?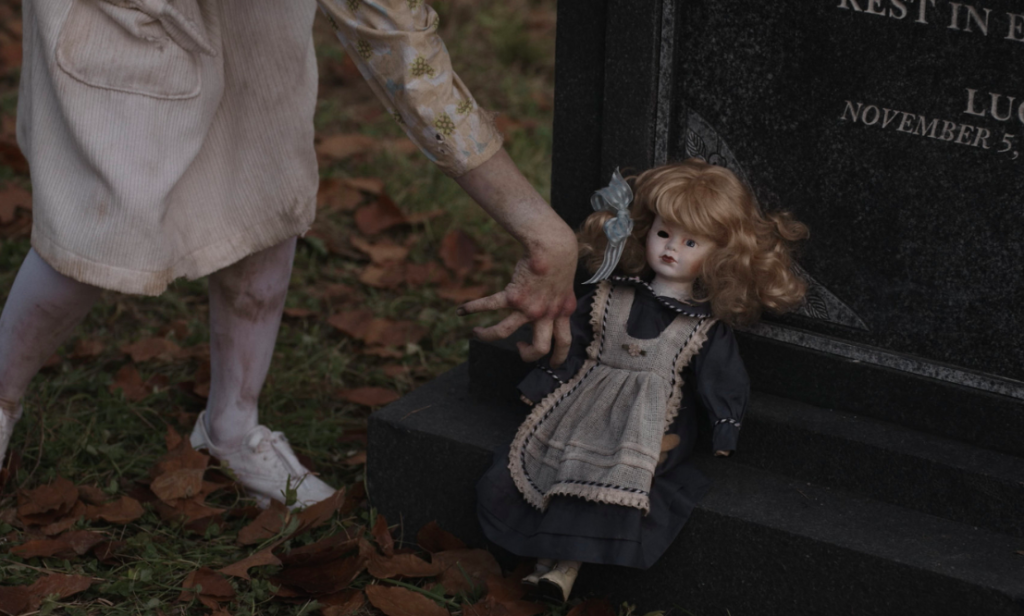 Why didn't Ming Na Wen keep going instead of stopping in Kansas to see an exhibit in "Ball of Twine"? And why would Victoria Justice, Christina Ricci, and Jacob Batalon (Spiderman) even go to a haunted hotel in "Red Rum"?
Book of Blood (Currently on Hulu)
Stephen King's storytelling walk to horror can take a while to get to the payoff. However, with Clive Barker, you know right away. Barker's stories get to the gore pretty quickly, and Hulu's Book of Blood, adapted from the book by Barker, is no exception.
Three separate stories are presented, each one mixing sci-fi with horror and lots of blood (repeat, blood). Book lovers probably should not watch. Drifters fond of dropping by unknown homes should probably not watch, and professors or scientists should probably not watch. Those who love Barker-scary should.
The series stars Britt Robertson (I Still Believe), Rafi Gavron, Anna Friel, Yul Vazquez, and Freda Foh Shen.
Des (Sundance Now, Debuts October 15)
Dennis "Des"  Nilsen killed and dismembered approximately 12–15 boys and men at his London home during a six-year span, starting in the late 1970s to 1983. Police found body pieces in the closet and floorboards in Nilsen's apartment as well buried in the yard.
Nilsen, a former army officer and, ironically, also a former policeman, had befriended the homeless and drifters offering food and a warm place to stay before turning on them and killing them in cold blood.
David Tennant (still this writer's favorite Doctor Who) is getting praised by critics for his portrayal of the serial killer, whom he plays with the same calm demeanor as Nilsen is described in books and newspapers of the time. British character actor, Daniel Mays (Good Omens) is the policeman who — despite Nilsen's charm — doesn't want to take his mind away from the horrible crimes he's committed.
Helstrom (Hulu, Debuts October 16)
Helstrom is a more humanistic character than the Marvel Comic book anti-hero in the Avengers comic book series. Instead, Daimon (Tom Austen) is now a professor and exorcist short on patience with the world's wrongs and evil. Speaking of that, his father isn't the devil this time, but he's a serial killer who abandoned Daimon and his sister Satana (Sydney Lemmon), leaving them to grow up in a Catholic orphanage. Their mother (Elizabeth Marvel) is mysteriously institutionalized and seemingly possessed.
The series has one seriously spooky opening followed by a badass would-be exorcism. The cast includes June Carryl, sister of TV journalist Joy Reid; Ariana Guerra, Robert Wisdom and Alain Yen round out the cast.
His House (Netflix, Debuts October 30)
Seems Lovecraft's Wunmi Mosaku can't get enough of the (bad) spiritual world. In His House, Mosaku and Sope Dirisu (Gangs of London, The Huntsman: Winter's War) are a Sudanese refugee couple who recently arrived in England. As part of their asylum deal, they must stay at a huge house that, early on, seems strange and just gets stranger (and scarier).
Despite terrifying consequences, if they leave, they face going back to their war-torn country. Decisions, decisions. Matt Smith (Doctor Who and The Crown) co-stars as their social worker. 
Texas Chainsaw Massacre and others (Current on Criterion Channel)
The Criterion Channel is a find for those who love the classic movies, not just the old Pre-Code or post-WWII-era black-and-whites but also critically acclaimed and award-winning foreign films and documentaries. This month they are featuring 29 horror classics from the 1970s.
And nothing says the '70s more than the original 1974 Texas Chainsaw Massacre. The premise is that a group of friends (why is it always a group of friends?) are on their way somewhere and never get there because they make this one stop. Filmed low budget in Central Texas way before the real-life infamy of the Branch Davidians, this is an extremely scary movie and not for the squeamish (including this writer). However, if you're up for extreme scary from someone called Leatherface, this is the blueprint for how "slasher flicks" as they say, are done.
Vampires Versus the Bronx (Currently on Netflix)
And now for a little light scary entertainment, imagine you were in your early teens and you lived in the Bronx and it gets infested by vampires. Only, the vampires think humans are the infestation. 
Anyway, that's what happens in this Netflix original starring Jaden Michael, Gerald W. Jones III, Gregory Diaz IV (Unbreakable) Coco Jones (Five Points), Chris Redd (SNL), Shea Whigham (Perry Mason), and Adam David Thompson (Godless), including appearances by Zoe Saldana, Method Man, The Kid Mero, and comedian Vladmir Caamano. If you are wondering about this one, go check out Twitter. Seriously.
Diedre Johnson
Diedre Johnson is a Los Angeles-based former staff writer covering entertainment whose work has appeared in Variety, The New York Daily News, TV Guide.com, The Crisis, Vogue Japan and Italia, and Harper's Bazaar China, among others