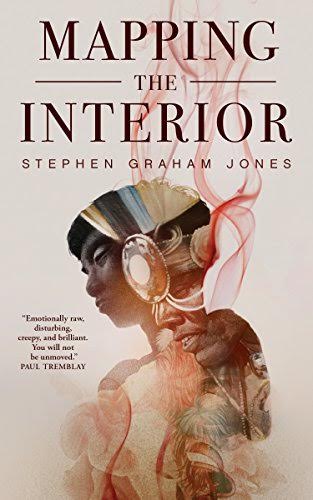 Guest Blogger
BGN works to feature strong, unique content from writers who…
Tor has been publishing a lot of novellas lately, and Mapping the Interior, by Blackfeet Native-American writer Stephen Graham Jones is one of those. Promoted as a horror story, it does include some very tensed, creepy and gore-ish moments, but it's above all a story about father and son relationships, particularly in the context of Native-American heritage.
The narrator, a Native-American teenage boy, grows up with his mother and his younger brother, Dino, who has learning disabilities. His father died when he was a small child. But, one night, the boy thinks he can see the ghost of his father in the house wearing full Native-American regalia. But why is the father back?
Mapping the Interior weaves two narrative strands: the sad story of lives doomed to abuse/failed hopes and barely glimpsed beings with ambiguous intents. Those two strands are inextricably linked, and the tragedy unfolds.
The father and son relationships in the novella are beautifully complex and evolve both as the boy tries to understand his father's actions and to fill the void of his absence and also in the last chapter. When the world cuts your hopes short, which lives can you cut short in turn to have another chance at succeeding? Or do you go for a selfless act to help your family?
The horror aspect remains subdued, so any reader who defines themselves as squeamish can rest assured that it isn't full blown gore. There are some gore elements, but the horror aspect is more a build on the tension and the creepiness. In a sense, it's more akin to a bloody tragedy going back to all early myths of father and son relationships than to any gruesome ghost story.
The writing style is beautiful. It not only brings an incredible tension, but it also builds magnificently on very small and intricate details that become symbols. Even if the boy's experiences are far from your own, it's difficult not to become engrossed in his quest for a father, for mapping the interior of a house that could hold such a desired a person.
But it is also his own interior self he's mapping, placing himself within a family history, re-assessing stories about a departed loved one and the truth, knowing the love and importance of the living. And the writing conveys all this with both subtlety and grace.
Mapping the Interior will please both horror fans and people who yearn for intimate stories of the human psyche. It also brings the realistic struggles many Native-American have to face to light. Like any successful fantasy or sci-fi story, it's a remarkable metaphor, and it is one not to miss, particularly if the themes are of interest to you.
Stephen Graham Jones, Mapping the Interior, Tor, 2017.
C. has been reading science-fiction and fantasy for about 30 years and tries to have a life in between books, though it's often less interesting than fictional worlds. You can find more science-fiction and fantasy books reviews by C. on http://www.themiddleshelf.org or on Twitter : @themiddleshelf1
Guest Blogger
BGN works to feature strong, unique content from writers who speak to our niche. If you are interested in having your work highlighted contact jamie@blackgirlnerds.com to be featured as a guest blogger on the site.