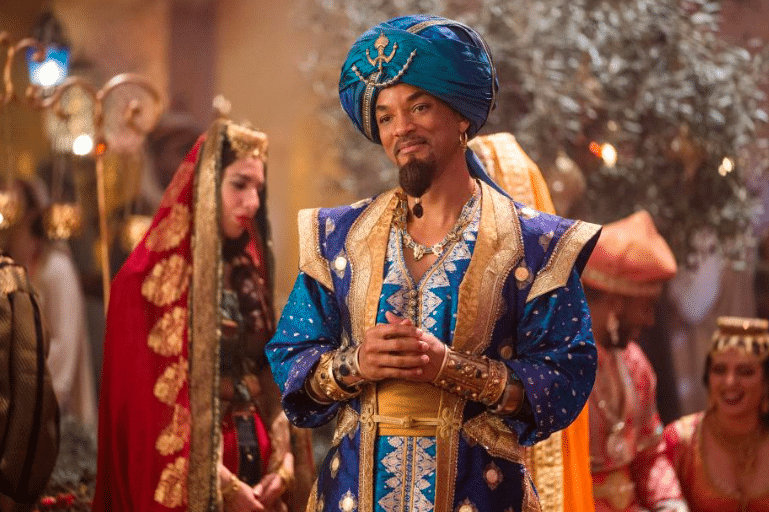 As my good friend (wishful thinking) Will Smith says, "Disney magic is real."
It's a new era for Disney fans. Since the decision to remake live-action versions of some of the most beloved animated classics, people have been wondering what these films will look like. One of the most talked about has been Aladdin. Among some negative opinions out there, people have been questioning whether this new version will live up to the 1990s fantasy we all have in our heads. There were questions of whether a live-action version of Genie was even worth pursuing. Well, friends, let me tell you, the previews don't do it justice. It is a lot better than the sneak peeks let on.
As soon as the title sequence began, that little California-raised girl came alive and the biggest smile took over my 30-something face. I'm pretty sure everyone in the theater smiled through the entire movie. The actors, the music, and the city of Agrabah are all amazing. Don't let those CGI previews fool you. The whole story is worth a trip to the theaters multiple times. It's pure Disney magic fun.
Aladdin, for those who don't know, is about a kind-hearted boy of that name who lives on the streets. His world is turned upside down when he is tricked by the power-obsessed royal vizier Jafar, right hand to the ruling sultan. In his adventures, Aladdin comes across a magic lamp with a genie that will grant him three wishes. Of course, there is a love story involved as Aladdin finds himself head over heels for a girl he met in the marketplace. Adventure and romance collide in this classic Disney story.
The first thing done right in this film is the setting. Agrabah was always a fictional place, partially come to life through the animated cartoon. Seeing Agrabah on screen in all its real-life glory was breathtaking. It's colorful. It's a seaside haven. There are all kinds of people there, in all shades of color. Following Aladdin through the streets of Agrabah and its marketplace was visually stimulating, as if the audience was being transported to another time.
Although the city is a marvel to look at on the screen, what was worrisome at the beginning of the film was the pacing. The story felt rushed. The lovable character moments went too fast. It helps to know the story beforehand. The beginning of Aladdin relies too much on its audience's knowledge of the original story and plot. If this was an entirely new story, there would be plot holes for sure. As enthralled as I was to see Agrabah and to meet Aladdin, the pacing didn't level out until Genie got into the mix.
Again, it's clear fans have doubts about Will Smith playing Genie. We are all stuck on the brilliant performance of Robin Williams in the animated version. No one can replace that character. But this Genie, blue skin and all, is a different vibe, a different persona, and it's fantastic. Will Smith didn't go out there trying to be Robin Williams; while his performance is based on Williams' classic character, he put his own spin and fresh take on it. The end product is great. This role is like a walk through different Will Smith characters. I got some Wild Wild West vibes, some Men in Black vibes, and absolutely some '90s Fresh Prince of Bel-Air vibes. It was all fantastic to watch. As soon as "Friend Like Me" starts to play, your '90s soul can do nothing but smile, laugh, dance, and sing along to this new version of your favorite Disney song. Will Smith did his thing. He went for it, and it works.
The entire cast is solid. Mena Massoud as Aladdin is spot on. He brings our favorite fictional prince to life. A lot of the lines Mena has are verbatim from the original, but in a way, that's how it should be. The title of the film is Aladdin. You can't change the protagonist of the story too much without changing the story itself. He even sounds like Aladdin, which melds everything together. The look, the sound, and the clothes make the cartoon fantasy of a magic carpet ride with Aladdin even more vivid.
Naomi Scott as Princess Jasmine is breathtaking. Her entrance in her first royal costume is what Jasmine should look like. Naomi is no stranger to Disney music either. She played a singing sensation in Lemonade Mouth on Disney channel. The girl can sing. She can dance. She also brings new strength to Princess Jasmine that we couldn't get from an animated figure. She literally and figuratively gives Jasmine a real voice. There's a sense of empowerment to Jasmine that comes alive in this live-action version. It's a welcome change for this 2019 remake.
This new and improved Jasmine also comes with a new song for the film called "Speechless." It's a perfect Disney princess song. Little girls should be singing this song just as loud as the popular, "Let it Go" from Frozen. It's uplifting and fits right in with the rest of the score. Some of the other songs, like "Friend Like Me" and "Prince Ali," have a fresh new vibe to them as well. With some select choice word changes and updated choreography, these new songs are so much fun to see performed on screen. They are relatable for 2019 but are still able to give those '90s feels. The updates give Aladdin a level of swag the original never had.
This new found swag also comes from the director of Aladdin, Guy Ritchie. His signature directorial moves add to this Disney film in both positive and, sorry to say, negative ways. On the positive side of things, we have larger-than-life characters. Will Smith as Genie truly makes the film. This also coincides with Guy's affinity for musicians as actors. Another thing that Guy does well in his films is foot chase scenes. Of course, with Aladdin living on the streets and always scraping for food, there is plenty of room for chasing. Think of the song, "One Jump Ahead"; that's all one big chase scene, and it blends well together on screen. It's not as gimmicky as the animated version of the song.
What doesn't work 100% of the time is Guy's use of slow motion and speed ramps. There are times when the choreography looks like everyone's movements were sped up. Ironically, it made it look very cartoonish. One scene where slow motion really worked was when Jafar pushed Aladdin into the ocean while trying to get rid of him. It dramatized the scene, heightening the emotional effect.
Is Aladdin perfect? No. Is it much better than we all thought it would be? Yes. This live-action version of Aladdin is a welcome addition to the Disney roster with its empowered Disney princess and fantastic updated songs. Don't knock it till you try it. Fair warning: It may be better in 3D than in standard definition — totally worth the splurge.
Aladdin hits theaters Friday, May 24, 2019.