DaVette See
Originally from the Midwest, DaVette lives in Inglewood, CA and…
by DaVette See
Last week at the Arclight Theater in Hollywood, an enthusiastic audience was treated to a sneak peek at the first trailer for Luc Besson's new film "Valerian and the City of a Thousand Planets".  The 3D trailer premiered just ahead of its showing at CinemaCon and was introduced by no less than Besson himself, along with his wife and producer, Virginie Besson-Silla, and one of the film's stars, Cara Delevingne. 
The movie centers around Alpha, home to representatives of thousands of species and the repository of their combined knowledge, which exists for the benefit of all in a peaceful and harmonious state.
Well, THAT was never going to last.
Along comes something evil that wants to destroy it all, and the future of Alpha and the known universe is suddenly at risk.  Enter our two heroes, Valerian (Dane Dehaan) and Laureline (Delevingne) who are, as the saying goes, our only hope.
The five-minute trailer was a visual feast and the crowd was cheering by the end, which meant we got a second viewing.  It is, quite simply, gorgeous.  I mean…wow.  Even the most jaded CGI connoisseur will be gobsmacked at the sheer number and variety of lovingly crafted creatures and astonishing environments.  Besson's signature soupçon (not too much, not too little) of the bizarre added a (fifth) element of humor to everything the audience saw in the trailer.
CGI technology, it seems, has finally caught up with Besson's imagination, as well as to the electrifying art of the source material.
And, yes, it looks like fans of the original French comic series "Valérian et Laureline", on which the movie is based, won't be disappointed either.  The convo that night with the comic's fans (including Besson) gave me the impression that "Valerian" seems to live up to their expectations, as well.
And there is action, of course, and plenty of it, with beautiful women kicking as much ass as the equally beautiful men.
After the screening, Besson and Delevingne held court at the Arclight's entertainment space, Stella Barra, where fans, press, and a few celebrities mingled (Jaden Smith and Kendall Jenner apparently there to support their friend, Cara), while director and star sat down for tête-à-têtes (notice how I toss in French now and then like a pro?) with small groups of the press.

Besson was friendly and chatty, but more engaged when talking about "Valerian" than when asked to comment on his earlier works.  When asked if Delevigne's Laureline was the screen heir apparent to the throne previously occupied by butt-kicking female characters in his previous films, he brushed aside the notion, saying that he thinks of each character in each project as a new being, unrelated to any character in any of his other movies.  He was full of praise for Delevingne's talent, as well as her commitment to getting the role right and her confident approach to the stunt work, saying that she was always in line first to do her own stunts. This made Delevingne laugh and confess to being a little too enthusiastic once, which resulted in her accidentally punching one of the stunt people. Fortunately, there was no serious injury.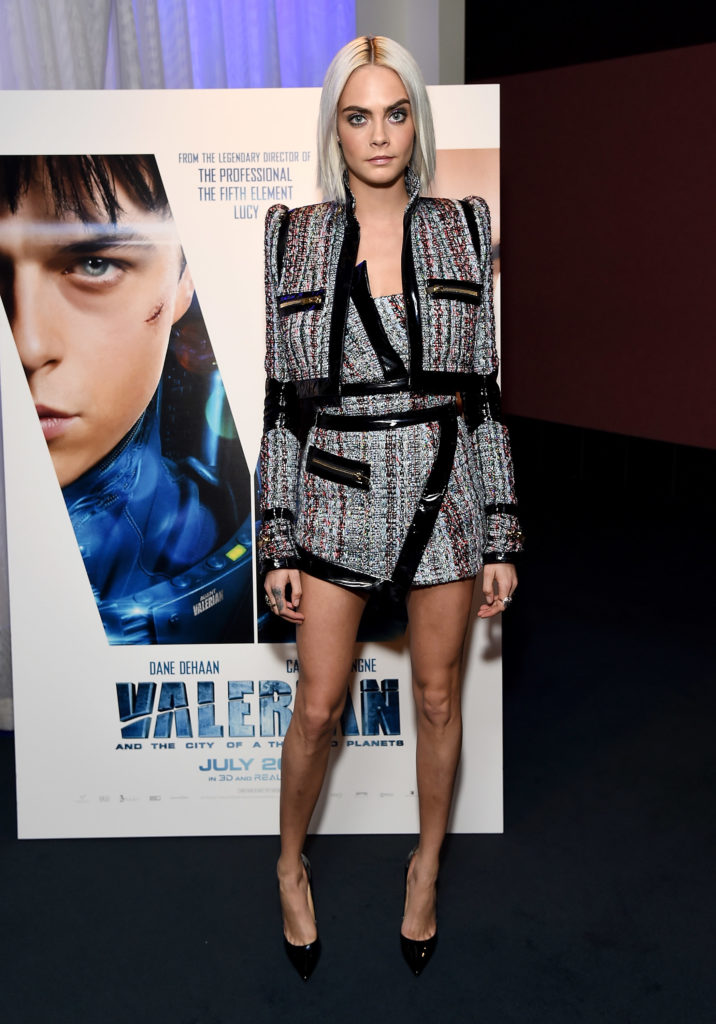 Delevingne echoed Besson's comments about Laureline when asked whether she felt any pressure to make the character a worthy successor to such memorable Besson femmes as Nikita (Nikita), Leeloo (The Fifth Element), and Lucy (Lucy).  She didn't hesitate to say emphatically that, while she admired the portrayal of those characters she felt no pressure at all, except to bring her character to life in a way that felt authentic and true to Besson's vision.  She was all smiles when talking about Besson, saying how lucky she felt to be able to work with him and expressing her absolute trust in him as a director.
Time with Besson and Delevigne was limited, but I was pleasantly surprised to have a chance to chat with Virginie Besson-Silla. (And, full disclosure:  I confess I did a little internal happy dance seeing Besson is married to a woman of color.  I felt the same way when George Lucas married Mellody Hobson.  So sue me.).  
Not only was Besson-Silla a producer for "Valerian", she wore the same cap for other Besson films including "Lucy" and "The Lady", and for directors such as Guy Ritchie (Revolver).  asked straight out about the possibility in the future of seeing a WoC in a lead role of a Besson-directed sci-fi fantasy film like "The Fifth Element" or "Valerian" ("The Lady" doesn't count since it is a drama/biopic).  She said Besson doesn't cast based on color or type but looks at the best actor for the role, so there's no reason to rule out that possibility in the future. 
But she expressed her own hopes for more big-budget films featuring a more diverse group of actors in lead roles.  (And maybe it was the wine, maybe I needed to clean my glasses, but did that twinkle in her eye and that tiny smile on her lips suggest a possibility of her own involvement in that very type of project in the future? Might just be wishful thinking on my part, but only time will tell.).  At any rate, the engaging and impressive Mme. Besson-Silla has a new fan in me.

Based on the trailer and the audience response, "Valerian" may be summer's "must-see" movie.  To tell the truth, I was starting to avoid trailers altogether because lately, they show too much.  But trust me, watch this trailer.  It shows just enough to leave us wanting more and it is just the tip of the iceberg.  Besson never fails to surprise.

Valerian and the City of a Thousand Planets  Opening July 21, 2017
Directed by Luc Besson
Starring Dane DeHaan, Cara Delevingne, Rihanna, Ethan Hawke, Herbie Hancock, Kris Wu
WEBSITE: https://www.ValerianMovie.com
FACEBOOK: https://www.facebook.com/ValerianMovie
TWITTER: https://twitter.com/ValerianMovie
DaVette See
Originally from the Midwest, DaVette lives in Inglewood, CA and can't name a single sports team. She's a sci-fi fan, a movie geek, a drama freak, a Trekkie, and a Browncoat. She has a BA in English and Theater, as well as a Law degree, but don't hold that against her. She acted and directed for the stage for many years, but really loves filmmaking and writing. She owns Running Lady Studios and she is the producer/star of the web-based talk show, Afro Bites! She is wife to Rob, daughter to Martha, and mom to seven (yes seven) cats. When not covered in fur, she's a West Coast correspondent and occasional movie reviewer for BGN. Follow DaVette on Twitter and IG @mariavah.