Danielle Broadway
Danielle Broadway is an English Literature MA student at California…
It's no mystery that actor and comedian Mindy Kaling (The Office) has yet again opened the door for some steamy romances, school drama, and her trademark humor with her newest show The Sex Lives of College Girls, which she co-created with Justin Noble (Never Have I Ever).
Following Kaling's hit Netflix show Never Have I Ever, this HBO original takes on similar issues with college girls who have their own unique set of problems to handle. Audiences are introduced to four 18-year-old college freshmen roommates attending Essex College in Vermont as they navigate education, relationships, and, of course, their budding sex lives.
The tight-knit roomies include "the good girl" Kimberly Finkle (Pauline Chalamet), "the comedian" Bela Malhotra (Amrit Kaur), "the athlete" Whitney Chase (Alyah Chanelle Scott), and "the preppy" Leighton Murray (Reneé Rapp). While the main crew does manage to have some fun and get involved in playful shenanigans, there's one character who steals the show in her own right, and that's "the fearless," Jocelyn, who's portrayed by actor Lauren "Lolo" Spencer (Give Me Liberty).
Before joining the cast, Spencer made a name for herself as a disability lifestyle influencer on her YouTube channel called "Sitting Pretty Lolo," which has garnered over 50K followers throughout her social media. She works to educate people on her life as a person with a disability, specifically helping them understand her as someone who uses a wheelchair. Instead of simply telling her story, she shows the world what her reality looks like.
Similar to the cast of roomies, Spencer's character Jocelyn is also a freshman at Essex and lives in the same dorm building as them. While her new friends may seem a bit unsure of themselves, she's ready to let her light shine from day one.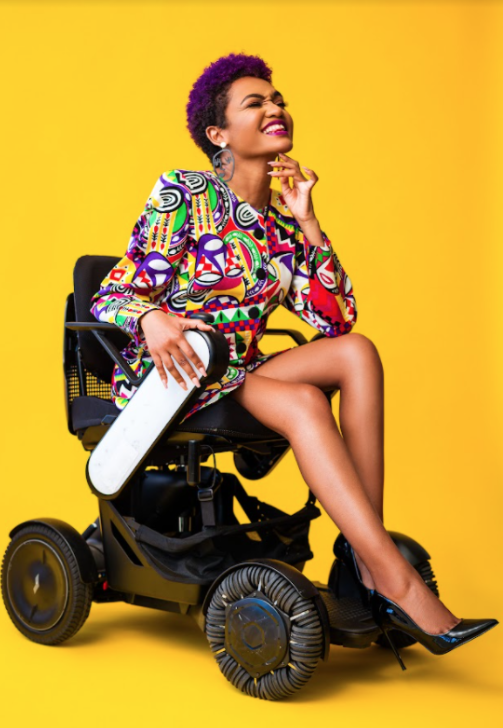 BGN was able to catch up with Spencer on how Jocelyn challenges disability stereotypes and cliches to allow audiences to bond with a bold, beautiful, and multifaceted character while also exploring some of Spencer's own college roommate experiences.
When Jocelyn is first introduced, she's humorous and quick-witted, which is something that usually doesn't come from a college freshman. Spencer and Jocelyn have some commonalities that breathe life into the show, ensuring a Jocelyn moment is never dull.
Spencer explained, "She's very similar in the sense that she has a level of fearlessness with life experiences because, for her and myself alike, I look at life experiences as opportunities for joy, opportunities to try something new and do something new. So, why be hesitant in that?"
However, with Jocelyn being younger than Spencer is in real life, they differ in some ways. Jocelyn is uninhibited in ways that Spencer isn't, since Spencer has matured over the years and would now make choices that differ from her character's. While they may not go the same route, both Jocelyn and Spencer are united in their tenacity.
Speaking of bold, Jocelyn takes down the assumptions that people have about the people who are disabled not being sexual and instead feeling confident in their bodies. From attending the show's iconic nude party to dishing out some tough love relationship advice to her friends, Jocelyn is no wallflower or pity party–she's authentically herself.
Spencer said, "Jocelyn's story is focused on her humanity. We don't need to know the backstory of why she's a person with a disability. We just recognize that she has a disability because hers is a visible one. We just accept it because we like everything else that comes along with her: her personality, her style, her confidence, her wit in conversation as well. That's challenging the traditional way that disability has been portrayed in the media since the beginning of time. Focusing on her humanity is the way that it's being done and the way that it'll continue to be moving forward."
One of the show's defining factors is having a diverse cast without making differences in race, sexual orientation, class, able-bodiedness, and more feel forced. College is a space for exploration as people from varying backgrounds come together, whether they like it or not, to cohabitate and cooperate.
"As someone who went to college, a lot of storylines, a lot of what the girls are experiencing is true life, were how things happened with me and my friends in college," Spencer shared. "There's freshness to it because it's all about college friendships, and it's more so about the girls discovering themselves individually versus being pinned to male characters and their relationships. This is solely about who these girls are, what they're discovering about themselves and then what they desire to be moving forward."
Spencer had a roommate in college, but unlike the roomies in the show, her first roommate was her older sister who was her caregiver at the time. Eventually, she moved to Stockton, CA. After her sister moved, Spencer roomed with a male friend, who moved from Northern California to LA, where Spencer lived.  
Spencer said, "When he left, another friend came and they left. Then two more friends came. That's when I was like, 'I got to get my own place now.'"
For many people, regardless of their education, there comes a time for self-growth and exploration, and that's what Kaling's show illustrates in many ways. People need the ability to figure themselves out, and sexuality plays a role in developing personhood.
"I think that some of the central messages [of the show] are just allowing or giving the space for young women to make mistakes and figure out who they are, how they want to be, how they want to experience sex, how they want to take ownership of their own bodies and what they want to do with it," Spencer explained. "That's something that hasn't really been seen too much as of recently."
She's excited to see some of the girls of the show owning themselves and their sexualities while others struggle with their identity — both cases being able to have the freedom to have sex with space to do so in many ways that women in life traditionally aren't allowed to have. Each roommate can be vulnerable, explore, try new things, all of those different things.
The Sex Lives of College Girls streams on HBO Max. The series premiered on November 18, 2021, and will conclude on December 9.
Danielle Broadway
Danielle Broadway is an English Literature MA student at California State University, Long Beach. She has been published in Black Girl Nerds, LA Weekly and Medium, is a writer for CSULB's the Daily49er, is a managing editor for Watermark, her school's academic literary journal and is an assistant editor at Angels Flight • literary west. She's an activist and educator that is inspired by her family to make social change both in the classroom and beyond.