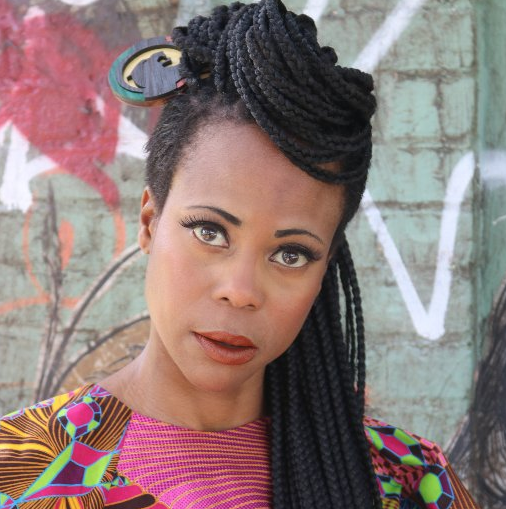 Jamie Broadnax
Jamie Broadnax is the creator of the online publication and…
You may not have seen Hannah Beachler's name before, but you have definitely seen her work.  With notable films like Fruitvale Station, Miles Ahead, Creed, Moonlight and the remarkable film done on Beyonce's visual album Lemonade; Hannah is a force to be reckoned with in Hollywood.
And if there is anyone you want working on the production design for the world of Wakanda, Hannah Beachler is your girl.  During our set visit back in February 2017, I had the opportunity to get a behind-the-scenes look at Wakanda and the regions within this small country the size of New Jersey.  After looking at concept art from images of the Golden City to T'Challa's Talon Fighter ship, it was pretty clear that this is the Wakanda we all hoped for and more from what we've read in the comics.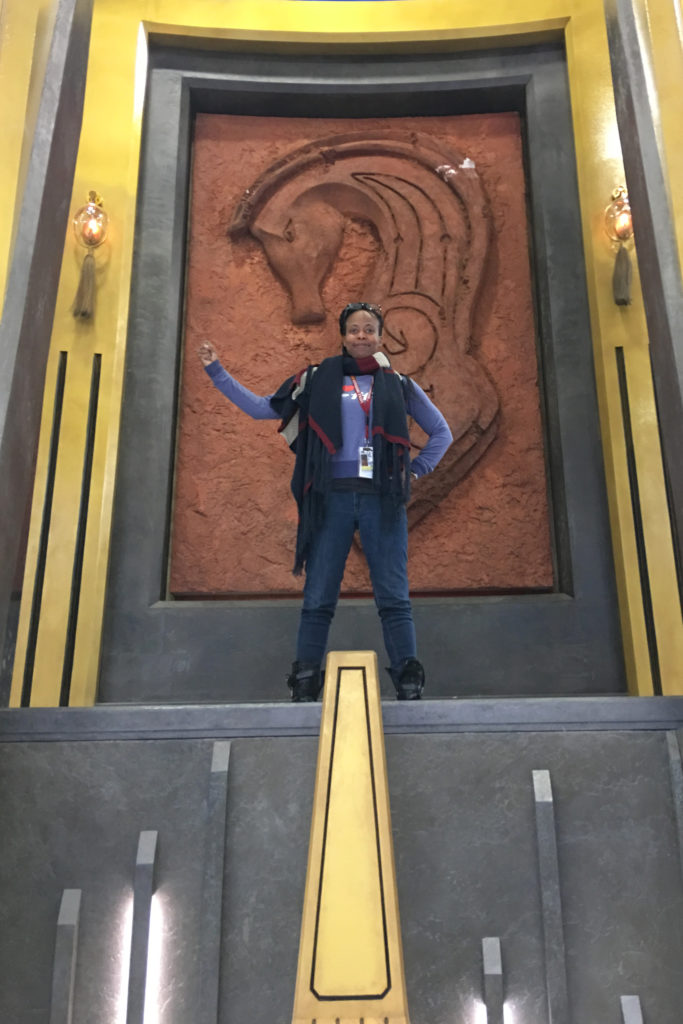 Beachler does a fantastic job of capturing the advanced technology of Wakandans in a nation that was never conquered and remains to be a political superpower.  It should also be noted that there is a great deal of influence from Brian Stelfreeze's current run of Black Panther in the comics.  Many of his designs and artwork are inspired by the live-action sets from the thatched roofing on the Skyscrapers within Golden City to Afropunk influences of the residents.
The aesthetic of Wakanda has been highly researched by Beachler, but she also was given creative liberties by Ryan Coogler into the thought process behind the production design. The following are direct quotes in italics from Beachler: 
"One of the things that we really wanted to make sure about Wakanda is the technology, and I think that that's something that all the fans want to see. They want to see, "What is this advanced civilization?" The other thing that we really talked about was keeping the tradition of several different African tribes. We really delved into what that was and how we mix this new and this old, which is a theme that Ryan and I have handled and dealt with before. In Creed, we mixed the old and the new in a different way with Rocky and Creed's son. So we took that idea, that theme, and expounded on it in a whole world-building."
Vibranium is almost a character in itself in the world of Wakanda.  It's what was used to create Captain America's shield and its the country's most powerful resource which is where all of its wealth comes from.  Beachler also reveals to us we will see more of the compound in its raw form.
"The big thing about Wakanda is its vibranium, which is one of the strongest metals … not the strongest, but one of the strongest … and most expensive metals. T'Challa is the wealthiest man, more so than even Batman. A lot of it is because of the vibranium, and their knowledge, and being able to handle vibranium and turning it into this.
We do have, over here, our Wakandan Design Group, which over time evolved into where all the tech is being created. We've got our vibranium mine. We've come up with this blue, glowing rock. We went around a lot about, "What is vibranium?" Because we see it in Cap's shield, and it's very much a metal, so we have different stages of vibranium. We're going to see it a lot in its raw form, not the alloy form, which is the sort of stainless look. There we have the cave, and then there's the vibranium train."
Beachler also noted locations where practical effects are used, and there are more practical effects than computer-generated imagery which gives me hope that not every set location has to be a green screen.
Here's what she said about locations and Ryan Coogler's insight:
"South Korea, the casino, which is really fabulous. All of this will be practical. The fish market, which is Jagalchi Fish Market, when we were in South Korea … again, Ryan's really good for this and he really spurs me along. As much as I like to be like, "Well, I did it all," he really comes up with these ideas."
What was really exciting while chatting with Beachler was her visual storytelling of how Wakanda will look on the big screen.  A lot of the advanced technology in the comics will play a huge part in the film which combines new and old elements.
"We did a lot of work on this look and this set, again, mixing the traditional with the new. You'll see in this city a lot of thatched roofing on skyscrapers. You'll see all of the flying vehicles, you'll see all of the hovercrafts that we're doing. Everything is mag-lev, so we're really excited about bringing that technology in.
It's really not unreachable technology. A lot of the things that we're doing is things that they're foreseeing 25-30 years as being something that we'll all be able to experience. I think that's a lot of the fun thing about this film, is that it's not far off. You can look a lot of it up and see that it's there in the conceptual ideas and designs that people are bringing. We just are going to take it and show people this is how it can be incorporated into a society, so it's super fun in that way.
That's a lot of what we're doing with Golden City and its look. A lot of Afro-punk. We want to bring in this idea that we're using tattoos and all of these things as a way to communicate wearable technology. The kimoyo beads, that I think everybody would be excited to see, and how we handle that, still incorporating the sand as their main technology that the princess developed. There'll be a lot of fun story."
Beachler's best work to date is from Beyonce's visual album "Lemonade".  There are afrofuturistic elements in that film as well.  I asked Beachler how her production design work on Black Panther compares to that of her work on "Lemonade"?
"Fabulous! Well … it really … okay, I will say this, because they are two very different things. I will say that Beyonce clamped down on Lemonade as far as what I could say about, or how much I could get into it.
The thing that is similar, I would say, is this idea of going back to an older time and modernizing it, and reclaiming it, and owning it in a different way. I think that's what we did in Lemonade, where we were like, "Hey, we're going back to the 1800s." A lot of the scenes, you see plantations, you see this and that. But if you look at it, it's all black women, and they're all doing, they're eating at this beautiful table, they're doing all the …
So we just retold the story in a different way, which in a lot of ways is a route to go with Afro-futurism, which is basically just taking the story and making it … into something that is not what it was originally supposed to be. We are taking it and mixing it up and re-owning it. That's what I think we did a lot in Lemonade, and I think that that's kind of what's happening here in Wakanda a little bit."
Marvel's Black Panther will be released February 16, 2018.
Jamie Broadnax
Jamie Broadnax is the creator of the online publication and multimedia space for Black women called Black Girl Nerds. Jamie has appeared on MSNBC's The Melissa Harris-Perry Show and The Grio's Top 100. Her Twitter personality has been recognized by Shonda Rhimes as one of her favorites to follow. She is a member of the Critics Choice Association and executive producer of the Black Girl Nerds Podcast.