With its thoughtful writing and hilarious ensemble cast, Abbott Elementary has instantly carved a place for itself among other classic mockumentary-style series. It is truly one of the best new shows available this year with its authentic and funny take on American public schools. I was first introduced to comedian Quinta Brunson, who plays plucky, overoptimistic, and clingy main character Janine Teagues, through her videos on Buzzfeed. It is no surprise that this, her latest project, is such a success and has been praised in everything from Vox to Business Insider.
In the same vein as shows like The Office and Parks and Recreation, Abbott Elementary is a mockumentary series about a public elementary school in Philadelphia. The principal, Ava Coleman (Janelle James), who conned her way into her position, brought the documentary crew in to brag about how great a job she's doing with the school. But veteran teacher Barbra Howard (Sheryl Lee Ralph) sets her straight with a reality check by reminding her the documentary is meant to be an inside look into "under-funded, poorly managed public schools in America." Throughout the series, we get to see the trials and tribulations of teachers, new and old, and how they try their best to make nurture the kids.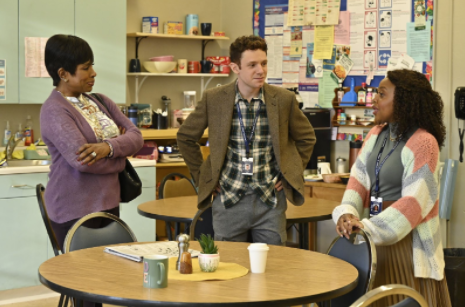 Abbott Elementary takes on the serious problems facing public schools today with snide jokes that land effortlessly. The secondary conflict in Abbott Elementary, aside from the teachers versus no support, is the young versus old teachers' philosophies on working within the limits of the public school system. The younger teachers, like Janine and Jacob Hill (Chris Perfetti), are idealistic and advocate for large-scale change whenever there is an issue. The veteran teachers have a more realistic approach to dealing with problems. They choose to work with what they already have and never get their hopes up. All types of teachers are represented including the older and more seasoned staff, the overzealous, hyper-woke Jacob, and the substitute who only wants to show movies Gregory Eddie (Tyler James Williams). With every episode's issue, both generations are forced to collaborate and meet in the middle of both extremes to come to solutions for the kids.
Janine's plucky energy is endearing and infectious; she is the teacher we all loved growing up. Her unwavering determination to help the kids of Abbott Elementary is inspiring to see, even if she ends up creating new problems when trying to fix the old ones. "With no help from the higher-ups and no money from the city," Janine says, she is set on being there for her students.
Each episode deals skillfully with an aspect of public schools that teachers and students struggle with. While Abbott Elementary does not address the pandemic, the conflict of teachers versus underfunding and little support is all too familiar. The pandemic has pulled the curtain back and unfortunately exasperated the issues facing public schools, particularly in America. In this show, the toxic work culture of public school teachers is played for laughs insightfully and tastefully. It's common that teachers now entering the field bounce from school to school without staying in one place for too long. Janine tells the film crew that teachers who don't leave after a year end up "trauma bonding" because of all of the trials they have dealt with together. The show hits on the technique of creating a "work family" environment to manipulate employees into not complaining about being overworked and underpaid. There are also examples of community members who want to help the public schools but do not listen to or ask what the teachers actually need.
In real life as in the show, teachers have to pay out of pocket for their supplies, put in more hours than they are paid to produce quality lessons for their students, and deal with the bureaucracy that makes it impossible to get anything accomplished. While all of this is happening, kids are still being kids (and the group of kids they have on this show are adorable and actually have decent comedic timing). They need nurturing and discipline to grow into thoughtful teens and adults. When all of this extra stress is heaped upon the teachers, the kids are the ones who suffer. 
Abbott Elementary is great escapism for those who are frustrated with the system. No matter what these teachers face, it never negatively affects the kids too badly.
If you've talked to an elementary school educator or an elementary-aged kid recently, you know what a mess the school system is. I'm sure you also know the absolute truth behind the line: "Baby Shark is like Back That Ass Up for kids." Abbott Elementary is a seamless blend of exposing the problems facing public schools in America and the humor that comes along with making the best out of a bad situation. From the issues with having a gifted program to a severe lack of funding, there is no shortage of material for this show. I'm looking forward to seeing where Brunson and the rest of the team take this series.
Abbott Elementary is available to stream on Hulu.