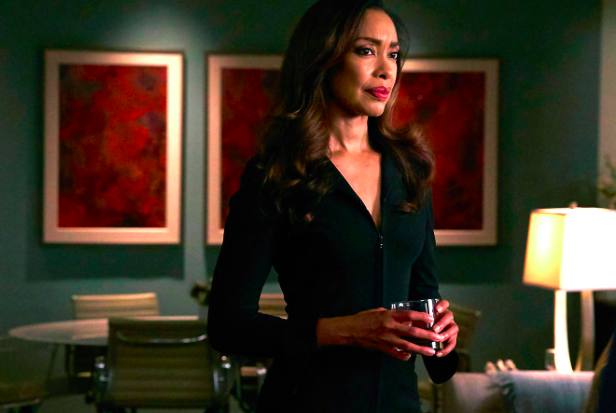 Dennis R. Upkins
Dennis R. Upkins is a speculative fiction author, a journalist…
Written by: Dennis R. Upkins
When you work with tigers, once in a while, they will take a swipe at you. I like working with tigers. Of course, when they get out of hand, you have to put them down.
—Jessica Pearson
Anyone who has watched Jessica Pearson in action knows that when it comes to tigers and apex predators in general, she makes Shere Khan, the bad guy in Jungle Book, look like Pooh's friend Tigger. The same can also be said about the actress behind Pearson's character, Gina Torres.
Likewise, anyone who has known me for five seconds is well aware that I'm a devout disciple of the goddess that is Gina Torres — so much so that I was disturbed when I read a rumor online that Jasmine isn't a nickname that Torres goes by, Season 4 of Angel wasn't a documentary, and people don't sit around worshipping the goddess all day. Some people even claimed that Perfection herself was the Big Bad of that season. Blasphemy, I tell you. Blasphemy!
Adoration and religious devotion aren't the only reasons Torres has a distinct place on my Media Litmus Test. Whether she's bringing to life Dr. Amy Ellis, Nebula, Hel, Cleopatra, Anna Espinosa, Vixen, Jasmin, Superwoman, Wonder Woman, Justine Diaz, or Zoë Washburne, Torres's vitae as a testament to her work is nothing short of exemplary. Jessica Pearson of the USA Network hit series Suits and now the eponymous spinoff Pearson is yet another example of this.
The audience is introduced to Pearson in Suits as the founding and managing partner of Pearson Specter Litt, one of New York's most prestigious law firms, which undergoes a number of management and name changes throughout the series's nine seasons. Pearson began her legal career after being hired at Gordon Schmidt Van Dyke, due to the fact that she was Black and female and the firm wished to fulfill a diversity quota. However, being underestimated by the white male partners who hired her would inevitably lead to their downfall. Pearson would work her way up the ranks and oust the partners through a coup with the assistance of her protege and associate Harvey Specter (a cocky, pop culture quoting golden boy with golden gloves in the ring and the courtroom). Pearson would become then became the firm's new managing partner. Harvey was promoted to junior partner and would eventually take the reins of the firm later on in the series.
Whereas lesser actors and writers would've simply reduced a character like Pearson to the one-dimensional Strong Black Woman Boss trope, thankfully the showrunners and Torres provide intricacies upon intricacies with this amazing heroine. Much like the actress who brings her to life, Pearson is the perfect blend of ethereal beauty, power, and wisdom. Be it in a New York courtroom or Chicago City Hall, the ever regal and fierce Pearson moves like a queen on a chessboard and is no less powerful.
Like a grandmaster of chess, Pearson is as known for outmaneuvering opponents as she is for her signature ensembles, in which she slays in every scene. Pearson's fashion is the real star of Suits — it's what the show is named after. Seriously, I need costume designer Jolie Andreatta to make me a male version of the entire Pearson collection. Just let me know how many bank heists I need to plan to make this happen.
Despite all that this prodigious young woman accomplished (namely her fashion game), Pearson eventually found herself unfulfilled and at a crossroads. She eventually had the epiphany that she first became a lawyer to help the downtrodden and to make a positive difference. Her journey soon took her from the Big Apple to the Windy City, thus leading to the eponymous spinoff Pearson.
For all of its rich culture, Chicago almost has just as much notoriety for its crime and systemic corruption. The Red Summer, Al Capone and his battles with Elliot Ness and the Untouchables, the assassination of Fred Hampton, the "black sites," and the cover-up of the Jussie Smollett hoax are a few examples among countless others. While Pearson had conquered New York, Chicago proves to be a different type of deadly terrain.
Shortly after relocating Pearson reconnects with her extended family and finds herself going up against City Hall to save them and their neighbors from being illegally evicted. It isn't long before Pearson learns how deep corruption runs with the city's leaders. In order to help her family and their neighbors long term, Pearson agrees to drop her lawsuit and become a fixer for newly elected Mayor Novak. Without the resources of a prestigious law firm and few allies, Pearson finds herself in the deep end of a shark tank. However, Chicago is slowly learning that even outnumbered, Pearson is never outgunned. When you think you have her cornered, she's already eight moves ahead.
We will win, because whether I'm at the table or not, I don't lose. But you already know that about me.
—Jessica Pearson
And winning Pearson continues to do, particularly in terms of making history — rather, herstory. Torres is the first Afro-Latinx to create, executive produce, and star in her own network series. There are trailblazers, and then there are earth scorchers. Battle on goddess — this disciple is staying tuned.
Dennis R. Upkins
Dennis R. Upkins is a speculative fiction author, a journalist and an equal rights activist. His first two young adult novels, Hollowstone and West of Sunset, were released through Parker Publishing. Both Upkins and his previous work have been featured in Harvard Political Law, Bitch Media, MTV News, Mental Health Matters, Geeks OUT, Black Power: The Superhero Anthology, Sniplits, and The Connect Magazine.