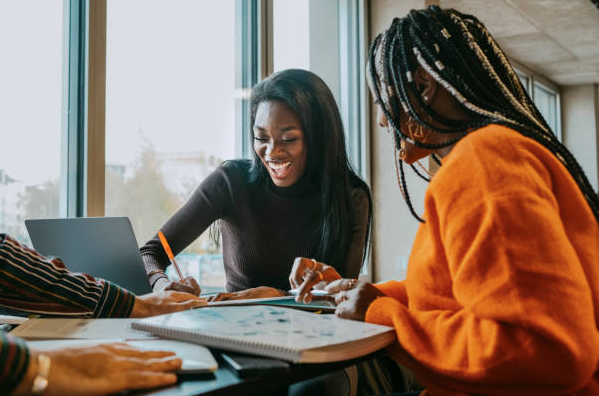 "Angry," "ghetto," "loud," and "sex symbols" have all been terms used to describe Black women. However, a new label has transcended the stereotype over the last few years. "Most Educated Group" is the new title earned by Black women in the United States. 
But what is behind the statistics about why Black women are pursuing and receiving more degrees?
The facts
According to a report released in 2020 by the National Center for Education Statistics, Black women have been overachieving in the classroom.
Additionally, in 2018, 35% of Black women in the States obtained degrees. In Colorado, Maryland, Georgia, Virginia, and Massachusetts, the attainment rate for Black women exceeds 40%. 
Further, Black women are surpassing Black men when it comes to higher education. Statistics show that out of all the bachelor's degrees earned by African Americans, Black women are responsible for two-thirds. Also, Black women hold 70% of all master's degrees and 60% of all doctorate degrees earned by Black men and women. And in proportion to their share of the overall population, the rate of Black women getting degrees exceeds that of Latinas, Native Americans, Asian/Pacific Islanders, and white women. 
What motivates Black women to pursue their dreams through higher education?
Black women's motivation
Many Black women were raised believing that a better education would lead to a better future. While this belief can be true, there are more reasons that Black women are obtaining more degrees.
Career advancement
When you ask various Black women, it seems they want to excel in their careers instead of simply holding down a job. 
Sharifa Akilah, CEO of Revision Publishing LLC, emailed BGN to share her motivations. "In my desire to move up the corporate ladder, I decided to pursue higher education," she says. "I felt more respected being a Black woman showing my ability to advance in education. It was like a staple of achievement to help me brand myself as a smart, go-to employee."
Stacyann Nathan, a senior account executive at Highwire PR, was also after more career traction and upward mobility. Nathan emailed BGN sharing the following. "Prior to going to college, it was made clear to me that having more degrees would make you more marketable, and I wanted to have as much of an advantage in the workplace as possible." Nathan currently holds a bachelor's degree in journalism and a master's in public relations.
Role models
Black women's pursuit of higher education isn't a self-centered goal. In addition to career advancements, many Black women continue studying to set an example and to better support their community. Akansasira Annitah, a Black businesswoman, emailed BGN saying, "Black women recognize the importance of education as a means to become role models for younger generations and make a positive impact on their communities."
Annitah also highlighted another reason: Many Black women pursue multiple degrees to go against a system that wants them to fail. "Higher education allows Black women to challenge stereotypes and break barriers in traditionally male-dominated fields or industries," Annitah says.
What are the long-term benefits of degree attainment?
While career advancement and supporting community development are alluring reasons to take out another student loan, is having a second degree worth it? After all, there is a $20,702 yearly income difference between Black women and non-Hispanic white men. Black women make a median wage of $36,303, and white men earn $57,005 yearly.
Despite this, some Black women say the hours of studying and dedication are well worth it.
How Black women benefit from earning multiple degrees
Although the job market may be unstable and the pay gap is still apparent, having a degree gives Black women a significant career advantage.
Attorney Carmen Peterson emailed BGN sharing the benefits of her law degree. "My first job, as a public defender, paid a whopping $39,000, and I had more cases than I could handle ethically," she admits. "Thirteen years later, I would say my law degree has opened doors to a plethora of opportunities and ultimately led me to manage my law firm. Peterson Legacy Planning was born from navigating the challenges of parents who died without an estate plan [to provide] for their minor children." 
In addition, award-winning professor Gabrielle Gambrell, who completed her bachelor's degree at 20 and her master's at 22, found an easier path to jump-start her career. 
Gambrell wrote to BGN about her post-graduate experience. "I was able to start my professorship immediately following commencement," she explains. "I have been a college professor for 15 years and have taught at many well-known and respected universities, such as St. John's University, Iona University, New York University, and Columbia University. Like my grandfather Walter Simpson, I look forward to receiving my Ph.D. in the future. As a Black person, I recognize that we must go above and beyond, as mediocrity is not an option for us, and higher education can support the desires of our hearts. No one can refute or take away our education."
Black women are making progress; society needs to catch up
As Black women continue to be living examples of hard work and dedication, society can learn from them. Although a degree helps Black women gain more employment opportunities, a diploma doesn't erase the discrimination they face in the workplace.
Despite the hostility, as Black women get their degrees, they will become seen in more boardrooms and offices nationwide. As a result, more Black women have opportunities to network with other Black women within and across their fields. 
Black women will continue to rise up the career and academic ladders, and one can only hope that all of society will welcome that growth and expansion. 
Kiersten Brown
Kiersten is a freelance writer and coach. As a writer, she has written for Travel Noire, Passion Passport, BAUCE mag, and various travel and lifestyle blogs. As a writer, her goal is to write content that inspires others to take action. As a coach, her goal is to empower women to be their most authentic selves. In her free time, you can find her dancing to any song any where.